Peejay Tackle boss Paul Jessop has been a supporter of the blog for a long time and recently he's started working with Selfie Fish, a nifty little gadget for taking catch shots when you're fishing on your own. The majority of anglers these days just use their phones and unless you can get a friendly passer-by to take a quick snap for you, most of the photos you see on social media tend to be pictures of fish in a landing net or held up in front of you, I know because I've done it myself loads of times!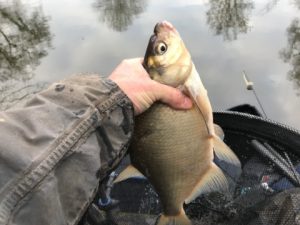 I'm always keen to review products on the blog so Paul sent me one to have a play around with, it's a simple but well thought out little device, there's a screw thread to attach it to a bankstick or seatbox arm and a stainless steel ball in the base unit that allows you to fix the phone at pretty much any angle.
There are several different packages available and the one I was sent is the Selfie Fish After Dark Package 2, the description on the website says,
'This After dark package consists of the Selfie Fish Classic plus an additional, retro fit, single spot LED back light. This projects a strong LED light in the direction you point it. It attaches to your phone via a universal clip. The single spot LED does not take power from your phone because it has its own internal battery and it works fully independently of your phone.
It has an on /off button with 3 different brightness settings and comes with a standard USB lead for charging.'
It retails at £15.94 which includes shipping.
You can buy the Selfie Fish on it's own for £12.90 or there are four After Dark options,
Setting it up in the garden so I could have a play around with it I discovered my first problem, how was I going to take photos of it when my phone was in the cradle? I had to go and find my rather outdated digital camera and charge the battery which made me realise how much we rely on our phones these days. Using one of my Matrix box attachments I put it on the rear leg and it worked pretty well although it would have been better mounted on a little bankstick in the hole for the support leg on the side tray but I didn't have anything suitable at the time. A bankstick in the ground would work fine on most natural venues but the majority of commercials have platforms so using an attachment or even a little tripod would be the answer.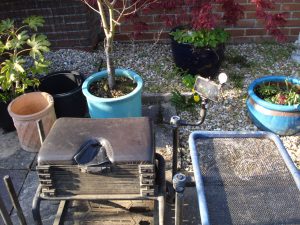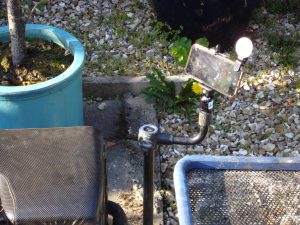 It was simplicity itself to use, you just turn on the camera and put it in selfie mode, use the timer or a voice activated app and don't forget to smile (or look at the fish if you want to be 'carpy!'). I also put it in video mode which seemed to work well so maybe I'll play around with that a bit more when I have some time.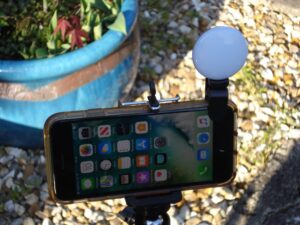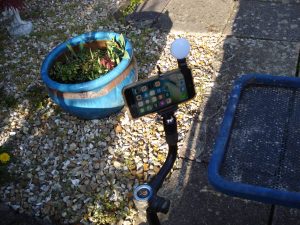 The cradle will fit most mobile phones from 50mm to 85mm long and holds your device securely using soft rubber and foam so there is no need to worry about scratching it. You can actually unscrew the phone cradle and attach your digital camera to the swivel ball so it really is a very versatile and adaptable little gadget. Great idea with many uses from pleasure anglers who fish alone to match fisherman and bloggers who want to put an end to those uninspiring fish snaps!
For more info, check out the website here – Selfie Fish
*Peejay Tackle sent me this product for free in exchange for an honest review. All opinions contained in this post are my own.