After recently reviewing the Selfie Fish, Paul from Peejay Tackle has also now added MD Floats to the website, MD Floats is the brain child of keen match angler Mark Davis, so he knows what works! There are four popular patterns available on the website and I've listed them below along with the descriptions,
Open Water Chimps – This pattern is very versatile and is great for open water fishing for all baits with great efficiency.
Rounded Slim – A very strong and versatile pattern that can be used in all conditions
The Utility Slim – This pattern is personally my "go to" float for any and all types of fishing. It's a very strong and versatile float and can be used in all conditions.
The Munter Hunter – There are plenty of floats that anglers use for Margin and Mudline/Far bank fishing but these, in my opinion, are one of the strongest designs to date.
Looking on the website, what's different from a lot of the others out there is that you can basically customise the various elements of the floats. For example, I decided to order some Munter Hunter's, primarily for margin fishing but I also thought the smaller sizes would be good for shallow fishing, they're available in 0.2g, 0.3g, 0.4g and 0.5g with a choice of 2.5mm or 3mm hollow tips in seven different colours (along with the conventional colours, you could go for green, blue or pink if they take your fancy!). They come with spring eyes and glass stems as standard. I went for four each of the two smallest sizes with 2.5mm red tips.
The other three patterns can be customised in various ways as well with up to ten different sizes (0.1g to 1g), the choice of carbon, wire or glass fibre stems, spring or side eyes and four different tip diameters. All four patterns are £1.60 per float and the minimum order is five floats, postage is £2.
My floats arrived in good time and were well packaged, they certainly looked very strong but the proof would be in the pudding so I made a couple of rigs up and they shotted perfectly.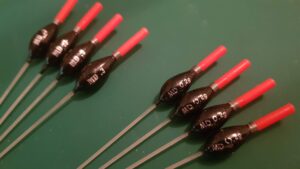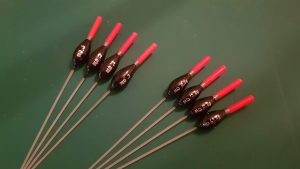 The first time I properly used one in anger was at Lakeview fishery near Crediton and it was certainly a baptism of fire which the float came through with flying colours, you can read my report here. I'm really impressed with them, check out the website Peejay Tackle/MD Floats.
*First two float images courtesy of MD Floats
**Peejay Tackle/MD Floats sent me these products for free in exchange for an honest review. All opinions contained in this post are my own.