I've been really enjoying revisiting some venues I haven't fished for a long time and also going to some new ones so when the Tart invited me to a match at Lakeview near Crediton, I said I'd be up for it, especially when he told me you'd need 150lb to win with loads of carp averaging 2-3lb apiece. Now regular readers of the blog will know I'm not the greatest fan of carp and much more prefer a nice bag of silvers but I do quite enjoy it every now and again, I just couldn't do it all the time. The Tart had been down there twice in the week practising so my pound was in grave danger before I even started!
To be fair, he was very forthcoming with info from his practice sessions and even said he'd get me some meat and cut it into 8mm and 10mm as I've only got 6mm blades and rudd were a bit of a nuisance when he fished it. Looking online the venue was around an hour and ten minutes from Chard and as I wanted to stop somewhere for breakfast, an early start would be required so my alarm was set for 6:00!
I was up early and with the car loaded, I checked that I had my passport with me before heading off, I'd wanted to try Route 303 for breakfast for a while and it opens at 7:00 which should give me plenty of time to eat and head down to deepest, darkest Devon. It's an American style diner and the menu looked really good, the service was quick but the food was a massive disappointment, the bacon looked like it had been kicked round the car park, the eggs were really rubbery and the fried bread was so hard you could have knocked nails in with it, I won't be going back!
On my way again, I past a lay-by with a snack van and wished I'd gone in there instead, I'll know for next time, with it still being quite early, the roads were quiet and I made good time, I wasn't even held up for long as I passed through border control and had my passport stamped. The sat-nav directed me up some narrow lanes and at one stage I met a horsebox and had to reverse for ages to find a gateway, he flounced by with barely a thank you, I carried on and then met an ambulance so had to retrace my steps once again! After passing several banjo playing inbreds, I found the fishery without anymore drama.
There were quite a few faces I recognised, the Tart, Yardie, Glenn, Wing Commander Smith, Carl and Geriatric Geoff who was running the match. After paying my pools and getting some bait off the Tart, who said the carp were spawning which wouldn't do us any favours, it was time to draw and I had nearly the last peg in the hat which turned out to be peg 1, of course this meant nothing to me although a few people said it was a decent peg. The venue itself is a cracking looking lake with loads of little nooks and crannies, islands and bays along with lily pads and sunken trees. You can drive to most of the pegs and the Tart said to follow him, after a short distance he stopped and motioned that I was on the next peg – great!
I was actually on one of the pegs he'd practised and it looked lovely with loads of features, an island, an inlet pipe on the inside to my right and a long margin to my left with a tree stump in the water at about 13 metres. He gave me a few pointers and I decided on three lines, shallow (surprise, surprise!) at 11.5 metres towards the point of the island, a meat line at top two plus one and then down the edge to the pipe where I would feed groundbait. There were carp going berserk spawning in the vegetation on the island but there was the odd bit of slurping going on as well and it certainly looked solid with fish.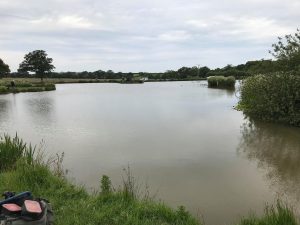 Rigs for today were a 0.3 gram Drennan Crystal dibber for shallow, a little Trabucco float for down the edge and a 0.3 gram MD Munter Hunter for the meat line, I've just received these and there will be a review coming soon, cracking looking floats. On the side tray I had three tins of meat (two 8mm, one 10mm), 6mm and 8mm Bait-Tech Carp and Coarse pellets, Scopex corn plus some Karma groundbait I'd mixed the night before.
The all in was called at 10:15 and I potted in some meat on the top two plus one line before starting shallow with an 8mm pellet in the band. I was firing out 6mm's and lifting and dropping the rig and was getting quite a few indications from small fish, Geoff was into a carp nearly straight away, my first fish was a 4oz rudd which I chucked back and I hoped they weren't going to be a pain all day. A few more minutes passed and then a positive bite resulted in my first carp of around 2lb.
I started catching quite well and had another five carp during the remainder of the first hour, I also pulled out of three and thought a decent weight was on the cards, the Tart was strangely quiet with just a lost fish in the first sixty minutes. From the anglers I could see, most people were catching odd fish, Reg was catching well on peg 4 and Smithy was admitting to six so I was doing okay at this early stage. Although there was still loads of carpy spawning action by the island, going into the second hour, my bites slowed right up so I added another section and had another carp quite quickly but then the next one did me under the bush (ouch!), I had another carp but also pulled out of one and I'd gone from doing really well to struggling.
The Tart had caught a couple of carp and Geoff on peg 3 was getting odd fish but it wasn't really happening at our end, Glenn on peg 8 was catching well and every time I looked up, Reg was netting another fish so I tried my meat line earlier than I wanted to and it was an anti-climax, I did miss two bites on the deck but then saw a fish with it's periscope up so lowered the hook bait in front of it and it sucked it in, only for me to pull it straight back out again on the strike! I tried it again with another fish with exactly the same result and the size 14 hook was just lost in a 10mm cube of meat!
Going nowhere fast, I cupped in four pots of groundbait by the pipe and went back out shallow for a bit, it started raining quite hard and the carp activity by the island pretty much stopped, no bites shallow and then I noticed a tail waving at me from down by the pipe so I quickly swapped rigs and went in there with a big cube of meat, it wasn't fast and furious but I did have a couple of carp before it died so I fed some more groundbait and it was black with tiny rudd. I tried the meat line again, still nothing, shallow was the same story so I plumbed up by the tree stump 13 metres to the left and started firing in a few pellets, still nothing.
The Tart was still struggling and went for a walk to see how the rest were doing, while he was gone, another carp signalled it's presence down by the pipe, I had two carp and then hooked another which I thought was under control but then shot off and snapped me under the vegetation on the island. The Tart got back and said I needed to pull my finger out if I was going to do any good, somebody had eighteen carp, a few people were admitting to 30-40lb and Glenn, Smithy and Reg were bagging.
With no bites on any of my lines, I had to do something different so with about an hour or so to go I plumbed up at 13 metres just off the point of the island with the meat rig and switched to banded 8mm pellet on the deck and started pinging 6mm's and lifting and dropping the rig, I hooked a fish quite quickly but it went straight under the bush and snagged me solid, after putting on another hooklength I was soon back in action and landed the next fish but then the next one beat me up as well and that was enough of that. Both times the rig came back in a right mess but the float didn't have a scratch on it, well impressed.
I started a new line at 11.5 metres angled more towards the open water which I hoped would give me more time to get the upper hand before the fish could reach the sanctuary of the snags, and caught quite well up to the end of the match, landing another four carp although I did lose another that I just couldn't stop. I ended up with 17 carp for around 34lb (at 2lb apiece) which I knew wouldn't do any good although it would be enough to register a nugget on my side of the scoreboard as the Tart had chucked back his ten or so carp and Geoff next to him wasn't weighing either so it looked like we were definitely at the wrong end today.
The scales arrived at me first and my total was 36lb 8oz, next up was Reg S on peg 14 who just pipped me with 36lb 12oz, then Martin on 13 weighed 64lb 4oz to go into the lead, Adders on the next peg didn't weigh and then Shane on 11 was the new leader with 68lb 2oz. Yardie weighed 55lb 6oz followed by John on peg 9 who weighed 32lb 6oz.
Glenn was next on peg 8 and he'd caught well, fishing on the deck and pinging pellets to weigh 72lb and go into the lead, young Freddie had done well on peg 7 and weighed 48lb. Squadron Leader Smith was next and admitting to between 95lb and 120lb, he actually weighed 92lb 10oz which was the lower end of his estimate (the Tart had probably sold him a dodgy clicker!) but it was a great weight on the day, especially as he didn't fancy his peg in the morning! He'd brought on some lovely cakes and this week I had Tesco's Finest Triple Chocolate Shortbread, cheers Smithy! Trotter on peg 5 didn't weigh and then Reg on peg 3 weighed 53lb 2oz.
Back at the results, the Tart handed over a nugget (well a handful of shrapnel) and we tucked into more of Smithy's cake selection (Granola Squares this time!). So a really enjoyable day (apart from the breakfast, the rain and being pegged next to the Tart) but it was nice to fish somewhere different and I'd definitely come back again. I'd do things differently next time, I think swapping between pellet shallow and on the deck was the way to go perhaps with a few late edge fish.
1 – Mike Smith (Torquay) – 92lb 10oz
2 – Glenn Coburn (Torquay) – 72lb
3 – Shane (Torquay) – 68lb 2oz
I was determined not to go through the lanes again on my way home and the Tart said I could follow him towards Crediton, he pulled in for coffee and the sat nav directed me right only for me to end up driving through narrow, bumpy lanes for bloody miles!
Finally some good news for the Nuggetometer, it was nice to beat the Tart off the next peg on his home water (the G.O.A.T. got a N.P.L.!). We're back at Perry St next week so make sure you come back to see if I can claw back another nugget or will the Jack Horner draw his usual corner!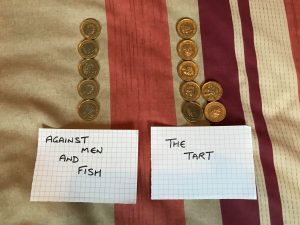 Next up – Perry St
Coming soon – Another great review
Check Out – My last match below