For round six our destination was Perry Low and most of us met at Millfield cafe for another fantastic breakfast before heading out the pond to do the draw. Once again it looked like the British Summer was on hold as while we were unloading the cars, it chucked it down! Smithy took shelter in the back of his van but more importantly he made sure the cakes were in the dry!
The Sadborow section drew and were on their way and then it was our turn, I opened my little canister and I was on peg 5 again, it's probably one of the best pegs on the pond at the moment and I hadn't done it justice last time. Just to add to the fun the Tart was on 4 (although I use the term 'fun' very loosely!) and it was also a golden peg. Both of our swims certainly look very fishy with loads of lilies but they can also be a rig graveyard, the last time I was on peg 5 I hadn't really fished the margins for exactly that reason, Bushy said when he was on it, he lost eleven!
I set up three rigs, a Drennan Crystal dibber to fish shallow (I'm still mourning the loss of my favourite dibber!), a Drennan 0.4 gram Carp 1 for the top two plus two and 11.5 metre lines and a little handmade float for down the edge. On the side tray I had live and dead red maggots, meat, 6mm Bait-Tech Carp and Coarse pellets and I'd also mixed up some groundbait the night before.
I was ready in plenty of time so went and sat behind the Tart to annoy him and I also tied up a few hooks while I was there. Hoff got us underway and I cupped in some meat at 5 metres before starting shallow at 11.5 metres, I thought I might get an early fish but it didn't happen although Smithy on peg 1 (who I couldn't see) was into one straight away. The Tart had a carp quite quickly from the lilies and then added a second not long after, I was still fishing shallow but the only action came from a foulhooked carp that wasn't on long and with the first hour coming to an end, it was time to try something else.
Next up was banded pellet on the deck at 11.5 metres where there were loads of bubbles coming up, lifting and dropping the rig while pinging a few pellets out saw me miss a couple of bites before I finally connected with one and landed a carp around 3lb. The Tart had another to stay two fish ahead and then I hooked another which straight away I knew was foulhooked, I kept expecting it to come off but taking my time I started to get the upper hand and reversed a four pounder into the net – result!
I was getting regular bites and added another three carp quite quickly but I couldn't close the gap on the Tart who was staying a couple of fish ahead and was getting some lumps too. After two hours, the longer line slowed up so I had a quick go at five metres but no bites and when the Tart had another from his margin swim, I fed three pots of loose groundbait and dead reds down the edge to my left, leaving that to settle I went back out shallow where the odd carp could be seen moving about. The float buried and I had a decent carp followed by two more in quick succession and it was now neck and neck with the Tart.
By all accounts, Hoff and Smithy were catching and I'd seen Beki (fishing for Paul H) land a couple up on peg 7 but I couldn't tell how Mark G and Bish were doing on pegs 8 and 10. Derek in the other section was doing well on peg 11 but apart from him, just odd fish were coming out on that side. I saw a fish move to my left so flicked the rig in it's general direction and away the float went before I landed carp number nine, a nice mirror. At this point with about 2.5 hours to go, I really felt a decent weight was on the cards.
No more indications shallow so I had my first look in the margin, the lilies were knocking and there were obviously a few fish there, I had a few liners but it took longer than I expected to get a proper bite, I struck and straight away it ploughed through the lilies and snapped me – great! I tied another hooklength on and gave it another twenty minutes but no more bites and in the meantime the Tart had added a couple more fish. I went back out shallow and tried a bit of mugging but they didn't want to know, then there was an almighty CRACK and one of the Tart's top kits had exploded as he tried to bully a fish away from the lilies, fair play to him, he still managed to land the fish using just the elastic.
Howard over on peg 14 started to catch really well and it was looking like it would be between him and Derek for the section win. I was now back at 11.5 metres with the deep rig as there were still loads of blows coming up, the float went and I hooked a big fish that just kept going, it eventually stopped and came to the surface a long way out with my elastic nearly bottomed out, slowly but surely it started to come back and wasn't really doing much but I was wary of unshipping too soon. It headed towards me but still wasn't doing a lot so I got down to the top kit and it was just plodding around in front of me and when I caught a glimpse of it, it was huge, easily a double!
I just couldn't get it's head up and then it decided to make a beeline for the lilies to my left, I stripped loads of elastic out using the pulla bung and just about stopped it but I still couldn't get it up (said the actress to the bishop!). Several times I've stood up on my platform but it made no difference, it's gone in the lilies again and I just couldn't stop it, everything went solid and I was sure it would snap me but applying as much pressure as I dared it gradually came out. This time I was determined not to let it get back in there but the fish had other ideas and this time it buried itself right in the middle, this was getting daft.
Unbelievably and with everything locked up, it started to come again, surely I was going to land this fish now! Again it went and this time if tore through the lilies and the hooklength finally gave way – gutted! I was sure I needed that fish. After sorting the rig out I then missed two good bites before hooking another fish with fifteen minutes to go, again it wasn't doing much and then headed towards me at speed, faster than I could ship back, when I eventually got the sections apart, it was right in the middle of the same poxy lilies and then that one did me as well!
I ended up with nine fish for around 36lb and I knew the Tart had given me a right spanking, Hoff had thirteen carp and 10lb of silvers and when I heard Smithy had ten carp I thought he'd probably beaten me as well so I'd cocked up the peg again! I packed up and took some of my kit back to the car and on the way back I met the Tart with his fully loaded trolley, I tried to pay him his pound but he said he wanted the handover to take place when there were more people around and he took off at speed only for his trolley to tip over! Of course we rushed to help and Beki took some photos for posterity!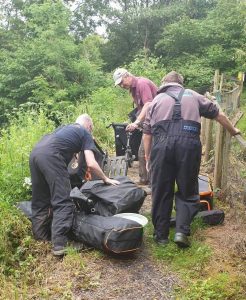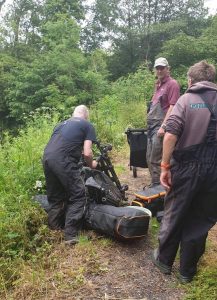 Once we'd finished 'helping' the Tart, we walked up to start the weigh in with Bish on peg 10, he had six carp for 25lb 6oz, Mark G on 8 weighed 15lb 4oz and then Beki next door had 20lb 8oz. I was next and my nine carp went 36lb 8oz, then the Tart had battered me with 64lb 6oz. Hoff had some nice skimmers for 9lb 14oz and then his two carp nets went 25lb and 23lb 8oz to give him a total of 58lb 6oz. Last but not least was Smithy and his fish went 25lb 12oz so I ended up third which wasn't a total disaster and those two lost fish wouldn't have made a difference.
Derek had won the other section with 60lb 10oz, Howard was second with 42lb 6oz, Oz was third from peg 19 with 19lb 4oz, Butch had 18lb 2oz from 13 and then Mike C and LB didn't weigh. So the Tart had the top weight on the pond and was in line for a bumper payday but could anyone at Sadborow prevent the smugness level going off the charts! They started arriving back and it had fished really well again with Bushy winning from peg 7 with 99lb 6oz which also stopped the golden peg from going. Picky was second from peg 5 with a brilliant 75lb 4oz and Shane weighed 59lb 8oz for third place. Chilly had 44lb 6oz from peg 8, Dunner had 39lb 12oz from peg 1, Rich Collins weighed 39lb from peg 9 and Rocking didn't weigh on peg 4.
Sadborow
1 – Steve Bush (Chard) – 99lb 6oz
2 – Alan Gage (Chard) – 75lb 4oz
3 – Shane Jeffrey (Chard) – 59lb 8oz
Perry St Low
1 – Brendon Ions (Tackle Trader) – 64lb 6oz
2 – Mark Hollister (Chard) – 58lb 6oz
3 – Jamie Rich (Against Men and Fish) – 36lb 8oz
Perry St High
1 – Derek Hounsell (Chard) – 60lb 10oz
2 – Howard Watts (Torquay) – 42lb 6oz
3 – Steve Osborne (Chard) – 19lb 4oz
I picked up £30 for third in the section and I'm still in fifth place in the league but at the moment there is no separating the leaders, the Tart and Bushy who are pulling away from the chasing pack. The Tart has had an impressive four section wins on the trot and it would have been five if he hadn't gone over in his nets in round two (will that come back to haunt him?). With three rounds to go there was another open draw and once again I'm in the same section as the Tart so the earplugs will have to stay in for a while yet!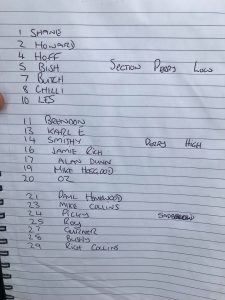 Brendon Ions – 38 pts (423lb 10oz)
Steve Bush – 38 pts (417lb 1oz)
Mike Hosgood – 34 pts (242lb 10oz)
Mark Hollister – 33 pts (260lb 4oz)
Jamie Rich – 31 pts (226lb 7oz)
Mike Smith – 29 pts (272lb 6oz)
Shane Jeffrey – 27 pts (247lb 6oz)
Howard Watts – 26 pts (171lb 1oz)
Carl Everton – 25 pts (174lb 8oz)
Alan Dunn – 24 pts (204lb 12oz)
Here's a list of the framing pegs in each section so far,
Sadborow
5 – 4 times
7 – 3 times (won 3)
2 – 3 times (won 2)
9 – 2 times (won 1)
8 – 2 times
4 – 2 times
3 – 2 times
Perry St
5 – 5 times (won 2)
11 – 5 times (won 2)
14 – 5 times (won 1)
4 – 4 times (won 1)
10 – 3 times (won 2)
17 – 3 times
1 – 2 times (won 1)
7 – 2 times (won 1)
8 – 2 times (won 1)
19 – 2 times
13 – 1 time (won 1)
20 – 1 time
2 – 1 time
Lastly, here's the Nuggetometer, I can't seem to stem the flow of pound coins heading to Torquay and as we're fishing at one of his local waters next Sunday and he's already been out practising, I can't see that changing anytime soon.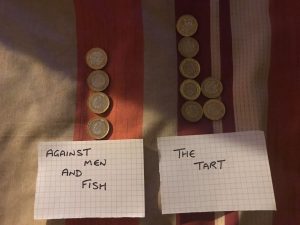 Next up – Lakeview
Coming soon – Another great review
Check Out – My new feature below