For the first part of my new series, I thought I'd have a look at the Max Feeder and Karma groundbaits which I've started using this year as my edge/margin mix. Max Feeder is new for 2019 and Bait-Tech say it's quite possibly the best feeder groundbait they have ever developed! It's a gorgeous olive colour and has elements of Special G Green, milled fishmeal and halibut pellets plus a special ingredient packed full of nutrients. Karma has been around for a while although this is the first time I've played around with it, quite a fine light brown groundbait with a meaty edge.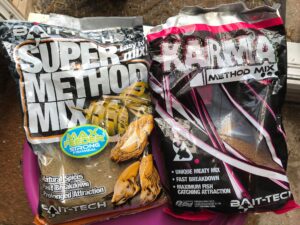 Although both groundbaits are aimed at the method angler on the packaging, they are far more versatile than that, hence me trying them out as a margin mix. I nearly always mix my groundbait up the night before a match and I like to add some liquid flavouring to the water (in this instance the new Krill & Tuna CSL Glug, very potent!).
When mixing groundbait, I add water until if holds together and you can form a ball and then I add a little more so it almost feels overwetted but don't panic you haven't ruined it, leave it for twenty minutes or so and when you come back to it, you'll be amazed at the difference, you may even have to add more water! Most groundbaits can take on a lot of water and for down the edge I like to feed it loose so it needs to be quite a heavy mix.
Once you're happy with your mix and added more water (if required), always riddle your groundbait as it gets rid of any lumps and you always end up with a lovely fluffy mix.
Once on the bank I normally add some loose offerings (dead reds, corn, micros or all three!), it's very rare I feed my margin line at the start so make sure you keep your groundbait in a bucket with a lid to protect it from the elements (Bait-Tech do a very nice black and pink bucket! which can be found here).
I intend to try and get my head round method fishing in the near future and I'll definitely be trying this mix and also Max Feeder on its own, there are also several other great 'method' groundbaits in the range so the 'mix and match' possibilities are almost endless but don't stop there, how about giving your Pro Natural mixes a 'fishmeal' or 'meaty' kick, especially when bream are the target. Check out the full groundbait range here.