Another double header this weekend, starting with only my second ever visit to the Whitepost lakes at Todber Manor, I believe these were the original lakes and the one and only time I'd ever fished them was one of the Tackleuk shop matches many years ago. I drew a flier (nothing new there then) on the top lake, one of the pegs where you could reach the far side but I got proper duffed up by the carp and spent most of the match hiding behind my seatbox as I pulled for a break after another carp had snagged me up in the reeds!
I was up really early and met the Tart and Yardie at Cartgate for breakfast, it was also nice to see Steve Chant who was on his way to the Viaduct. With our bellies full, we headed off in convoy and the Tart proceeded to show us most of Dorset as he took us via the scenic route! We eventually arrived and Barry said we were on the bottom lake, there were loads of fish moving about, the pegs at the top end in the 20's and also the near end peg (13) looked really nice.
After paying our pools, Barry announced the draw and we all delved into the bag of doom, bottle tops for draw tokens this week and when I looked at mine it had the number 23 on it, that'll do! I asked the Tart which peg he had and when he looked, he had number 4 so we had to redraw! So with the bottle tops checked, we had another go, this time I pulled out 24, three more redraws and I might have reached the end peg!. The Tart was on 14 so not his usual end peg (although he did draw end peg 27 for Barry!) but he did have one of only two empty pegs next to him.
I got to my peg and Dermot who was next to me at Goodiford was on 23 with Yardie on 25. With loads of carp shallow, I set up a Drennan Crystal dibber and also a little handmade float for the inside to the right where there was a tree stump, I was also going to set up a rig for the five metre meat line but it was a lot shallower than I'd expected so I decided on just two rigs. The side tray was nice and simple too, just 6mm Bait-Tech Carp and Coarse pellets, 6mm meat and some 8mm Juice Dumbells for a change of hookbait.
Barry got us underway and I started shallow at 13 metres (not wanting to go too far over yet with all the lilies lining the far bank) and I was expecting to catch straight away but it didn't happen, young Robbie down on 22 hooked a fish first chuck but lost it. Yardie was on the pellet waggler fishing tight across and Dermot was fishing long on the pole but it wasn't really happening for any of us despite loads of carp cruising about.
After half an hour, I was still blanking although Yardie, Roy Lowe on 26 and Barry had all caught a couple of carp, I finally hooked one but then the hooked just pulled out and Dermot lost one that took off straight through the lilies. I gave it 45 minutes but it was obvious they weren't having it shallow so I set up a 0.3 gram MD Munter Hunter to fish banded pellet on the deck and pinging pellets, I started getting indications and then hooked another carp but that one came off as well!
Finally after an hour and a quarter I landed a small one and things would need to improve drastically if I was going to do any good today. Yardie was getting odd fish but suffered a few losses and Barry said he now had four small carp so it didn't look like it was fishing it's head off. I landed a couple more carp but lost some more where the hook has pulled out for no apparent reason and Dermot was learning some new swear words! Roy was starting to catch in the edge so I started feeding meat on the inside to my right.
With two hours gone, I only had a few fish and putting three nets in was looking a tad optimistic! I was probably losing as many as I landed, they were going crazy when you hooked them which I think is down to it being quite shallow, even though I was hitting the fish and shipping straight back, the odd fish was still doing me in the lilies. Dermot hooked a fish and the fish still gave him problems even with red hydro but he did really well to get a good fish out and was finally off the mark after two and half hours!
Roy and Barry were both now catching well and Yardie was still getting the odd carp on the pellet wag despite bowling a few 'no balls and wides' in the lilies. As we passed the halfway point, I had my first look in the margins, the float buried after a couple of minutes and the strike resulted in a decent fish on, but only briefly as it snagged me on some underwater remnants of that tree/bush and I had to pull for a break and that was the end of that rig. With a new rig on, I switched to the left hand margin and hooked a big fish which powered off and it soon became apparent it was foulhooked. With my top three bending at an alarming angle and me hanging on for grim death, it reached the lilies on the far side a couple of times and I was sure something was going to give way, the line, the elastic or possibly the pole!
I eventually started to gain some ground on it and by the eel like movements, it was obvious it was hooked in the tail, I've had it on for ages and a couple of times I've had it half in the net and it was a biggun too, probably 8lb plus and I've tried to bully it only for the hooklength to give way – dammit! Next chuck in almost a carbon copy, I hooked one about 6lb up the bum and the hook pulled out of that one as well! I did manage a couple of decent mirrors but also lost another fish and with Roy still catching in the edge and Dermot starting to get a few from his inside line, I spent too long trying to catch from my margin.
With about 45 mins to go, I went back out to 13 metres with the depth rig but my luck continued to be of the bad variety as my catapult elastic broke, another carp did me in the lilies and I only landed one more to put me on 14 carp for around 28-30lb which I knew wouldn't be any good. I packed up and took some of my kit back to the car and when I saw the Tart had four nets in, I knew I'd be handing over a nugget today. I asked how he'd done and of course he played it down and said that Chris Welch on peg 16 had beaten him.
Barry arrived with the scales and after the last match where we had a few problems weighing in, today he had two sets of scales and a tripod, he went to weigh peg 13 in and the scales fell apart! With the Tart holding the scales, after two weighs the weight was called at 50lb (converted to 22kg later) but then we reverted to the 10 kilo scales again. The Tart was next and after numerous weighs his total was 43kg 680g, Chris also had a nice net of carp and weighed 32kg 950g and caught on 4mm pellets with the same as feed.
John Lowe on peg 17 had 16kg 050g, Matt Atkinson weighed 18kg 550g, Dave Fisher and Tim on pegs 20 and 21 didn't weigh, young Robbie didn't weigh but had some nice fish. Dermot weighed 13kg 500g and we also discovered another problem, the weigh net had a tear in it which was getting bigger at every peg and the fish were coming out as fast as we were putting them in. There's been talk of a new 'Carry On…' film (for any younger readers, Google it or ask your Dad!) and at this rate I reckon they could make one about fishing and call it 'Carry On Dangling' or 'Carry On Weighing', I was just waiting for Sid James to appear and start chuckling!
I was next and after two weighs my total was 17kg (around 37lb in old money) and I'd probably lost the same, Yardie had 24kg 350g, Roy weighed 28kg 700g and then Barry had 29kg 850g to win the section (I knew I should have got the Tart to draw for me although he'd have probably pulled out a crap one just to spite me!).
1 – Brendon Ions (Tackle Trader) – 43kg 680g
2 – Chris Welch (Uffculme) – 32kg 950g
Sections
A – Gary Hobbs (Torquay) – 22kg
B – Barry (Torquay) – 29kg 850g
Another enjoyable day with a great bunch of lads at a new venue even if it was a case of 'if it could go wrong, it did go wrong!' and looking at the results the two ends fished a lot better than the middle pegs and as always a bit of extra space was a bit of a bonus.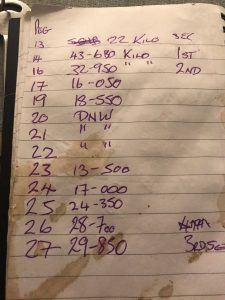 As for the Nuggetometer the Tart has gone two ahead again,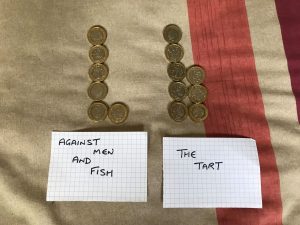 *Thanks to Barry for the photo
Next up – River Parrett
Coming soon – Another great review
Check Out – My latest match below