I'd really enjoyed the last Dillington match and was hoping for more of the same this week, we had a few more fishing this week including Digger and it was great to see Gordon and Karl Aplin fishing their first match for a while. Gordon said they'd been shark fishing in Portugal while on holiday and that I should ask Karl about his own special blend of chum groundbait (I'm sure you get the picture!). I must also mention Rob and Terry who'd been out the pond on Saturday, tidying up some swims, top work lads!
After we were all fed and watered, Nick announced the draw and everybody fancied pegs 19 or 20 which had done well in the last match and I also had 2, 13 and 14 on my wish list. I grabbed a ball but didn't look, there were the usual grimaces and grins as people saw which numbers they'd drawn, Nick was happy with peg 9, Rob was on my peg from the last match and Karl drew 20 so would be able to check if his wi-fi password still worked! Nobody was admitting to 19 so I opened my fingers and those very numbers were staring back at me, that'll do!
We got out the pond and once again it was as calm as a millpool, my peg looked nice although a little high off the water so I tried setting my box up in the margins but it was deeper than I thought and I discovered both my wellies leak! I lifted it out and one of my mud feet came off yet again before I eventually got myself sorted and set up back on the bank. With all my faffing about, I didn't have long to get set up (hence no peg photo today!).
I set up a little Preston Chianti with spread shot to fish shallow, a 0.5 gram Drennan Roach for 11.5 metres straight out and a 4 x 16 Preston Chianti to fish two lines, both at 13 metres, one straight out and the other angled to the left just off a few lilies. For bait I had a pint and a half of casters, half a pint of red maggots, corn, hemp plus some Bait-Tech Omen and Pro Natural Bream Dark that I'd mixed up 50:50 the night before.
Nick got us underway at 10:15 and I cupped in a single ball of groundbait at 11.5 metres and three on each of the longer lines followed by a pot of casters, corn and hemp. On the opposite bank, Dave 'Cannonball' Phillips let fly with a barrage of babies heads and I'm sure the level of the pond rose by a few inches! I started with single red maggot on the shorter line and had a small roach first chuck and then had another so switched to caster which didn't really improve the stamp much although I did have one roach around 4oz which dropped off when I tried swinging it! If I'm honest, I was only going through the motions a bit as I was dying to get out on the skimmer lines.
After half an hour I had ten roach for about 8oz and as I'd seen Leighton over on peg 6 net a couple of fish on the feeder I decided to have a look on the longer lines with corn on the hook. In the last match Nick and John on pegs 19 and 20 started catching skimmers after an hour so I was hoping they might turn up a little earlier this week!
Thirty minutes passed with just the odd little knock, I shouted up and asked John D how he was doing on peg 21 and he said he'd had a couple of skimmers, Karl on 20 had a decent perch and was catching lots of roach and Leighton landed a big perch to go with his bream and skimmers but I hadn't seen anybody else use the landing net yet. I tried the left hand line by the lilies and a further quarter of an hour went by without a proper indication but I was going to stick it out as I was sure you'd need skimmers and bream to do well today.
Then out of the blue I had a lovely slow bite and I still can't believe I struck into thin air! I wasn't too worried as I thought perhaps they'd now got their heads down but that bite was a false dawn and the next hour went by without any more indications. Swapping between the two longer lines, just after the two hour mark, the float sailed away again and this time I connected with it, I shipped back carefully and netted a nice skimmer around 1.5lb. I was hoping they'd arrived now but shipping back out, the float just sat there again. John had four skimmers in quick succession on the feeder and as we approached the halfway point, it was looking like a two horse race between John and Leighton.
Big Frank turned up for a walk round and while he was with me, Nick over on peg 9 landed a decent skimmer, then I had a decent bite and missed it! He left me to it and went to see how the others were doing, just after he left I was on the line straight out when the float sunk from view and I had skimmer number two. Next chuck the float went again but I bumped it and was praying I hadn't spooked them. A further ten minutes with no indications suggested that I had!
I cupped in some more feed and switched to the left hand line, a bite quite quickly resulted in my third skimmer and number four followed shortly after. Looking at my watch we still had two hours to go, John landed a couple more on the pole and Nick was into another fish so it looked like they'd finally got their feeding heads on (the fish, not John and Nick!). I missed a couple of bites and then the float went and this time the strike was met with solid resistance, I shipped back carefully and could see it was a big bream in the clear water and after a few minutes I slipped the net under a lovely fish of 4-5lb.
It slowed up then and I wondered if the fish were just passing through as John had gone quiet as well and Fieldy was now catching down on peg 14. The wind had got up and was blowing down into the bottom bank so perhaps they'd followed the wind. Leighton looked like he was now struggling, Nick was catching more regularly although he did lose a big chub in the reeds and Steve P on peg 8 landed a big chub and a nice skimmer. My next bite resulted in a 12oz chub that was full of corn which made me think the skimmers had gone. Cannonball Phillips on the far side unleashed another salvo and when Nick landed another skimmer, he shouted across that it had a tin hat on!
We were now into the last hour and the wind was now making holding the pole at 13 metres quite difficult, I missed a couple more bites before catching my fifth skimmer, I had number six and there was still half an hour on the clock. I missed another bite and then disaster when I bumped a fish with twenty minutes to go, I was sure that would kill it and as time ticked by with no more bites, I thought that was my lot. Another look at my watch and there were just five minutes left, then the float buried and lots of elastic came out on the strike, I netted another nice skimmer and as I unhooked it I could see Fieldy landing one as well. Just as I was baiting up with a piece of corn Nick blew for the all out.
I thought I had around 15-16lb (seven skimmers at 1.5lb apiece, a 4lb bream and the chublet plus bits for another 1.5lb) and didn't want the match to finish towards the end, why couldn't the first four hours have been like the last two! After packing up I walked round to catch up with Rob, the scales and the famous lobster pot, he'd just finished weighing Leighton in, he'd had two bream, a big perch plus several skimmers for 15lb 6oz. Thanks to Rob Cox for the photos*
Cannonball Dave had 1lb 10oz of shellshocked roach but at least his bait bag would be a lot lighter on the way back to the van! Steve 'The Pole' Parker had a lovely big chub that was getting on for 4lb plus a skimmer and some bits for 8lb 11oz from peg 8, Nick had seven skimmers for 12lb 7oz and then Terry 'The Toast' on peg 12 and Digger on 13 didn't weigh. Fieldy was next and his fish went 18lb 10oz, he'd caught roach early before fishing for skimmers for the last couple of hours.
Gordon on peg 18 had been busy catching loads of small fish for 3lb 11oz and then it was my turn, Rob called it at 17lb 10oz and I needed one more fish. Karl weighed 4lb 14oz to beat his dad and then John pulled his net out (and managed not to throw any back early) to weigh 14lb 2oz. So I ended up second and picked up £40 plus a nugget from Steve and I'm really enjoying the fishing, the skimmers seem well spread and are showing all round the pond with very close weights. I was a bit gutted at bumping those two fish but then Fieldy lost two and Nick lost four decent fish including a big chub.
1 – Graham Field (Taunton) – 18lb 10oz
2 – Jamie Rich (Against Men and Fish) – 17lb 10oz
3 – Leighton Cox (Ilminster) – 15lb 6oz
Sections
A – Nick Payne (Ilminster) – 12lb 7oz
B – John Dursley (Enterprise Angling) – 14lb 2oz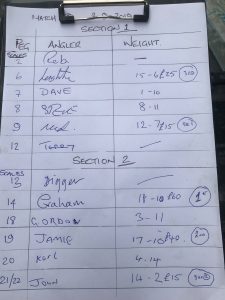 The final match is next Sunday 15th September and the league looks like this (number of matches fished in brackets),
Nick Payne – 105lb 10oz (8)
Graham Field – 89lb 6oz (8)
John Dursley – 69lb 3oz (4)
Steve Parker  – 57lb 12oz (9)
Terry Morgan – 56lb 6oz (8)
Jamie Rich – 49lb 4oz (3)
Leighton Cox – 40lb 3oz (7)
Rob Cox – 32lb 10oz (7)
Dave Phillips – 21lb 7oz (8)
Paul Homewood – 18lb 12oz (1)
Ian Burton – 18lb 1oz (4)
Baz Morgan – 7lb 14oz (1)
Karl Aplin – 4lb 14oz (1)
Harry Hebditch – 4lb 8oz (1)
Gordon Aplin – 3lb 11oz (1)
On Sunday 22nd September we're fishing the Bob Hammond Memorial Match at Dillington, it will be rod only (feeder or float) and spaces are limited to 15. Entry is £20 which includes a buffet and a £5 donation to a charity of Bob's family's choosing. There will also be an optional £5 super pool on the day. Results are back at Ilminster Bowling Club where a trophy will be presented to the winner by Bob's daughter. Let me know if you would to fish as it's filling up fast!
I can't go without saying a massive well done to my nemesis, The Torquay Tart, who won the Chard two day festival on the resi over the weekend. Not only did he have a perfect two point score, he actually won both days with weights of 101lb and 82lb against some very good anglers. I was genuinely made up for him but then he had to go and spoil it by asking what I was doing on Monday as he needed someone to drive the open top bus for his victory parade! Thanks to Brendon* and Rob Steed** for the photos.
Overall Result
1 – Brendon Ions – 2 pts
2 – Mark Hanham – 3 pts
3 – Gappy – 4 pts
4 – Steve Hutter – 4 pts
5 – Mark Mockridge – 5 pts
It sounded like a brilliant event organised by Tucks with the help of Les and Chard Angling Club and supported by Bait-Tech. A fantastic £380 was raised for Macmillan Cancer Support, well done to everybody involved.
Next up – The Sedges
Coming soon – Another trip down memory lane
Check Out – My latest review (below)