I decided this year I was going to fish some new venues and revisit some I haven't been to for years and I'm absolutely loving it! This week it was a Stoke match at The Sedges, a venue I used to fish quite often but a long time ago (before I even started the blog!), it was also on the Canal lake which I'd only ever fished once before and I really struggled that day. Now the winning weights can reach 80lb+ and the silvers is normally won with between 10-15lb, I'd spoken to a few people who fish it and it sounded like my normal Summerhayes approach wouldn't be too far off the mark for the silvers.
In the morning I popped over to the bowling club to have breakfast and pick up some bait from Steve (cheers mate!) before heading to the venue. I arrived with two minutes to spare and collected some nets before driving down to the bottom car park (which didn't exist the last time I fished it!). I paid my pools, had a £1 on the raffle and said hello to everyone including Dave Romain, Vic and Dave White who were fishing their first match with the club today.
The draw was announced and I delved into the bag of delight and when I looked I had number one which meant nothing to me but I got called a few names as it was the end peg right by the car park with loads of carp knocking the reeds, an absolute flier, bung hole, dolly peg etc! So my plan to fish for silvers went straight out the window although to be honest with loads of options I really wasn't sure how I was going to approach the peg!
I was also using my new pole for the first time today and I didn't really fancy trying to do battle with angry carp intent of smashing me up in the reeds on it's maiden voyage. While I was setting up there were quite a few carp cruising about so I set up a Drennan Crystal dibber for fishing shallow and mugging, a Crystal Margin for down the edge to the right and then a 0.25 gram Guru Carbon Pinger for fishing expanders over groundbait and micros at top two plus one. I had loads of bait on the side tray, 4mm expanders, 6mm hard pellets, dead reds, casters, micros plus Bait-Tech Special G Green and the Juice groundbait.
On the whistle I cupped in a ball of groundbait on the top two plus one line before starting shallow at 10 metres in open water, I really thought I'd catch quite quickly but all the carp that had been cruising around had disappeared! Vic opposite on peg 13 had an early fish on the waggler to the point of the island, I was pinging pellets and lifting and dropping the rig but hadn't had any bites yet, then I saw a fish to my left so flicked the rig in its general direction, the float buried and elastic was ripped from the pole tip. As it was my first fish on the new pole, I took my time with it before netting a nice 4lb carp to get me up and running.
Vic had another carp from by the island so I've stuck some more sections on and gone 14.5 metres to the point of the island and started pinging in some pellets, the float went and I was soon netting my second carp. So even though we were nearly an hour into the match and I only had the two fish, I was fairly happy as I thought I'd get a few now as I could see some black shapes swimming up and down by the island. Then I hooked a fish that tore off before the rig flew back with a scale on the hook! The next bite resulted in a fish that I was sure was properly hooked but I'll never know as the hook pulled out as I was shipping back and the score was now 2-2.
Over the next hour or so, I managed a couple more carp but also lost two and this wasn't quite the fish fest I'd hoped for. I hadn't seen Vic land anymore fish and the only other angler I could see was Dave Simms across on peg 12 and it looked to be slow going for him as well. As we approached the halfway point, I decided to have a go on my top two plus one line as there were quite a few bubbles coming up there. After a few minutes I missed a good bite and then next put in I had a nice 8oz skimmer followed by a smaller one and the next chuck, the float had barely settled before sailing under and I had a 2lb carp. I was getting quite a few indications and wishing I'd done this all day!
Another 8oz skimmer and then a flier of 1.5lb and I was starting to really enjoy this, then the float buried and I've hooked a decent carp that took off towards the reeds and I was sure it wouldn't be on long but then it was in open water and I started to think I was going to get this one in only for everything to go solid and it had found a snag! I tied on another hooklength but bites had now slowed up, I did manage another skimmer and a carp but I was going nowhere fast.
After potting in another ball of groundbait on the short line, I had a quick look in the margin which I'd been feeding since the start with casters and dead reds but no indications so went back across to the island but it just wasn't happening and I found myself inching closer and closer to the reeds, the float buried and elastic streamed out of the pole tip as I quickly shipped back before safely netting a 2lb carp. Two more in quick succession had me wondering why I was worried about those reeds, this was going to be a doddle as I bagged up to win the match in the last couple of hours!
Then I pulled out of a couple before the real horror show began, I was swinging the rig in so the pellet landed with a plop but then disaster struck when I misjudged it and the rig wrapped around a reed resulting in me losing the lot! I got a duplicate rig out and next chuck hooked a carp but that one snagged me solid and I was reaching for my hooklength box yet again! Mr Matrix (Andy Downton) had packed up early and walked round to see how everybody else was doing, just after he got to me, I hooked another that tore through the reeds and snapped me up, I got the float back but that rig was ruined so with just under half an hour to go, I decided to spend the remaining time on the top two plus one line.
I had a carp after a few minutes and then missed a couple of bites before hooking another carp which I took my time with as I wanted to make it count, I landed it nearly on time but nobody had shouted the all out yet, so I quickly went back in, the float sailed away and a 6oz skimbob came flying out the water, as I unhooked it, time was called. I ended up with 11 carp and 6 skimmers which Andy said he didn't think would be far away today.
James W came round to start the weigh in on our side while Dave Simms did the opposite bank, James asked how I'd done and when I told him he said I'd probably won it! I pulled my carp net out which went 31lb 8oz and then my silvers added 4lb 1oz to give me a total of 35lb 9oz. Dave White on peg 2 had 19lb 10oz which included three lovely golden tench and a barbel, Chris W had 16lb 14oz from peg 3 and then Kev Francis had some nice skimmers and a golden tench for 7lb 10oz which put him in the silvers lead and he also had 18lb 6oz of carp to give him a 26lb total.
The scales on the other bank reached James W's peg and shouted across that he'd weighed 44lb 6oz so yet another chronic under-estimator! Last to weigh on our bank was Lee who had 5lb 1oz which included a lovely barbel of 1lb 11oz. Back at the results and in the other section, James had the top weight followed by Dave Romain with 19lb 13oz from peg 9, Dave P had 14lb 10oz from peg 7, Vic weighed 14lb 7oz, Dave S had 11lb 15oz (rather a lot of Daves fishing today!) from peg 12, Mr Matrix weighed 7lb 9oz from 11 and Derek G had 1lb 10oz of silvers.
1 – James White (Stoke) – 44lb 6oz
2 – Jamie Rich (Against Men and Fish) – 35lb 9oz
Silvers
1 – Kev Francis (Stoke) – 7lb 10oz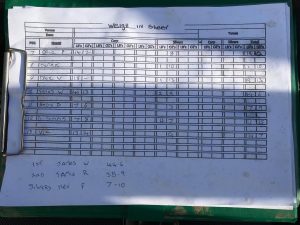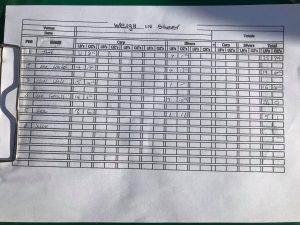 So I finished second and had a nice pick up of £45 but a frustrating day as it was definitely a winning peg and I just haven't done it justice today. In hindsight (that wonderful word again), if I'd just fished a couple of short lines I'd have probably done enough as I had 4 carp and 6 skimmers for around 16lb in the hour and a half I spent fishing at top two plus one. Also rather than chase the fish into the reeds, I think a depth rig for pinging pellets away from the reeds would have also been a good ploy. On the plus side, I'm really pleased with the pole and fished at 14.5 metres for a large part of the day and it certainly feels like a strong bit of kit too.
Next weekend I've got a double header with two matches I'm really looking forward to, the Charlie Barnes Memorial Match at Summerhayes on Sat and then the Bob Hammond Memorial at Dillington on Sunday which is rod only.
Dillington fished really well again in the final round of the Summer League, Fieldy won with a brilliant 41lb 1oz of bream and skimmers from peg 14 but it wasn't enough to overtake Nick Payne in the league, Nick had 23lb 10oz of bream, chub and skimmers from peg 20 to finish second on the day and claim the title of Summer League Champion, well deserved and fished mate. Stuart Aplin was third on the day with loads of roach for 10lb and Terry 'The Toast' Morgan took third spot in the league. Thanks to Terry for the photo*
The club would like to say a massive thanks to Nick for running another brilliant league, Ilminster Bowling Club for looking after us in the mornings and last but not least to all the anglers who make it such an enjoyable league to fish.
Next up – Summerhayes
Coming soon – Another trip down memory lane
Check Out – My last match (below)