I don't fish very many Saturdays but when I saw it was Charlie's memorial match at Summerhayes I put my name down as I love fishing Longs and it would be silvers only. Charlie was a legend, loved by everyone and like many of those there, he enjoyed fishing for silvers and viewed carp as vermin!
There was a great turnout with the regulars and some of Charlie's close friends including Harry Muir and Tom Thick. With the level of the pond lower than I've ever seen it, I felt a peg in the thirties with some depth would be a massive bonus. The draw was announced and young Kenzie went in for his dad Glynn and pulled out 31 which is normally a great area for silvers, I went for it and when I looked, I was on 35 and was over the moon, exactly the peg I wanted! Elsewhere Tom drew 15 with Gabriel Skarba on 17 and Roy Hughes on 19 and the bottom bank has been doing well for silvers in recent matches. Jeff Sparkes was on peg 1 with loads of space but wasn't confident and expecting carp carnage!
With nobody on 37 I had loads of room, I drew that peg the last time I was here and had a lovely day to win the silvers with 21lb 5oz (if you haven't read that post, it's here), I was hoping for a similar day and would fish it the same although quite a few people were saying they thought 12lb would be there or thereabouts today.
I set up a 0.3 gram NG Mini Gimp to fish top two straight out and to the left plus at top two plus one and then a Guru 0.25 gram Carbon Pinger to fish top two on the right where it was a bit shallower and at 9 metres down the middle. On the side tray I had Bait-Tech 4mm Xpands and dead reds for the hook, micros plus some Special G Green and The Juice groundbait I'd mixed the night before.
On the whistle, I cupped in a ball of groundbait on all five lines before starting on the right hand top two line with an expander on the hook, I was hoping for a quick fish to get me off the mark but after 20 minutes, I hadn't had a bite. Rob Birch on 33 flew out if the blocks with three skimmers and young Kenzie on 32 had a couple of leapers so there were some silvers showing. I switched to the left hand line and missed a bite before catching a 6oz skimbob next chuck. The next indication resulted in a carp tearing off before the rig flew back and there was a scale on the hook.
No more bites so I tried the short line straight out, the float sunk from view and a decent fish plodded around before a nice 1.5lb skimmer came to the top and slid over the rim of the landing net. So despite a slow start, I had nearly 2lb in the net after an hour and things got even better when I had two more 4-6oz skimmers from the left hand line and my catch rate was ticking along nicely. I was getting a few indications but so far I hadn't had too much carp trouble and didn't land my first one until nearly two hours into the match.
It looked like Rob and Kenzie had slowed right up and things weren't any better for me, over the next hour or so I did manage another couple of skimmers although the carp were starting to be a bit more problematic and as we approached the halfway mark, I needed to use the loo so popped down to see how Rob was doing and he said he'd only had a few skimmers and was now getting carped out and Kenzie and Glynn were now having the same problem after a promising start.
With the call of nature answered, I was back on my box and trying the top two plus one line for the first time was a massive anti-climax with every bite resulting in a pond pig tearing off with the majority of them foulhooked (I could imagine Charlie looking down and chuckling as I cussed away under my breath!). Roger turned up to see how we were getting on and soon got bored watching me not catching anything before having a walk round. On his return he said Roy, Gabe and Tom on the bottom bank were all catching well but most people were having carp trouble.
I tried my longer line but it was just more of the same and I was going through the motions a bit, I did hook a carp in the wing which led me on a merry dance and then just as I was about to net it, the line snapped above the float which just about summed up my day! The top two line to the left was now just carp city so I decided to spend the rest of the match swapping between the two lines straight out. Glynn packed up and headed off but left his net in because of our side bet. Two skimmers in quick succession had me hopeful of a late flurry but over the next hour and a half I only managed another couple to limp home with ten skimmers which I thought might scrape 4lb.
The scales were soon with me and my fish went 4lb 10oz which was little more than I thought but still a disappointing day after I'd done so well in recent matches. Rob had 4lb 15oz then Kenzie had 2lb 15oz before we got to Glynn's net and I mentally prepared myself for losing a nugget but his fish went 3lb 10oz so I was pound up which I'll have to claim next week. Bill didn't weigh on 29 and Rod on 27 had 1lb 10oz and Roger C on 25 had 2lb so it had fished hard on the track pegs.
Harry on peg 21 then went into the lead with 5lb 12oz but not for long when Roy had 6lb 15oz on 19, Gabe was next and had a lovely net of fish for 17lb 11oz and by accounts had fished a really good match. Tom was on 15 and had also done brilliantly to weigh 13lb 8oz and go into second place. Adey on 13 didn't weigh and then Nigel Coram had 4lb 6oz on peg 11. Tony on peg 9 weighed 5lb 4oz and then last but not least was Jeff who got one of his pounds back when he had 5lb 13oz but had also suffered a frustrating day, losing loads of carp (and hooklengths!).
I must admit I was a bit gutted not to have done better as I really wanted to do well in this match and I couldn't have wished for a better peg although it was noticeable that the top three were all in a row on the widest part of the lake so maybe that was down to how low the level was, lets hope we get plenty of rain before next Sunday!
So a struggle for most but I'm really pleased that Tom framed as he and Charlie were very close and I'm sure he'd have been delighted that we were all there fishing for 'proper' fish in his honour. Rest in peace mate.
1 – Gabriel Skarba (Mosella) – 17lb 11oz
2 – Tom Thick (Tom Thick Baits) – 13lb 8oz
3 – Roy Hughes (Summerhayes) – 6lb 15oz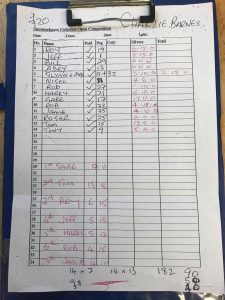 Next up – Dillington
Coming soon – Another trip down memory lane
Check Out – My latest match below