At the clubs AGM it was decided to hold a match to remember Bob Hammond who used to love fishing the pond and as a tribute to Bob this match was to be fished using only his favoured rod and reel tactics. With several people away, I somehow ended up organising the match and wanted to do my very best to make it a day to remember. I spoke to Bob's daughter, Eve, who very kindly said the family would donate a trophy and I said we would be honoured if they would like to come along and present the trophy to the winner. The results would be back at the bowling club where a buffet would be laid on and all the anglers would make a donation to a charity of the family's choosing.
I put the word out to people who had fished with Bob from Ilminster and Chard clubs and the 15 spaces filled up in no time. It was slightly disappointing when a couple of anglers dropped out just a few days before the match but I've said it many times before, I really don't know why anyone would want to be a match organiser, it's a thankless task that is guaranteed to give you a headache!
So with it being a rod only match, I just needed to find some rods and reels and try and remember how to use them! After speaking to a few people about kit and rigs etc, I decided on a two line approach so had a root around in the garage and found my Drennan 11ft 6in Stillwater Feeder rod, I also had an old Leeda 11 footer and then found a rod I'd forgotten all about! A rather nice Preston Carbonactive 10ft Quivertip that I won in a competition years ago and would be perfect for the shorter line. I put new line on two reels, mixed up some groundbait and was ready to go!
We all met at the bowling club for breakfast and the banter was in full flow with Steve 'The Pole' Parker the main perpetrator, in fact he was being so chirpy I was thinking of bringing in drug testing before the draw! More people started to arrive and it was lovely to see Andy Saunders who I hadn't seen since the open and Exeter Mike, who donated a couple of prizes to auction after the match and also Gordon and Stu Aplin who donated an extra fiver from Karl who couldn't fish today, thank you so much chaps, what a brilliant start to the day!
After everybody had arrived and eaten, it was time to draw and on my wish list of pegs for today were 2, 14, 18, 19 and 20. People started delving into the bucket and Nick Payne was happy with peg 9, Exeter Mike drew 14 and with only a few pegs left, I asked Jake if he'd pull a peg for me and he handed me number 6 which was the middle of the far bank and it can be a decent area. Jake then drew peg 7 for himself and with Big Frank on peg 5 I was in a Woodard sandwich!
The forecast for today was pretty wet and windy and it was very humid as well, after parking up and unloading the kit we headed to our pegs and I was sweating buckets! The pond was gin clear once again but there were plenty of fish topping and I fancied it would fish well with probably 20lb needed to win and double figures to frame.
After getting my box set up in the water it was time to work out what to do with these rod thingys! I set up simple paternosters to fish at around 15 metres on the short line and 30 metres on the longer line. On the side tray I had casters, corn, dead reds plus the Bait-Tech Omen and Pro Natural Bream Dark I'd already mixed up. I did have to borrow a bank stick off Frank as I didn't have anything to screw my rod rest into!
My game plan for today was fairly simple, I was going to put some bait on the longer line before feeding quite heavily on the shorter line, as in the league matches, the fish have been turning up on the pole line later in the day. I would fish long and keep the shorter line topped up by having the odd look every hour or so. We got underway at 10:30 and Cannonball Dave on peg 8 let fly with his usual bombardment and not to be outdone Nick 'Bombardier' Payne also fired in a salvo of his own!
I put in half a dozen big feederfuls of groundbait, corn and casters on the long line before picking up the short rod and feeding a dozen feederfuls on that line. I then put a hooklength on both rigs and started with hair-rigged corn on the longer line. Frank had a couple of small perch quite quickly so I guessed he was fishing maggot or worm, I was expecting to wait a while for my first bite but after about ten minutes, a lovely positive bite resulted in a nice skimmer of around a pound and a half. I then missed a good bite and had another rattle on the tip but hadn't added to that early fish as the first hour drew to a close but then the tip pulled right round and the strike met with solid resistance. I played it carefully and could see in the clear water it was a decent 3-4lb bream and breathed a sigh of relief when it went in the net, what a great start!
Over the next hour or so, the odd fish started to show, Jake and Nick both landed skimmers and John Dursley down on peg 13 had a decent chub. On the opposite bank it looked like Gordon on 18, Stu on 19 and Terry 'The Toast' on 20 were all fishing the waggler and catching small fish. I added another skimmer but with two hours gone, I decided to have a look on the short line and over the next half an hour I had a couple of rattles but no positive bites and at one stage I reeled in and a tiny roach had somehow hooked itself!
The weather was crazy and we were having some heavy rain followed by bright sunshine although thankfully the thunder and lightening that was forecast hadn't happened yet! Back on the longer line and the rest had done it some good as over the next sixty minutes I added two more skimmers. There was no real pattern to it, just out of the blue, the tip would go round, I did try twitching the bait but that didn't seem to attract any attention. Nick then landed several fish in quick succession which I was sure put him ahead of me. I also seen Andy on peg 2 use his net a couple of times and Stu had what looked like a nice chub.
Nick added a couple more skimmers while Jake, me and Frank couldn't get a bite, I had another go on the shorter line with no indications but I was hoping that resting the longer line again would do it some good. I went back out but it hadn't worked this time and the tip never moved. We were heading into the last hour and Nick had slowed up but I still thought he was just ahead of me as Jake said he thought he had seven skimmers which averaging 1.5lb apiece would give him 10.5lb. My four skimmers and a bream would go between 9-10lb but I needed a couple more fish.
Then my tip pulled round only for me to strike into thin air and I couldn't believe I'd missed that bite, worse still I looked up to see Nick playing another skimmer. I cast back out and looked to my right to see Frank's rod bend round as he was into his first decent fish of the day. Forty minutes left and I didn't think it was going to happen, I tried twitching the bait again and this time after a couple of minutes, the tip flew round and I landed another nice skimmer. I thought I'd pulled one back on Nick but he was only in again!
Going into the last half an hour I was willing the tip to go round and with fifteen minutes left on the clock a really positive bite resulted in skimmer number six. I still felt I needed another as I thought Nick had nine skimmers (13.5lb) while I had six and that bream for 12-13lb. I didn't get anymore and was left cussing those two good bites I'd missed.
After packing up I took some of my kit back to the car before grabbing the scales and the world famous lobster pot to start the weigh in. As I passed Andy, I asked how he'd done and he replied he'd had five skimmers, a proper bream and an eel, he was admitting to 10lb but I knew it would be more than that, he was also in a lot of pain as he'd fallen down the bank when he'd first got to his peg! First up was a very moist Steve 'The Feeder' Parker, he had one skimmer and a few bits for 1lb 12oz from peg 22, Terry 'The Toast' had fished the waggler for most of the day on peg 21 to weigh 3lb 4oz of roach and perch, Ian Burton didn't weigh on 20 and then Stu Aplin had a nice chub and lots of small fish (including three Dillington barbel) for 2lb 14oz.
Gordon on peg 18 had loads of roach and perch for 4lb 6oz to go into the lead, Exeter Mike had three skimmers for 3lb 3oz on peg 14 and John 'The Snake Charmer' Dursley had a skimmer, a nice chub and three eels for 5lb 11oz from peg 13. Next up was Nick and he'd actually had seven skimmers (and lost a couple) which went 11lb 7oz and I thought I might just have that and then Dave 'Cannonball' Phillips had caught loads of fish on the waggler for 3lb 8oz from peg 8.
Jake had a couple of little skimmers for 1lb 6oz and then we got to my peg, my weight was called 12lb 10oz to go into the lead but I knew it would be close with Andy. Frank had 1lb 15oz next door and then we made our way round to Andy. He pulled his net out and the bream looked to be 5lb plus and I thought he'd done me easily but with his fish in the lobster pot, it was closer than I originally thought but it was still enough as the needle crept past my weight and settled on 13lb 3oz, well done mate.
Then it was back to the bowling club for the results and some food, Bob's family were already there, I'd met his daughter Eve before and it was lovely to meet his wife and granddaughter too. I did the results first and I picked up £50 for second place before Eve presented Andy with The Bob Hammond memorial shield and a miniature trophy for him to keep. I then auctioned off the two prizes that Exeter Mike kindly donated which added another £23 to the charity pot (thanks to Gordon and Dave). In total we raised £93 on the day which went to a charity of Bob's family's choosing, the Gamekeepers Welfare Trust, a brilliant effort everyone.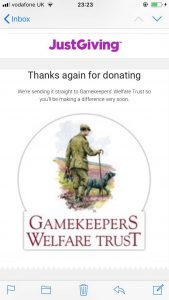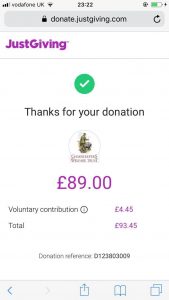 Eve thanked us all for the day but it was our absolute pleasure to do it and I'm looking forward to dusting the rods off again next year! I'd actually quite enjoyed fishing the feeder as it was something different and it was a very close match with just one fish separating the top three.
1 – Andy Saunders (Sharp) – 13lb 3oz
2 – Jamie Rich (Against Men and Fish) – 12lb 10oz
3 – Nick Payne (Ilminster) – 11lb 7oz
Sections
A – Gordon Aplin (Ilminster) – 4lb 6oz
B – John Dursley (Enterprise Angling) – 5lb 11oz
I had an update from Andy, he spent four hours down at A & E and was told he had indeed broken his toe but also that there's nothing they can do about it! Hope it's better soon mate.
Before I go, I must just share this e-mail with you that Eve sent me,
'Dear Jamie,
I just wanted to say a huge thank you for organising Dad's Memorial Fishing Match.
Myself and Mum were so overwhelmed by what you and the rest of the men had done for us and for Dad. If only I could tell him what you all did – I don't think he'd quite believe it. Can you please pass on our sincere thanks to everyone there yesterday? No wonder Dad used to love Dillington so much with such a great bunch there to listen to all of his stories! 
Thank you and kindest regards,
Eve'
So I'd like to reiterate Eve's lovely comments and say a massive thanks to all the anglers that fished yesterday, Mike Hosgood for donating the prizes, Karl Aplin for his donation and Ilminster Bowling Club for looking after us in the morning and after the match, same again next year please!
Next up – Summerhayes
Coming soon – Another trip down memory lane
Check Out – My latest match below