In the last instalment, the Chard Spring Pairs had just finished and it was time for another Drennan Superleague campaign. With the first round at Woodlands View near Droitwich the plan for practice was to go up and fish an afternoon match which would mean a long day, especially as Captain Les said we'd go up early and watch the morning match! Andy picked me up and off we went, there were some stars in attendance, Dave Harrell, Clint Elliot, Jeff Perrin and Paul Boothy to name a few.
We watched the fishing for a bit and there were a few carp being caught before heading off to the Little Chef for breakfast. Back at the draw and I was hoping not to end up High Pool as apparently it was really deep but of course when I delved into the bucket, I came back with H17 – great! I got to my peg and the bloke on my left said they were good pegs in the winter but crap this time of year – even better! Things got worse when none of my rigs were really deep enough and with all the faffing about, I wasn't ready at the start.
I cupped in some chopped worm, caster and meat at 8 metres and then meat and caster at 5 metres, I started on the longer line and missed a couple of bites before catching a 2oz crucian. The anglers either side of me started landing the odd carp on their shorter lines so I came in on mine and had a 10oz golden orfe and that was the last fish I had! My left hand neighbour had some big carp and framed with 37lb odd and the guy on the other side of me had 35lb and framed, battered like a chip shop sausage and I chucked back my 12oz without weighing!
So in summary, we got home gone midnight after a 16 hour day, I'd spent £60, caught two fish and suffered one of the worst batterings I've ever had and we had to do it all again next week – great this team fishing malarkey!
Despite my poor performance I somehow made the team the following Sunday, I was praying I wouldn't be on High Pool again but once again my drawing arm let me down (nothing new there then!). The plan was to fish chopped worm at 10 metres and I missed a couple of bites before catching a decent roach followed by two skimmers. The next bite resulted in solid resistance which I thought would be a carp so was very surprised when a 4lb barbel popped up!
I had a 12oz carp and a few small fish but lost a carp at the net which was costly as I weighed 8lb 8oz with 10lb second in the section. Still I picked up £15 for third in my section and the team did brilliantly, Les, Nick and Bish were all second in their sections, Fieldy and me were third and the other three came back with decent points and we won on the day! We stayed on for a bit watching Dave Harrell fishing meat in the evening match and he was catching well.
The next match was a practice on the K & A canal but before that I had a day off work and had a pleasure session down Ilminster canal, it was really weedy but there was one swim that was fishable about halfway along with reeds on the far side. I lost a decent roach first put in but then had a brilliant days fishing, 38 decent roach and rudd, 6 skimmers around 8oz apiece, a 12oz eel and an 8lb carp that led me a merry dance, well over 20lb in total.
Of course, as it was me, I couldn't just have a nice days fishing, oh no, near the end of the day, a young, very drunk girl came down and threw herself in the water a bit further down, with the aid of my landing net, a passer by and me got her out and then the police and an ambulance turned up, absolute mayhem, so I packed up and headed home!
For the K & A practice, a decent sized match with 78 fishing, I drew a really good peg near the Barge Inn and fed some chopped worm and caster across and groundbait down the track, I had a couple of small fish and then with a boat coming, I went to ship the pole back but was snagged up, I put the tip under the water and fed the pole back, when I lifted the rig out, there was slime all up the line and I'd just lost a decent skimmer! There were obviously some fish there as I had a 2lb skimmer followed by two tench around a pound and a quarter each.
It was really bright and sunny and by all accounts, it was fishing hard, my bites slowed up so I fished down the track for a few small fish while feeding caster across and when I went back over, I had another pound skimmer and a tench of a similar size, I did miss a bite on worm and that was it. My fish went 6lb 13oz which was good enough for 3rd place, £150 and two Kamasan points, Nicky Collins was second with 6lb 15oz and the winner had 11lb 2oz. We had some other good results too, Les's boy, Tom, was fourth with 6lb 7oz and Les, Bish and Dunner all won their sections.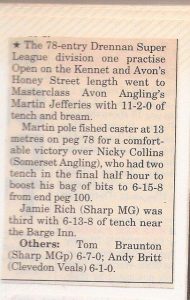 In the league the following week, I drew the next section down and struggled for 12oz, the team did well on the day, finishing third with Bushy coming second in his section and Les winning the match with 14lb from the peg that won last week. After two matches we were leading the league with 161 points.
It was the Huntspill for the next practice and I drew one off the Clapper, I had an hour on the feeder for one roach and a perch but then caught well on the pole for the remainder of the match, around a dozen eels, roach, perch, ruffe and a couple of hybrids for 3kg 530grms which won the section. Framing was a definite possibility though as I dropped off, bumped and missed loads.
I drew next to Nicky Collins in the league match and our team plan was to fish the pole at 13 metres and feed quite heavily with maggots, I had two fish in two chucks but then the wind got up and was so strong at times it was swivelling me round on my box! I ended up with 12 eels and few roach and perch for 1kg 750grms and a lowly 5 points, Nicky battered me with over 3kg for 11 points. In hindsight, once the wind got up I should have fished shorter rather than trying to fish long when it was impossible to achieve any kind or presentation. The team struggled on the day, finishing fifth and dropping into second place overall.
In between the Drennan League and practice matches, I was doing a fair bit of pleasure fishing with Arf Brown and Andy Langdon and we went all over the place, East Huntspill where they both caught sturgeon and I didn't (I still get ribbed about it to this day!), West Pitt Farm in Devon where we had some cracking days catching tench and crucians in nets to around 50lb and the Viaduct at Somerton where we had loads of carp and little tench.
The next round of the league was on the Huntspill and I drew a decent area but really struggled for 2lb and 5 points and I lost two big eels that would have been worth mega points. The team finished joint sixth on the day and we dropped to third in the league.
The River Axe was the venue for the next league match, we went down to practice and if I'm honest, I just wasn't getting to grips with it. In the practice open I had around 3lb and chucked back, Mike Stone won my section with 6lb something. I still made the team for the following Sunday but the day didn't get off to the best of starts when Andy turned up looking slightly flustered as he'd run a bath but it overflowed and went through the ceiling! He gave me a lift to his dads who very kindly drove. My day didn't get much better when I drew C section which meant a mega walk and when I got to my peg I had dog poo all up my bib and brace!
I've caught quite well but bumped and missed loads, I ended up with 67 fish for 4lb 11oz which only gave me 8 points, there were three bream weights and then a 5lb 2oz and a 5lb 8oz which I should have been a lot closer to. The team did really well scoring 81 points which was second on the day and we moved back into second place in the league.
The final round was on the Gloucester Canal and we went up to fish the open the week before, I drew peg 322 and had three small skimmers for around a pound but didn't bother weighing. For the last league match, I had a nice short walk but the fishing was really hard, I had 1lb 4oz which included a bonus 12oz perch and I ended up with 7 points, I did beat the anglers either side who had 6oz and 13oz – great fishing! On the day we had 77 points which was third and we finished up second in the league which meant we'd be promoted and would be up against the big boys the following season.
Then it was back on the Isle on 5th Oct for a Chard AC match and I managed third place from peg 39 at Donyatt with 10lb 4oz of roach, gudgeon, chublets and dace) but the next few matches on the river and Chard resi were a real struggle. The next match worth talking about wasn't until 30th Nov, an Ilminster fixture on the Isle and I drew two above the Green Hut and had a really enjoyable day catching six chub plus chublets for 10lb which was enough for second place and a nice pick up of £89. I did lose three chub which was costly as Graham Skinner won with 13lb 8oz.
For Chard's Xmas Fayre, the match was split between the river and resi, it was the river for me (of course!) and I drew a really good peg in the shape of number 19 but didn't make a very good job of it. I had four chub, five roach and two dace for 10lb but lost five chub! My weight was enough for third on the river behind Scott Russell who won with 22lb and Basher with 14lb. I picked up £20 and won big bottle of rum which I gave to my dad and we all enjoyed a fantastic Xmas dinner at the Cotley Inn.
*Thanks to Arf Brown for the photos
1998 next