I think these 'All Winners' style matches are a great idea, they create a real buzz with lots of people trying to qualify and there's usually a decent prize pot. This is the third year I've qualified and it's a match I'd love to win, although so far, fifth is the best I've managed. The forecast for Saturday night and Sunday was horrendous with strong 50-60 mph winds and rain although when I woke up it didn't look too bad so hopefully we'd had the worst of it overnight.
I was due to meet Zooner (Jess) for breakfast at the Toby but Jeff text to ask if we wanted to go to the Boat & Anchor as he'd arranged for them to open in the morning so we thought we'd give it a go. On arriving, Roy and Jeff were already there and we were soon joined by Roger K, Zooner and Chris M, I have to say they looked after us really well and the breakfast was excellent, I would definitely go back and it would be great if it could become a regular thing.
Fuelled up and ready for the day ahead we drove the short distance to the fishery, there was a decent turnout of 16 for this one including Glynn W who paid me his pound from the last match. After paying my pools and having another coffee, it was time to draw, I fancied pegs 11, 15, 17 or 19 but by the time I stuck my hand in the bucket, they'd already gone, I grabbed a ball and when I looked I was on 35, the same peg as the last time I was here. To be honest I had mixed feelings about it, the pegs along the track are normally really good but I'd struggled in Charlie's match and so had the anglers around me.
As I took my kit to the peg, I couldn't believe how nice the weather was, had the forecasters really got it that wrong? For company I had Adey R on 37 with Chris M on 33, elsewhere, today's side bets were Jeff on 27, Zooner on 15, Glynn on 13 and reigning champion Roger K on peg 10.
I set up a 0.3 gram NG Mini Gimp to fish top two straight out and top two plus one and then a Guru 0.25 gram Carbon Pinger to fish top two left and right where it was a bit shallower and finally a Guru 0.3 gram Wire Pinger for fishing maggot over groundbait at 10 metres. On the side tray I had Bait-Tech 4mm Xpands and dead reds for the hook, micros plus some Special G Green and The Juice groundbait I'd mixed the night before.
Pete got us underway and I cupped in a ball of groundbait containing a few dead reds on all five lines before starting on the top two to my right with a 4mm expander on the hook. I never had a fish off this line in the last match so was pleasantly surprised when a positive bite resulted in a 6oz skimbob after only eight minutes (I checked my watch!). A missed bite followed before I added another skimmer and then next chuck I had a carp which didn't give me too many problems. I decided to stick with it until I hooked another carp there and as I laid the rig in, the float disappeared as a fish grabbed the bait on the drop, I was expecting another carp but a nice skimmer leapt out of the water and thankfully stayed on the hook. So with just twenty minutes gone I had around 1.5lb in the net and with 10lb predicted to be a good weight today, I was off to a great start.
The next ten minutes passed without any more bites so I switched to the left hand side but only had one indication which I missed so back to the right and I had another nice skimmer to put me on around 2lb after an hour. I'd seen Chris net a couple of decent skimbobs so it was fishing quite well at this early stage. No more bites right or left so I tried the top two line straight out for the first time but didn't get the response I'd hoped for. After what seemed like an age, the float finally sunk from view and I had another nice skimmer but that was the only action from the second sixty minutes but at least I wasn't being plagued by carp!
Another go on the other short lines was fruitless and I wanted to leave the top two plus one line to the last couple of hours so went out on the 10 metre line with a single dead red maggot and toss potted in some loose groundbait. I was expecting to catch quite quickly, probably small roach and blades but I never had a bite! To make matters worse, the wind, which had been a gentle breeze blowing right to left suddenly turned round and turned into a howling gale! I had thought if the wind got up I'd be sheltered by the tree to my right but that went out the window and just to add to the fun it started lashing it down as well!
I was struggling to hold the pole and also having to keep grabbing my bait tubs and top kits to stop them getting blown in, this was fun! As uncomfortable as it was, some of those on the bottom bank would be now getting it straight in the chops! I did glance up and saw Adey playing a fish and when I looked back, the float had gone, I struck and there was a delay between striking and hooking the fish, so straight away I knew I'd foulhooked a carp which led me a merry dance before coming off and that was enough of that.
Back on the top two line and it still wasn't happening, Roger R turned up for a walk round but with the weather getting windier and wetter by the minute, he said he didn't think he'd be staying long! I had a quick look on the top two plus one line but with the wind now reaching biblical proportions, I decided to batten down the hatches and pack away as much kit as possible so I wouldn't have to worry about it getting blown in! I took everything off my side tray and put my micros, expanders and dead reds in my groundbait bucket which has a lid and then put all my pole sections away apart from the the top kit and number four section. So now, even though I wasn't catching much, I could at least concentrate on my fishing!
I had my first skimmer from the top two plus one line but with over half the match gone, I felt like I was going through the motions a bit, Roger got back from his walk around the lake and said it was hard going for everyone with the front runners being Roy, Gabe and Rog K who were all admitting to around 5lb. So with six skimmers for around 3lb, I wasn't actually that far off the pace. I was missing a few indications and starting to hook a few more carp but I stuck at it as a couple of decent fish could get me right back into the mix.
I did hook one fish that tore off and I was sure it was yet another foulhooked carp so put the pole tip under the water but then it flew out of the water and shed the hook and I'm pretty sure it was decent skimmer – bugger! Over the next hour or so, although it wasn't fast and furious, I did manage two more skimmers (plus the inevitable carp). The wind was an absolute nightmare and now blowing mainly left to right while there was a strong undertow going the opposite way, I tried going over depth by a few inches in a bid to get some sort of presentation but I'm not convinced it helped much.
There were more and more carpy blows coming up over my feed so to try and avoid the vermin, I started fishing to the left and right of where I was toss potting in micros and it worked to a certain extent as I had a couple more skimmers but I needed a late flurry of fish and didn't get it. I have to admit I wasn't too upset to hear the final whistle. So for the second match running on the same peg, I had the same number of fish which I thought would go a similar weight (between 4-5lb) and I knew that wouldn't be any good but the question now was, how many side bets was I going to lose?!
After packing up (which didn't take long), Pete went to weigh in the match on Sellicks first, Jim Jenner had the top weight with over 200lb from peg 23 and John Billett topped the silvers with a lovely net of skimmers and a tench for 14lb 8oz from peg 2.
Then it was out turn, Adey had 2lb 7oz from peg 37 and then my fish went 5lb 1oz, Chris M on 33 had 4lb 15oz, Bill weighed 3lb 14oz on 31 before Roy on 29 went into the lead with a brilliant 10lb 9oz of skimmers and roach on the wag and mag. Jeff just pipped me for the quid with 5lb 4oz on peg 27 and then Eric Fouracres had done well to weigh 6lb 13oz from peg 24. Gabe had 9lb 14oz on peg 21 which was a great weight from there and Mark Leahy weighed 8lb 13oz from peg 19.
Rob didn't weigh on 17 and then a rather windswept Zooner on 15 pulled out his net and it was going to be close for the nugget, the readout settled on 4lb 14oz and it was 1-1 in the side bets. Glynn had already gone on 13 so I'll have to claim my pound the next time I see him. Roger K was on peg 10 and had done really well but fell just short of defending his title with 10lb 5oz, he did have the consolation of taking a nugget off me though. Then Jacko, Pete and Martin didn't weigh as 'Cyanide Straight' lived up to its name.
So it had fished really hard but it was a really close match with less than a pound separating the top three who are always there or thereabouts when it comes to silvers matches, Roy and Gabe reversed their positions from Charlie's match and Roger won this event last year. The weather certainly hadn't done us any favours and there had been several pole breakages and sections that have gone for a swim!
1 – Roy Hughes (Summerhayes) – 10lb 9oz – Champion of Champions
2 – Roger Kimberley (Summerhayes) – 10lb 5oz
3 – Gabriel Skarba (Mosella) – 9lb 14oz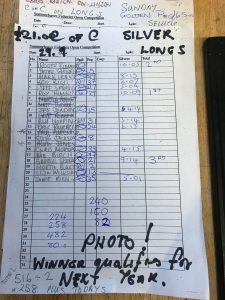 A disappointing day for me but I will be trying my hardest to qualify for next years final.
Next up – To be confirmed
Coming soon – Another great review
Check Out – My latest trip down memory lane (below)