On Bank Holiday weekends Pete always runs two matches where the pools are split equally between carp and silvers which I think is a great idea. A quick pit stop for a 'Billy No Mates' breakfast at the Toby before heading to Bridgwater. It was supposed to be another boiling hot day but as I pulled into the car park, it was actually nice and overcast but I didn't think it would last. I had a coffee and chatted to Jeff and Roy as others started turning up including Mark Leahy and Rob Birch who was sporting a very fetching pair of salmon pink shorts! Yardie, Glenn, Carl and Geoff from Torquay had fished yesterday and stayed overnight in a B & B and apparently Geoff was rather the worse for wear although I struggle to tell the difference if I'm honest!
Pete announced the draw and I was hoping to draw in the thirties along the track, 17 or 19 on the bottom bank or peg 12 where Glynn had done 30lb of skimmers on Friday, I delved my hand into the bucket of doom and when I looked I was on peg 15 – gutted, it's a corner peg and although it can be quite good for silvers, it's more of a carp peg and I never do very well off it. Then with Carl and Yardie left to draw, Carl stuck his hand in and there was only one ball left! Pete had to call everybody back for a redraw so I got to have another go, although with my luck, I'd probably draw 15 again!
I grabbed another ball and as I opened my fingers I could see a 3 but it was followed by a 7, it's the narrowest swim on Longs with an aerator to the right and a peg I've never drawn before. It does win quite a few matches with carp but I can't recall it winning the silvers too many times, although both Jeff and Roy said I'd have a good day on it. As it's right in front of the hut and car park, at least I had a very short walk!
I set up a 0.3 gram NG Mini Gimp to fish top two straight out and at top two plus one and then a Guru 0.25 gram Carbon Pinger to fish top two on the left and right where it was a bit shallower and I also plumbed around to find two more lines at the same depth, one at 8.5 metres straight out and the other at 10 metres angled to the left down the track. No surprises on the side tray with Bait-Tech 4mm Xpands and dead reds for the hook, micros plus some Special G Green and The Juice groundbait I'd mixed the night before.
Pete got us underway and I cupped in a ball of groundbait on all six lines before starting on the right hand side, I started getting indications straight away and after a couple of minutes struck into my first skimmer of about 6oz but as I reached for the net, the hook pulled out! I missed a couple of bites but after twenty minutes I hadn't got off the mark yet so switched to the left hand side. A bite quite quickly and I was up and running with similar sized skimbob to the one that had come off.
My next fish had me convinced it was a crucian until it surfaced and turned into a 6oz carp, then I had a foulhooker around 3lb that didn't give me too many problems so I switched back to the right hand side. I was trickling in a few micros every put in on all three of my short lines. I had a decent spell catching three skimmers and then just as the first hour came to a close I had a gorgeous crucian around the pound mark to put me on around 2lb or so which was a little off my normal 3lb an hour target.
Geoff (not so) Young on peg 35 was getting the odd carp from his inside line and then shouted up that he'd just landed a big perch and it looked like Glenn down on golden peg 33 was catching a few carp as well, I couldn't really see anybody else. I had a couple of hand size skimmers before hooking a big leaper around 1.5lb which signalled the start of a real purple patch where I landed several more big skimbobs and then another pound crucian was the icing on the cake, I was enjoying this! I was up to 10lb after an almost perfect hour with the only blip being when a decent skimmer leapt out of the water into the brambles on the inside, I could see the fish and managed to get it in the landing net but lost a hooklength in the process.
At the start of the third hour, I had another skimmer around the pound mark to put me on 11lb and surely this wouldn't last! Roger Russell turned up to see how we were doing and I had a 6oz skimbob from the left while he was with me, he went to see how the others were doing and I had another good spell on the right with five more skimmers and another decent crucian to bump my weight up to 13.5lb. I was still feeding micros on the top two line straight out but I hadn't gone on it yet and we were now nearly three hours into the match.
Rog came back and said Rob Birch on peg 28 was admitting to 7-8lb so he was catching quite well and Jeff on 17 was getting a few silvers too. More carp were putting in an appearance, including a perfect miniature which was all of an ounce! I did land one lump that didn't fight very much and then it rolled over in my landing net and snapped my hooklength – doh! I decided to try the top two line straight out which I'd been carefully nurturing for three hours and I really thought I'd catch well but after fifteen minutes, I hadn't had a bite!
Next I went out to the top two plus one line, it took a while to get an indication and I landed a skimmer about 8oz, another followed shortly after but the next fish was a carp and they were starting to show on all my lines and I could see plumes of silt and the odd tail so I would just keep switching lines and hope I could keep putting some silvers in the net.
The left and right short lines were a waste of time now so I went back to the top two line straight out but once again, it seemed devoid of fish and I was just about to give it up as a bad job, when the red float tip sunk from view and I landed another nice skimbob, I had another quite quickly but then next chuck the float just sat there so I went to lift the rig up and there was a fish on! It didn't feel like a carp and when it started going round in ever decreasing circles, I knew it would be a crucian and it was another lovely fish of a pound or so.
The next couple of fish were carp so I went back out to top two plus one and had another skimmer, I also had a tiny dip on the float and a skimmer came flying out of the water, I hadn't even struck or anything! I did manage one more skimmer before Pete blew for the all out and I'd had a fantastic days fishing, 36 skimmers and 4 crucians and to be honest I'd lost track of what weight I had and thought probably 18lb although I was admitting to 15lb!
I packed up and made the long trek back to the car! before catching up with Pete and the scales at Geoff's peg and I was well impressed he'd managed to stay awake for the full six hours! His silvers went 6lb 15oz and he had 84lb 10oz of carp, Glenn didn't weigh and then Yardie just pipped his room mate with 88lb 8oz. Rob Birch on 28 was next and said he'd had a bad day with carp being a pain but he still had a nice net of silvers weighing 13lb 10oz (and still looked very sexy in his salmon shorts!).
Mark Leahy was next on peg 19 and had 68lb 9oz of carp and then Jeff Sparkes weighed 12lb 9oz of silvers, Kenan on helipad peg 15 had 30lb 12oz of carp, Roy Hughes on peg 12 then had four nets of carp for a massive 171lb 2oz. Carl Everton on 7 was the next peg and went into second place in the carp with 126lb 10oz, I was last to weigh and my fish went 21lb 5oz for first in the silvers.
Back at the results and I picked up £50 for winning the silvers (plus Jeff's pound) and had enjoyed another brilliant days silvers fishing (42lb 9oz in two days!). I was close once again to beating my best Summerhayes silvers weight and that seems to be the story of my summer, I've been one fish away from setting new pb's at Perry St, Dillington and Summerhayes (silvers and overall weight).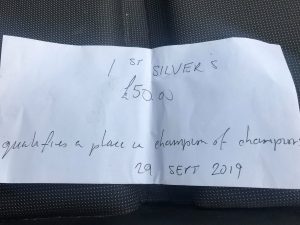 Carp
1 – Roy Hughes (Summerhayes) – 171lb 2oz
2 – Carl Everton (Torquay) – 126lb 10oz
Silvers
1 – Jamie Rich (Against Men and Fish) – 21lb 5oz
2 – Rob Birch (Summerhayes) – 13lb 10oz
I'm still very impressed with those Guru floats so I popped into Somerset Angling today and bought some more Carbon and Wire Pingers plus I stocked up on Guru F1 Pellet hooks which are just perfect for commercial silvers.
Next up is Ilminster vs Stoke at Parrett Works, a stretch of river I don't think I've ever fished before so I'm looking forward to that as I always get a buzz from fishing somewhere new!
Next up – River Parrett
Coming soon – Another great review
Check Out – My latest match below