I'd really enjoyed the last match and was looking forward to having another go this weekend although the forecast was for a scorching hot day, not ideal conditions for skimmer fishing! We met at the bowling club for breakfast and it was nice to see Langport invader, Baz Morgan fishing again and also Paul Homewood, John Dursley and Ian Burton along with some of the regulars although Terry 'The Toast' and Fieldy couldn't fish today.
Nick announced the draw and I quite fancied 13 and 14 on the bottom bank but pulled out peg 2, it can be a really good peg and it would be quite shady so hopefully I wouldn't cook today! We were soon at the pond and as I got my gear to my peg, I could see loads of fish swimming about under the surface, mainly roach and chublets with the odd bigger black shape among them but with the pond flat calm and gin clear I really thought it might be hard going today.
I set up a little Preston Chianti with spread shot to fish shallow, a 0.5 gram Drennan Roach for 10 metres straight out and a 4 x 16 Preston Chianti to fish two lines, one at 11.5 metres and the other at 8.5 metres just off the end of the bush to my right. For bait I had a pint and a half of casters, half a pint of red maggots, corn, hemp plus some Bait-Tech Omen and Pro Natural Bream Dark that I'd mixed up 50:50.
The only anglers I could see were John Dursley on 20 and Nick on 19 and I knew they'd both fish for skimmers from the off so I decided I would feed my two skimmer lines but fish for roach at 10 metres and keep my eye on those two and if they started catching bigger fish, I'd switch. On the whistle I cupped in a ball of groundbait at 10 metres before putting in three on both the skimmer lines, followed by a pot of corn, casters and hemp which I would leave to settle while I fished the shorter line for a bit.
I had a bite first chuck but bumped it when the maggot folded over the point of the hook, next drop in a net roach took the bait on the drop and some smaller roach followed. A quick go shallow only produced a small rudd and just wasn't confident with the pond flat as a pancake! I did hook one fish that pulled some elastic out before I netted a 4oz skimmer and it's great to see some younger year classes, hopefully a good sign for the future. I wasn't bagging but as we approached the hour mark, I had 22 fish for probably a pound and a half while John had a small perch and Nick had a Dillington barbel (gudgeon).
Just as the first hour was up, Nick struck into a decent fish and landed a skimmer so I decided to have a quick look on my other two lines, starting by the bush with corn on the hook. I had a couple of little digs on the float after five or six minutes before the float sailed away and a decent fish was on, I shipped back gently and netted a decent skimmer around 1.5lb. I gave it another thirty minutes but no more bites while Nick had several more skimmers and John had a couple as well.
Out onto the longer line and I had another skimbob quite quickly, the water was that clear that on the strike I could see the fish 11.5 metres out and 6 feet down! Nick and John were still catching steadily but I was having to wait ages for a bite, my next fish was a 12oz chublet and then I hooked another chub which looked like it would weigh 2.5lb after a decent meal but was actually nearer 1.5lb.
Nick was still catching skimmers regularly and John had added a nice perch but I didn't know how the rest of the pond was doing. I cupped in two more balls of groundbait on the longer line along with a full pot of casters and corn and had another go by the bush while it settled. No more bites there and we were now approaching the halfway point. Club Chairman Max turned up to see how we were doing and when he got to my peg, I'd just gone back out to 11.5 metres and typically the float sailed away and I struck into thin air, much to Max's amusement and I came in for some stick.
After he left to see how the others were doing I had three decent skimmers in quick succession to get me interested again although I was still a long way behind John and Nick who probably had around a dozen fish apiece and apparently Paul was getting a few over on peg 13 as well. With just over two hours to go, Rob turned up, he said he'd had one skimmer early on but was struggling as were Ian, Steve and Baz on pegs 6, 7 and 8. While he was with me, I had two decent skimmers and missed a couple of bites and it looked like John and Nick had both slowed right up so maybe the fish had moved.
I had two more skimmers and then the float sailed away and the strike was met with solid resistance, this was a bigger fish, I inched the pole back with my heart in my mouth and in the clear water I could see it was a big dark bream. All I kept thinking about was the last match when I hooked one only for the hook to pull out at the net and I was convinced history was going to repeat itself, I couldn't get it's head up and I felt sick! Then it kited to the left, stopped and came to the top and I slid it into the waiting net – yes!
There was still just under an hour to go, I was getting regular indications and it felt like there were a few fish there. Then disaster when I struck at a positive bite and the elastic came out but only briefly and I'd bumped it! I was hoping that wouldn't kill the swim but it did and I never had another fish while Nick had three in the last twenty minutes.
As I had the scales (and lobster pot) I packed up and took some of my kit back to the gate before starting the weigh in with John. I asked how he'd got on and he said he had 13-14lb but as he pulled his net out, it was obvious there was more than that in there. He pulled the third ring through and as he started walking up the bank, a decent skimmer flipped out the net, I shouted to alert him and as he tried to stop it going back in the water, another one did the same and both gained their freedom prematurely.
He weighed 21lb 6oz which was a brilliant weight but you just knew those two fish were going to cost him as they would have gone 3-4lb between them. Then it was Nicks turn and he had another lovely net of fish including a big bream and after two weighs his total was 24lb 7oz to go into the lead. The next angler was Dave on peg 14 and he had loads of roach for 4lb 12oz and then Paul H had another cracking net of skimmers caught on the pole and feeder for 18lb 12oz from peg 14.
Baz was next and he had a lovely bream early on the feeder plus loads of roach for 7lb 14oz, Steve P had a busy day weighing 4lb 4oz of mainly roach and then Ian had 5lb 8oz which included a nice skimmer, Rob didn't weigh and then it was my turn, the scales bottomed out so I took the bream out and my nine skimmers, two chub and a few bits and bobs went 16lb 12oz. Then the bream went 4lb 8oz to give me 21lb 4oz and just 2oz off of second place but I'm glad really as that would have been a bit harsh on poor John!
So I ended up third and picked up £15 which helped pay for the day and I'd had a lovely days fishing although I was a bit gutted at bumping that fish as I reckon I could have won especially as I missed quite a few bites as well. Given the conditions, it has fished brilliantly with bream and skimmers showing on three sides of the pond although the field side was a bit of struggle.
1 – Nick Payne (Ilminster) – 24lb 7oz
2 – John Dursley (Enterprise Angling) – 21lb 6oz
3 – Jamie Rich (Against Men and Fish) – 21lb 4oz
Sections
A – Paul Homewood (Taunton) – 18lb 12oz
B – Baz Morgan (Somerset Angling) – 7lb 14oz
Nick sent me a photo of the league table after 8 matches, it's done on combined weight,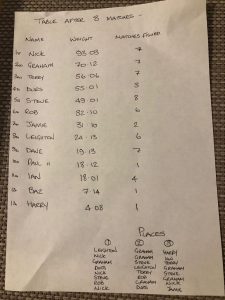 Next up – Summerhayes
Coming soon – Another trip down memory lane
Check Out – My latest review (below)