With the release of Buff's latest Spring/Summer (SS19) collection came the launch of their newest material, Coolnet UV+, this is what they've got to say about it,
'The brand new BUFF® multifunctional tubular offers high UV protection from the sun whilst providing a cooling effect to keep you from overheating in hot weather.
100% seamless, ultralight, 4 way stretch it has UPF 50+ sun protection and is made from recycled polyester microfibre.'
Let's have a look at those innovative features in a little more detail,
UPF 50+ Sun Protection – High level of protection against hazards caused by ultraviolet radiations from the sun.
Cooling Effect – When you are hot and sweating this innovative fabric, cools you down by vaporising moisture and removing body heat, keeping you cool, dry and comfortable.
Ultra Light – Made from ultra-lightweight high-tech materials that reduce weight up to 20% less than the Original Multifunctional Headwear.
95% Recycled – Designed for improved sustainability using exclusively Polyester obtained from clear plastic recycled bottles supplied and certified by REPREVE.
Buff very kindly sent me a Roktar Deep Teal Coolnet UV+ Buff, it's a gorgeous colour and it's interesting to see they use recycled bottles in its manufacture which is great in these enlightened times.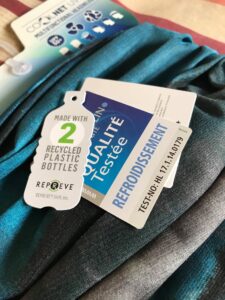 I've had the Buff quite a while as typically the British weather has been rubbish and not the ideal conditions for using my new Buff but the last couple of weeks have been blazing hot so I've had chance to use it on the bank. It really does feel quite cool and I tend to use my Buff's to cover the areas that are so easily forgotten, the back of your neck and the tops of your ears, I always apply plenty of sun cream when I'm on the bank but I find these are the areas that burn very easily, with a Buff you haven't got to worry about having to reapply cream all the time.
They really are brilliant and even if you don't want to go all bass fisherman and wear it like a face mask, just having it around your neck protects that vulnerable neck area, just a fantastic product that for such a small piece of material, has so many possible uses and I love the fact that the company never rests on it's laurels and is always looking to bring new innovative and sustainable products to the market.
Checkout the Coolnet range here
*Buff sent me this product for free in exchange for an honest review. All opinions contained in this post are my own.