For part two of my double header I was back at Summerhayes but on Sellicks this time, a lake I really like but for the silvers you ideally need to be down either side rather than at the top end and preferably on the far side, pegs 17-21. I met Stevie P at the Toby and it was rammed with loads of car enthusiasts and the car park was full of Porsche's and Ferrari's! Fully fuelled up, we then headed to the fishery and grabbed some nets before paying our pools and having a chat with everyone.
Once again Pete got Steve to draw the golden ball and this time he plucked out number 23, a great peg for carp and silvers so a good chance it would go for the second match running. After a few people had drawn I went for it and when I looked I was on peg 5, not my first choice but still a good area for silvers. More people were fishing for silvers than carp today with Jeff up on peg 9, Roger K on peg 11, Steve P on 13, Jacko on 17, Dave Bull on 23 and Martin Billett on 3. Jeff suggested a £2 superpool and five people went in it to boost the pot and I also had sidebets with Jeff, Rog and Steve P so this could be an expensive day!
I set up a 0.3 gram NG Mini Gimp to fish top two on the left, straight out and to the right and then one of the new Guru Mick Wilkinson 0.5 gram Carbon Pingers for top two plus two and 10 metres angled to my right. On the side tray I had Bait-Tech 4mm Xpands for the hook, dead reds, micros plus some Special G Green and The Juice groundbait I'd mixed the night before.
Pete got us underway and I cupped in a ball of groundbait containing some dead reds and micros on all five lines before starting short to my right with an expander on the hook. I didn't have to wait too long for my first bite and it was one of those that didn't tear off but was pulling a bit little too hard to be skimmer and as always I was hoping it might be a tench or crucian but was disappointed when a carp around a pound popped up, not a great start and hopefully not a taster of what was to come!
I missed a couple of indications before hooking another fish, this one definitely didn't feel like a carp and after a stubborn, jagged scrap a lovely little 12oz tench slid into the net, that's more like it! Jeff shouted down to ask how I was doing and said he'd had two small tench and a skimmer already! There were now loads of bubbles coming up and I feared it wouldn't be long before I hooked another carp but the next bite resulted in a fish going round in circles before a gorgeous, golden crucian around 12oz came to the top.
My next fish was another little carp as as the first hour came to a close, I had about 1.5lb of silvers and although a bit behind my usual 3lb an hour target, it was a steady start. I was still sticking with the top two line on the right although I was dribbling in a few micros on the other two short lines but I normally wait until I've hooked two carp on the trot before switching lines and that hadn't happened yet. Rog up on peg 11 was catching well but it looked like he was catching more carp than silvers and Martin on peg 3 was getting some nice skimmers fishing down the middle.
Another nice crucian kept my catch rate ticking over and then I had big leaping skimmer of 1.5lb to put me on around 4lb but then I hooked two carp and both snapped me up so I moved to the middle short line but I didn't get the response I'd hoped for when I landed another carp and then next chuck another pond pig tore off and I was soon tying on another hooklength. I tried the left hand line but a carp first chuck and that was enough of that, I went back to the right just as Roger Russell turned up to see how we were getting on. The float sailed away and I netted a 3oz skimbob but the next chuck resulted in a carp so he left me to it and went to see how the others were doing.
Jeff was now hooking loads of carp judging by all the elastic coming out but I wasn't capitalising on his misfortune as my bites had slowed up, I fed the two longer lines again and would try the 10 metre line next as I like to leave the top two plus two line as long as possible before trying it. By the time Roger had made his way round the pond, I'd only added one more small skimbob and my catch rate was definitely going in the wrong direction.
He said nobody was really catching silvers apart from Dave who'd had a couple of nice skimmers and a decent hybrid when he was there. While he was talking to Pete by the hut, I had two nice skimmers from the central top two line. As we reached the half way point, I went out to 10 metres for the first time and I have to say how impressed I already am with those Guru floats, admittedly it's very early days and my first outing using one but look out for a more in depth review coming soon on the blog. I missed a couple of bites (my fault not the floats!) before catching a 4oz skimbob but more missed bites saw me try triple dead red maggot and I had another skimmer so thought I'd cracked it but two hooked carp in as many chucks had me moving lines again.
Two hours to go and it was time to try my carefully nurtured top two plus two line for the first time, a small carp after a couple of minutes had me fearing a massive anti-climax but I then had a really good spell catching several nice skimmers and another lovely crucian before the carp moved in. I came back in on the shorter lines but they were now a waste of time so I decided to spend the remainder of the match at top two plus two. Another skimmer quite quickly was a good sign and I thought I might get a few more in the last hour but it didn't happen and the carp moved in and every bite resulted in another carp or me tying on a new hooklength.
I hooked yet another carp with around five minutes to go and landed it right on the whistle, I must admit I didn't really know what weight I had, I had 23 silvers (19 skimmers, 3 crucians and 1 tench) which I thought might go 7-8lb, possibly a bit more, plus around a dozen carp. After packing up, I took my kit to the car and met Dave, I asked if he had double figures and he said he thought he did and pulled out his net to show me, he had some good skimmers and it certainly looked like he'd done a good weight.
Martin was first to weigh and had a nice net of skimmers for 11lb plus over 30lb of carp, I was next and my carp went 31lb 8oz before I pulled my silvers net out and it was a bit more than I thought when Pete called it at 14lb 7oz. Jeff had to shoot off but left his nets in and he had 40lb plus of carp and just under 6lb of silvers. Rog had decided he stood a better chance of a carp pick up and had fished for them, weighing over 60lb. Then we got to Steve and he'd chucked his carp back, his silvers went 5lb odd which meant I'd won the tenner super pool.
John went into the lead with 70lb of carp on peg 15 but then Bill 'The Paste King' Hopping stuck a massive 202lb 5oz on the scales from peg 15, Jacko didn't weigh on 17 and then Jack on 19 also caught really well on paste to weigh 190lb 11oz. Yardie on 21 had 99lb 2oz of carp to go into third place overall and last but not least was Dave on 23, when he pulled his net out, it looked like it was going to be close and Pete called it at 12lb 9oz – phew!
1 – Bill Hopping (Summerhayes) – 202lb 5oz
2 – Jack Billett (Summerhayes) – 190lb 11oz
3 – Chris Witham (Torquay) – 99lb 2oz
Silvers
1 – Jamie Rich (Against Men and Fish) – 14lb 7oz
2 – Dave Bull (Summerhayes) – 12lb 9oz
So another lovely days fishing and I picked up £27 plus the £10 superpool and £3 in sidebets, also I was so impressed with the Guru floats that as soon as I got home, I asked the Tart if he could get me some more from Tackle Trader. When I shotted the float up, it sat perfectly throughout the match and didn't seem to take on any water, as I said, it's early days but I'm well impressed so far and I'm looking forward to seeing which patterns they release next. I'm also still using the Guru F1 Pellet Barbless hooks and they are superb, I just can't see me using anything else now for commercial silvers.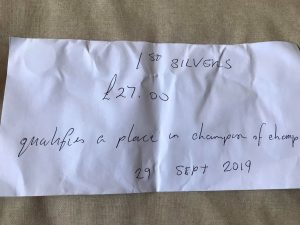 STOP PRESS! – Just heard the Tart won his section at the resi today with 70lb of bream so no need to hide the sharp implements anymore!
Next up – Dillington
Coming soon – Another great review
Check Out – My last match (below)