Before I get on to my latest post, I must just say a massive thanks to everyone for the amazing response from the last one, the messages, comments, e-mails and texts (quite a few from people not in the angling community) were overwhelming, humbling and I'm not ashamed to say I welled up several times. Several people also felt they could tell me their own stories and struggles with mental health and to those people I feel very privileged that you felt comfortable enough to share them with me. Also it wasn't at all planned to coincide with mental health awareness week but I'm kind of glad it did, sometimes as anglers we don't do ourselves any favours but this week has proved there's an awful lot of nice ones out there – thank you.
We were finally given the green light to get out on the banks pleasure fishing but if truth be told I really wasn't that bothered (as detailed in my previous post) and part of me was all for just hanging on until matches could take place again. After two months I should have been gagging to go but I was struggling to find any enthusiasm and I do wonder how many anglers might actually not go again after this, I sincerely hope that's not the case. I wasn't really sure where to go for a few hours, I'd had a couple of invites to go places (thanks Danny and Matt) and when things get a little bit back to normal I'll definitely take you up on your offers. I didn't fancy going somewhere to catch an endless procession of similar sized carp and wanting to stay local I decided on Dillington where hopefully I'd get a few bites on the feeder and pole.
The other thing that had changed since the last time I went fishing was the amount of care my dad needs and I've had a real struggle trying to get carers on a Sunday, the care system for our elderly is a disgrace with people being put in impossible situations but this isn't really the place to talk about that.
I hadn't even looked at my kit since the last match as I couldn't really see the point until I had a date to aim at or a goal, that's the thing with match fishing, you need to be at breakfast at a certain time, the draw, ready for the all in, it's very structured whereas for Sunday it didn't matter what time I got out of bed or got there, all very leisurely.
A few people had been out the pond midweek but all the reports I was getting were that it was hard going with lots of small fish but no real quality which wasn't really what I wanted to hear! Part of me was thinking about not bothering or maybe going somewhere else but I'd booked a peg, it was local and if nothing else, it would get me out of the house for a few hours. That's the other thing about match fishing, if the fishing is hard, it's normally the same for everyone and winkling out a few fish is another challenge you have to overcome to do well but only catching a few small fish on Sunday would have me contacting trading standards about the term 'Pleasure Fishing'!
I was awake really early but due to one thing or another I didn't actually get out the pond until around 10:00, there were a few anglers already there, I had a quick chat (observing social distancing rules of course) with Hurf on 18, he'd had a few eels and lost a perch and then Richy White came up from peg 17, he'd had a few roach but it seemed like the pond was fishing hard with very few skimmers or bream showing.
Setting up probably took me longer than it should have done and being on the bank for the first time in nine weeks was showing! First job was mixing up some groundbait and half a bag each of Pro Nat Bream and Pro Nat Dark went into the bucket. I set up a feeder rod with a 30g Guru feeder for a gentle lob of around 25 metres and a 4 x 16 Preston Chianti to fish 13 metres just off some lilies.
I put in ten feeder fulls of groundbait and corn before cupping in three balls on the pole line, starting on the feeder with hair-rigged corn, I was expecting to wait a while for a bite. John Dursley on peg 21 started not long before me and had a 10oz skimmer quite quickly so maybe this was going to be better than I first thought! After two hours, I was still waiting for my first bite and I'd gone off this pleasure fishing malarkey already!
Terry 'The Toast' was over on peg 2 and catching a few small fish but it was rock hard, I cupped in two more balls on the pole line and chucked the feeder out again while I drank another coffee and had a ham roll and a packet of crisps (can you tell I'm padding this out a bit yet!). Another half an hour passed with no indications so I chucked the rod up the bank and tried the pole for the first time. I went out with double dead red maggot to start with, just to see if I could get a bite and avoid the blank, the float didn't even settle as a small rudd took the bait on the drop but of course it fell off as I shipped back and that was enough of that.
Back out with corn on the hook and another half an hour passed with nothing to peak the interest and I was just thinking it might be an early bath (after a late start!), when I had a couple of little knocks, then the float buried and I bloody missed it! (I'm blaming the nine week lay off). Next put in the rig had barely settled before sailing away and this time the strike was met with solid resistance. It was fighting too hard to be a bream so I was pretty sure it was a chub and after a short scrap where it went into the reeds at one point and I had visions of losing it, I safely netted a lovely chub of around 3lb. Thanks to Hurf for the socially distanced photo*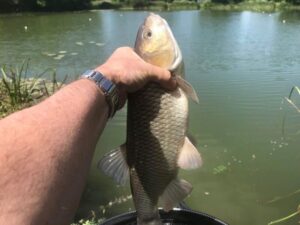 I potted in two more balls of groundbait and when I missed several good bites, I thought I might get a few more but that was it, so not quite the fish fest I'd hoped for on my return to the bank. Still it was a warm day and a few hours out of the house, it was also nice to have chat (observing socially distancing) with Max and Julian Bellew who came out for some exercise. I think a lot of the fish are spawning so hopefully sport will improve in a week or two but I probably won't get out again now until the matches resume and I can sort out more care for dad on a Sunday.
Coming soon – Another trip down memory lane