After last week's first trip out since lockdown and the massive headache of trying to arrange care for my dad on a Sunday, I decided I was going to wait until matches were back on the agenda before fishing again. Everything was pointing towards that happening in early June so when the Angling Trust announced on Facebook in the week that matches could now take place, I think it caught a lot of fisheries on the hop with a fair few not ready and needing more time to get their head round making it happen safely and to the social distancing guidelines. I'd all but given up finding a match to fish when I saw that Stoke had the go ahead to fish their charity event at Hebditch's, a pond I really like fishing and with quite short notice, they put a post on FB asking for interest and there was enough for it to go ahead.
This then led on to the never ending nightmare of trying to get some care for dad and I really don't want to keep banging on about it (this is supposed to be a fishing blog after all!) but after days of numerous phone calls and e-mails I had got precisely nowhere. I wish I could describe how frustrating it is when you can't get any help from anybody, on the back of me posting about the difficulties I'm having, a few people have tried to help and for this I'm extremely grateful but I'm still struggling and going round in circles.
Anyway after a billion phone calls, texts and e-mails to everyone I could think of and with hope fading (along with my will to live), a lady finally said she could cover the majority of the hours needed. I still wasn't counting any chickens until the car was loaded and I was on my way, with care for dad (hopefully) sorted, my thoughts turned to breakfast. Although most places are still shut, I knew Cartgate were doing takeaway breakfasts, that'll do me I thought but then I saw they were only open Mon-Sat – bugger!
I'd resigned myself to a manky sandwich from the garage when 'The Toast' messaged to say Cafe Morgan was open Sunday morning for sausage sarnies. I was awake really early and hadn't been this excited for a match in a long time, I was like a kid at Xmas! Arriving at Terry's I went into the garden and Steve 'The Pole' Parker was already there, sporting an impressive lockdown barnet! We enjoyed fantastic socially distanced sausage sangers and had a right laugh which just reinforced how much I've missed my Sundays.
We then headed off to the memorial hall car park to meet the others, we all had to stay in our cars while Chris let us have our licences via a landing net poked through the open car window! James then came round and drew a peg for each of us, as always I fancied peg 3 which was the famous 'reeds' but failing that, the pegs either side would do, James opened my little piece of paper to reveal the number 5, close! That put me in the far corner, a swim I'd never fished before, Steve was on peg 1, the first swim as you come in, Toasty was on number 8 and Bobby Gullick who was fishing his first Stoke match was on peg 10.
After a short drive we parked up, unloaded our kit and then headed off to our pegs at regularly spaced intervals. It was shaping up to be a blazing hot day and as I reached my swim there loads of carp cruising and taking stuff off the top!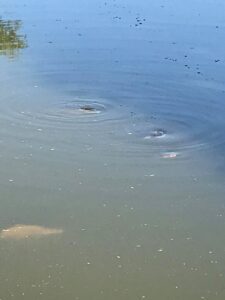 I set up a Drennan 0.3 gram Crystal dibber for fishing shallow, a 0.4 gram Drennan Carp for fishing on the deck at 11 metres and a little handmade float to fish the inside to my left. On the side tray I had corn, micros, dead reds and 6mm Bait-Tech Carp and Coarse Pellets.
On the whistle I went straight out with the shallow rig (no surprise there then) and after five minutes or so had my first carp of around a pound. The next one was around 3lb and when I had a third in quick succession I thought I was doing well until I heard James on peg 6 to my right say he'd had five already and was playing number six! To be fair he did say a couple of his carp were tiny fish of only a couple of ounces apiece.
Aaron on peg 3 was catching lots of small fish, Dan on peg 2 was getting some decent carp on the method feeder and I could see Bob was catching a few shallow as well. I was getting regular bites and after an hour I had nine carp for probably 20-25lb. The second hour was similar and I had another eight including a nice mugged fish of 4-5lb but around the pond, it sounded like most people were slowing up and Aaron had a bit of a nightmare when he lost a top kit.
I was still catching quite steadily and had another seven carp in hour three but as we passed the halfway mark, my bites slowed right up and I only added a couple more fish. I'd been feeding some 6mm's down the edge but also potted in some corn and micros on the longer line and left it to settle while I fished shallow again for a bit.
No indications on the deck and the inside line was the same, Dan was still picking up odd fish on the feeder and Bob was stood up in mugging mode and had several nice fish. I could see the odd black shape moving about so went back out long to do some stalking of my own. It wasn't fast and furious but I kept my catch rate ticking over with some decent fish along with a few little pasties.
I'd only lost a couple of fish all day up until this point but then had a mad spell where the hook pulled out of a good fish after having it on for ages, then I had one on and was down to the pulla kit when all of a sudden the elastic snapped just above the bead and I lost the fish, rig, elastic and everything!
The day then took a bit of a surreal Benny Hill turn when three scantily clad, very attractive, young girls turned up on push bikes! They asked if they could swim and we said there was a match on which finished at 16:15, they then laid out some towels before stripping down even further to barely there bikinis and walked round the pond several times, stopping to chat to the anglers, all very pleasant although I don't think much was caught during the last hour as the anglers were struggling to concentrate on their floats!
I lost another good carp but did manage a couple more fish to finish up with 33 carp, I really wasn't sure what I had and thought around 50-60lb as the average size was probably 2lb although I did have half a dozen little pasties. I packed up and took some of my kit back to the car, the girls went in for their dip and even managed to retrieve Aaron's top kit for him!
*Please note, the pond is on private land and swimming and unauthorised fishing is strictly prohibited.
As I walked back to my peg the scales had just reached Dan, I asked what the others had weighed and Steve P had 36 small carp for 10lb 2oz, Chris weighed 23lb 13oz, Bob had 47lb, The Toast had sneaked in 51lb 14oz and when Dan had 61lb after two weighs, I wasn't as confident as I'd been earlier! Aaron had 24lb which included a nice chub of 1lb 8oz and then the scales reached me, the first weigh went 41lb 10oz and I thought my other net had slightly more in it, they went 42lb 8oz (that was a good split!) to give me a total of 84lb 2oz, a lovely day! James said he wasn't bothering to weigh so I'd won on my first match back. I actually wasn't far off my best ever weight at Harry's and certainly lost/missed enough to have done my first 'Harry's 100'!
1 – Jamie Rich (Against Men and Fish) – 84lb 2oz
2 – Daniel Mattock (Stoke) – 61lb
Silvers
Aaron Drayton (Stoke) – 1lb 8oz
I won £60 and sanitised pounds off of Steve and Terry and had the added bonus that Chris managed to catch the fish trailing my rig and elastic so I even got my float back! We raised a fantastic £80 for the Macmillan Unit at Yeovil Hospital, last year the club raised an amazing £1000 for the oncology unit – brilliant stuff.
The whole day was just the tonic I needed, the best day I've had in a very long time and I would just like to thank The Toast and Steve for putting a smile on my face in the morning, the Stoke lads for always making me welcome, Chris and James for an immaculately run match and of course the Hebditch family for letting us fish their lovely pond.
Next week I'm hopefully fishing with Stoke again but at Covey Fisheries which is a new venue for me although I was once again struggling to find care for dad and I really can't believe how difficult it is, I thought using an agency might be the answer but it's ridiculously expensive and I spent days talking to everyone I could think of and not getting anywhere. A friend got in touch and gave me the details of somebody who could help (thanks Andy, it's appreciated more than you'll ever know) and it comes to something when I've had more help and assistance from people reading my fishing blog than through all the supposedly official channels that are there to help you. It's an absolute disgrace and I intend to kick up as big a fuss as I can (starting with letters to my MP and everybody else I can think of), nobody should have to go through this when they're under an immense amount of stress already.
Next up – Covey Fisheries
Coming soon – Another trip down memory lane
Check Out – My last trip (below)