I always enjoy fishing new venues so when I saw Stoke had a match at Covey, I booked in and then set about trying to find out some more about it. The lovely Steve Chant fishes it quite a bit so I messaged him and as always he was very helpful, it sounded nice with carp, silvers and F1's (which I've never really fished for) and the weights needed to do well aren't crazy. Saying that, Terry 'The Toast' and Steve 'The Pole' went for a sneaky midweek practice and reported back that it was a bite a chuck and we'd all need to take extra keepnets! I suspected it might be a different story come match day with every peg occupied, we even had a little wager with Terry saying 100lb needed to frame while I thought 80lb would be a good weight.
Sunday morning arrived and once again Cafe Morgan was open but this week we were upgraded from sausage sarnies to a full English breakfast and I have to say it was bloody lovely, I even tried to pay but the chef wouldn't have it! I'm thinking of donating a fiver to charity on Terry's behalf and maybe if the cafe is open in future and he won't accept payment, we could raise some money from our gluttony! Also 'The Three Amigos' was now the 'The Fantastic Four' as David Hilton joined us for breakfast.
Then it was off to the fishery where we were met at the entrance by the 'Dynamic Duo', Chris and James White, our pegs were drawn for us, Dave was on 3 and then we all ended up in a line with me on 13, Terry on 14 and Steve on 15. Bob 'End Peg' Gullick was on 16 and despite him getting his excuses in early saying the pond was flat calm, I still expected him to be hard to beat. On my left were Tackleuk twins, Glen Radford and Andy 'Mr Matrix' Downton.
The pond looked nice and there were a few fish moving about although it was wider than I was expecting with nearly 16 metres required to go right across. I set up a Drennan 0.3 gram Crystal dibber to fish shallow, a 0.4 gram Drennan Carp 1 for top two plus two and a little handmade float to fish the inside to my right. On the side tray I had corn, micros, 6mm Bait-Tech Carp and Coarse Pellets plus a few dead maggots.
As we were getting ready, the banter was already in full flow and along with my usual side bets (Terry and Steve), Harry and Bob also wanted to rid me of any change I had lurking in my pockets! On the whistle I fed some micros and corn on the top two plus two line before starting shallow across (14.5 metres plus the dolly butt), I was constantly firing out a few 6mm's and lifting and dropping the rig but it was a fairly slow start for everyone.
Bob was the first to catch followed by Glen and then Terry, I missed a couple of bites but it wasn't happening shallow, I deepened the rig and had a carp quite quickly but was already several fish behind my neighbours on both sides and Bob was miles ahead. After 45 mins I only had two carp and wasn't even at the races yet! Glen was catching quite a few carp along with some small skimmers and a nice little barbel, Terry was getting odd fish and Bob was catching quite well so I had to try something else.
I came in on the top two plus two line with corn on the hook and fed a few grains plus some micros, it took a while to get my first bite which of course I missed! Next put in I had a little 12oz F1 then a small skimmer and was finally getting a few fish. A few more F1's followed along with a nice roach and then I hooked a fish that felt a little different before landing a lovely little barbel of 10oz or so. Terry had slowed up and Steve P was struggling but Glen was still catching steadily and despite him protesting otherwise, Bob was still sneaking them in, including a little whiskered torpedo of his own to join the exclusive Covey barbel club.
Bites on my short line slowed up and a brief look in the margins where I'd been feeding a few 6mm's since the start resulted in no indications. I potted in some more micros and corn on the top two plus two line before going back across where I'd been flicking in a few pellets. The rest had done it some good as I had two nice carp and a F1 in as many chucks but then had to wait a while for the next one which came off as I shipped back. Thinking I'd just repeat the process, I came back on the shorter line and had a couple more fish but it was short lived and when I went across I couldn't get a bite so that wasn't the answer.
Apart from Glen nobody was catching much now, so out of desperation I got my 16 metre section out and went tight across but the damage had already been done, Glen had kept it nice and tight, cad potting in a few 4mm's every put in whereas I'd sprayed pellets everywhere all match! Needless to say, I didn't add to my meagre tally and came back on the shorter line for the remainder of the match. I tried triple dead red maggot, expecting to get plagued by small roach but the first bite resulted in a 2lb carp, then I had a nice F1 followed by a few small skimmers and just before the all out I added a nice little crucian so that was food for thought for next time!
I ended up with 9 carp, the same number of F1's, that barbel, a roach, a crucian and a few little skimmers which I thought might go 20-25lb, all match Bob said he was behind me but nobody believed that, including him! After packing up we waited at our pegs for the scales and when they reached Glen, the top weight was Paul Blake with 56lb 14oz from peg 1 followed by Chanter (who was also in the barbel club!) with 35lb from peg 5 and Harry was leading the silvers with 12lb 12oz which included a nice 3lb bream. After three weighs Glen had done enough to go into the lead with 61lb 12oz and I was sure he'd win with that.
My silvers went 2lb 3oz, the F1 net added 12lb 3oz and my carp weighed 15lb 14oz to give me a total of 30lb 4oz. Terry had 9lb 1oz, Steve chucked back and then Bob was still saying he didn't have enough to frame but then plonked 48lb 14oz on the scales and even pretended to be surprised! So not quite the Covey debut I'd hoped for but to be honest with 35lb framing I wasn't far away and it had still been a really enjoyable day with a fantastic breakfast and the banter was top notch all day, funny but meant and taken in the right way with no malice intended, just how it should be. As for the side bets, although I lost one to Bob, the final score was 4-1 thanks to a double nugget from Terry!
1 – Glen Radford (Tackleuk) – 61lb 12oz
2 – Paul Blake (Stoke) – 56lb 14oz
3 – Bob Gullick (Mosella) – 48lb 14oz
4 – Steve Chant (PR Floats) – 35lb
Silvers
Harry Hebditch (Stoke) – 12lb 12oz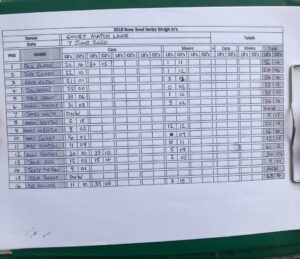 Chanter organised another one in two weeks and it sold out it in no time, I'm looking forward to it already, who will be next to join the exclusive Covey barbel club?
Elsewhere, I've finally managed to arrange care for dad on Sundays only now I'm struggling to find a match to fish!!!
Next up – ?
Coming soon – Another trip down memory lane
Check Out – My last match (below)