I'd finally managed to get care sorted on a Sunday for dad but then I couldn't find a match to fish! I messaged/phoned every venue I could think of and they were either full up or not running matches yet but then Roy H came to the rescue when he said he'd organise one at Summerhayes. It filled up quickly with 21 anglers booking in and I was really looking forward to it although my next problem was trying to find somewhere that did breakfast. Despite my best efforts, Terry wouldn't open up Cafe Morgan so it was looking like crisps and chocolate or shredded wheat before I left the house!
In the end I met Steve at Horton Cross garage and had two less than inspiring Jamie Oliver bacon rolls that cost me nearly £6! Then on to Bridgwater and as we arrived for the rolling draw, I could see most of the pegs in the 30's had already gone, I paid my pools and Roy delved into the bucket for me and pulled out peg 5 on 'Cyanide Straight', thanks for that! Steve was on 10 which I wouldn't really have fancied either. To be fair, although not one of the pegs I'd have chosen, I still thought I might get a few and with lots of anglers on Longs, it can be a bit a of a leveller with most people saying 10-14lb of silvers would be a good weight today.
As I went to unload the car, I could see Jamie Parkhouse on 37 and even though he would be fishing for carp he wanted a pound on the silvers. My other side bets were Jeff who was on 19 (some things never change!) and Steve P. Glynn Wickham was on 7 which is normally a good carp peg and with Rob Birch on 3 we decided to bung a quid in winner takes all.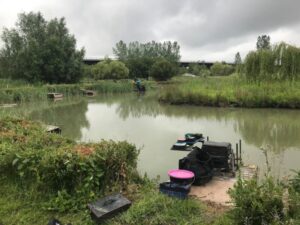 I set up a 0.3 gram NG Mini Gimp to fish the top two straight out, left and right plus at 10 metres and then a Guru 0.25 gram Carbon Pinger to fish top two plus two. On the side tray I had Bait-Tech 4mm Xpands and dead reds for the hook, micros plus some Special G Green and The Juice groundbait I'd mixed the night before. Plumbing up, I didn't have more than two foot anywhere (the deepest area was at top two plus two) and when Glynn hooked a carp on a bare hook before the start, I was hoping it wasn't a sign of things to come (for me anyway!).
Roy got us underway at 10:30 and I cupped in a ball of groundbait on all five lines before starting to the right on the top two line. No indications for me while Glynn hooked two carp in two chucks which had me chuckling until I switched to the left hand line and hooked one of my own that took me all over my peg and visited Glynn's a few times before I netted a carp hooked in the wing! Next put in I hooked a lump that I had on for ages before the hook pulled and I was starting to get an idea of how the day was going to go!
Glynn then had a couple of 8oz skimmers before hooking what I thought was a carp but turned out to be a 2lb skimmer and he took great delight in showing me! He had another and then Rob lost a leaper before netting a decent skimmer and with half an hour gone all I had in my silvers net was water! I tried double dead red maggot and finally had a bite from the top two line in front and the strike resulted in a 12oz leaping skimmer which thankfully stayed on to get me off the mark.
After an hour I'd only added a couple of small roach while Glynn was up to around 8lb and showing no signs of slowing down! In the second hour I only managed one more skimmer and Rob only had a couple of fish whereas Glynn was bagging, the only positive for me was that I hadn't hooked any more carp! I kept topping up the other two lines but as always I wanted to leave the top two plus two line until the last couple of hours so as we headed towards the half way point, I tried the 10 metre line for the first time. It took a while to get a bite and a nice skimmer was the result but then apart from a couple of missed bites, that was my lot.
Back on the short right hand line, I had nice little spell catching two skimmers and a decent roach but once again it was short lived. Rob was only getting odd fish and even Glynn had slowed up although he added a nice tench and a decent hybrid to blow his 10lb to do well estimate out of the water. Another quick look at 10 metres just resulted in a carp tearing off and as I was also starting to hook a few on the short lines my hooklength box was taking a battering.
With two hours to go it was time to try my carefully nurtured top two plus two line but I wasn't confident and so it proved with the only bite resulting in a pond pig tearing off. Rob had a nice crucian and a skimmer from his top two line so I decided to spend the remaining time swapping between my short lines.
I started getting loads of bites which I just couldn't hit, first of all I thought it was tiny fish or liners but every now and again I'd get a 4-6oz roach and I reckon with casters, you could do a decent weight of them. I also hooked a fair few carp, landing a six pounder just before the all out and I must admit I wasn't too upset to hear the whistle. I ended up with eight skimmers and some roach (plus six carp which I chucked back), Rob probably had around the same as me but wasn't bothering weighing and once again 'Cyanide Straight' had lived up to it's name.
The scales soon arrived and Glenn Bailey had weighed 101lb 4oz from peg 2, Rob had left to go to work and then my silvers went 5lb 15oz which I knew would be no good today, the only question now was how many side bets I would have to pay out! I knew I'd lost one to Glynn and as Jeff was saying he didn't have 6lb, I knew he'd beaten me as well! Apparently Jamie P had been catching some skimmers in amongst lots of carp but he would be nearly last to weigh, I hadn't seen Steve P catch much but when he said he had lots of eyeballs I knew he'd done alright so it could be a whitewash on the side bets!
Glynn had a lovely net of silvers weighing 19lb 15oz which is a great weight from that peg, then Steve did indeed have lots of small roach but he also had some decent skimmers to weigh 9lb 13oz – well done mate. I then took my kit back to the car before catching up with the scales again, Jeff's '6lb' had turned into 7lb 11oz (no surprise there then!) and Bill 'The Paste King' Hopping was in the overall lead with 111lb 7oz (no surprise there then!).
Mike Bendell, fresh from setting a new silvers record at The Sedges with 85lb of skimmers, then just edged out Glynn with 20lb 13oz from peg 28. Dan Govier went into the overall lead with 138lb 5oz from peg 36 before we got to Jamie P, his silvers went 4lb 15oz (phew!) and he then added 104lb 4oz of carp to give him a total of 109lb 3oz and third place.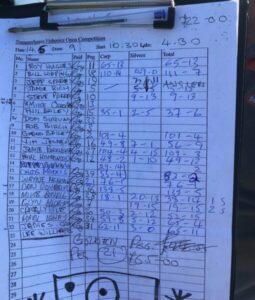 1 – Dan Govier (U-ZIT Bait Innovations) – 138lb 5oz
2 – Bill Hopping (Summerhayes) – 111lb 7oz
3 – Jamie Parkhouse (Summerhayes) – 109lb 3oz
Silvers
1 – Mike Bendell (U-ZIT Bait Innovations) – 20lb 13oz
2 – Glynn Wickham (Summerhayes) – 19lb 15oz
3 – Steve Parker (Ilminster) – 9lb 13oz
So a disappointing day for me but the weather was gorgeous and it was nice to catch up with lots of people I haven't seen for ages.
Next up – Covey Fisheries
Coming soon – Another trip down memory lane
Check Out – My last match (below)