Firstly, apologies for the title but I was struggling to come up with one for this instalment!
New Year's Day was supposed to be the teams of four on the Isle but it was flooded once again so Mark Leahy suggested we go to Stoford Mill near Yeovil for a sweep. It was my first visit and I had an enjoyable day catching a mixed bag of carp, ide, tench, rudd, skimmers and roach for 11lb 6oz but came nowhere, Mark won with over 23lb.
In the next Chard match on the Isle I drew peg 14 and although it was freezing cold, I really thought I was in for a good day but only had three bites all match, catching a chub and a roach for 2lb 5oz which won the £50 section money. The following week I was on peg 14 but Ilminster's this time, I had six chub for 7lb 5oz but needed another as 9lb won the section.
As we headed down the home straight in the Ship Inn Winter League, I was lying in second place behind Bish but blanking on a fast and shallow peg 22 didn't do my chances any good at all! The penultimate round was at Perry St on February 11th, a venue I was still struggling to get to grips with. I drew number 13 which has always been a good peg and Bish was opposite, peg 7 or 8 if I remember correctly and I needed to beat him to stand any chance of winning the league again.
Martin Heard went into an early lead with a carp of 8lb 9oz (all carp were weighed and released), I then had one of 8lb to go into second place before Bish had a nine pounder to go into pole (pun intended) position which would also see him secure the league title. I then lost one and came back with a scale on the hook before foulhooking another that I couldn't do anything with, at one stage it snagged me solid for ages and I was sure it had gone but eventually it started moving again and after a lengthy battle I landed a 12lb 5oz carp to go in front again.
Bish had another and then I had one of 10lb 10oz, this was tense! Despite losing another I was still hanging onto the lead but with only seven minutes left on the clock, Bish had another lump to seal the match win with over 34lb. I finished second on the day and picked up the section money but was a little gutted that I'd weighed 30lb 15oz at Perry St which can be hard at the best of times and I still hadn't won! Bish extended his lead in the league to an unassailable four points.
We were back on the Isle for the next Ilminster match and I drew peg 79 (The Willows) at Ashford which I wasn't that impressed with but the river was up, coloured and looked nice. I caught four chub for 9lb 3oz but also lost two and missed several bites which I thought might prove costly but it turned out to be the top weight on the day and I recorded my first win for a while.
The next couple of matches were at Stoford, we fished an open on 4th March and I drew peg 4 on the match lake, it was freezing old and snowed. I only had four indications all day, landing a foulhooked carp and a dace for 3lb 13oz which wasn't any good, Andy Langdon was third with 26lb. Then we booked it for a club match the following Sunday and I drew end peg 36, I caught steadily without really sacking up, it was interesting fishing though as you didn't know what you were going to hook next! I had carp, tench, gudgeon, a skimmer, rudd, ide and roach for 19lb 4oz and a section win.
To be honest I wasn't really getting my head round the place, the next two visits resulted in 8lb 6oz (9lb won the section) and a DNW while Andy fared considerably better winning both matches with 26lb and 43lb. A few weeks later we fished it again and I had a few fish on the waggler! for 10lb while Andy battered me off the next peg to win again with 33lb.
I did finally manage to frame when I drew end peg 36 again, I was catching rudd, hybrids, small carp, skimmers and some nice ide (including one of 2lb) before going into the corner, first put in I had a 2lb grass carp! and then started getting small carp and tench before the better fish rocked up. I had four carp and a goldfish but lost six in the reeds, all my rigs were trashed and my elastic snapped! My fish went over 24lb which was enough for third place but as Les won with 36lb I should have been a lot closer.
After not fishing the WICAC (Water Industry Coarse Angling Championship) for a few years, it was the turn of our area to host it in September and the venue was the KSD, a venue I'd only fished a few times and not for a while. Wanting to do well I phoned Somerset Angling and spoke to former Kamasan Matchman of the Year and ex England International, Mike Stone, who knew it like the back of his hand. He couldn't have been more helpful and explained exactly how he would approach it, feed a pole line with chopped worm and caster and then start on a little feeder, again with chopped worm, right across to the far side and stick with it as long as I was getting bites but not forgetting to keep the pole line topped up.
On the day, my team captain handed me peg A14 which was above Crandon bridge, I fed the chopped worm line before starting with a light pole rig to try and catch a small fish to avoid the blank, I had a see through gudgeon quite quickly so chucked that rig up the bank and went across on the feeder with worm on the hook. I started catching quite well, roach, small skimmers, some chunky perch and then a pound skimmer before bites started to tail off after an hour and a half.
Out on the pole line with 'Old Faithful', I only had a few small fish so I fed it again and went back on the feeder for some more perch before that died again. Some more roach and perch on the pole before I had a decent eel, I then had a good bite where I struck and it was solid straight away so possibly an eel that had gone to ground. Going into the last hour I had another good eel and then with fifteen minutes remaining the float slid away and I hooked a big fish and knew straight away it was no eel.
Carefully shipping back, it wasn't giving me too many problems and as I got down to the top kit, I could see it was a lovely tench around 3-4lb, it took one look at the landing net and went berserk! I just sat there like a muppet with my top kit under the water and the elastic heading towards the middle, expecting the 0.10mm hooklength to give way at any moment, thankfully it held and I got my head together and added some more pole sections to play it out further before successfully netting it second time around! There was still time to add a 6oz skimmer and miss a good bite right on the whistle.
I weighed 4kg 550g which put me second in the eighteen peg section and I actually finished sixth (they paid the top five!) overall from 108 anglers but did pick up some section money. So I'd fished three WICAC's and finished sixth twice! I was only 250 grams off fifth place and had missed a few bites so not too far away.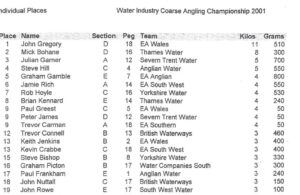 Then the river winter leagues got underway in October, I drew peg 27 (the first one in the copse) in round one and the weather was atrocious with strong winds and heavy rain. With some colour in it, the river looked perfect and I had three chublets and a 2lb chub in the first four chucks! I continued to catch quite well adding six dace and four more decent chub before the river started to rise quickly and became unfishable. I weighed 10lb 11oz which was enough to win on the day and get off to a great start in the league.
That win proved to be a false dawn though and I really struggled in the next few rounds and even fell in during one match (it was really cold too!). On 2nd December I drew peg 37 below the Green Hut, a great peg that held a good head of chub. I landed the first chub before losing the next four and was making a right pigs ear of a possible winning peg, I started striking downstream and immediately pushing the pole away from the cover which improved things and I landed three but did lose one more. My four chub went 7lb 11oz which was only good enough for third place with my mate Janders winning it and taking a pound off me in the process so it was definitely a case of 'Must try harder!'.
The following week it was a Chard match and I drew peg 24 above Horlicks, it had been a good area but I could only catch minnows and it soon became apparent from bank walkers how hard it was fishing with several people taking early baths. I decided to get my head down and see how many minnows I could catch and maybe sneak a default section win, my final tally was 170 which went 1lb 8oz and was enough for joint second place on the day!
Ilminster's Xmas Fayre saw me draw peg 25 (the one above the Foxhole), a great peg and I started catching dace, chublets and roach quite well, I got to twenty fish and decided to have a hot drink so stuck the pole between my legs while I poured a coffee. You can probably guess what happened next, the float went and decent chub snagged me before I could do anything! Pulling for a break, the elastic snapped and after much faffing about I got 'Old Faithful' back but the swim was ruined and I only added two more dace. I weighed 6lb 2oz and it should have been so much better, I still won a big turkey and a bottle of wine.
Then it was Chard's the following week and after the river had fished so poorly two weeks previously, it was moved to the pond. After a heavy night I was late for the draw and when I got to Perry St, everybody was breaking the ice so I decided to give it a miss and headed to Tesco's for breakfast. I went to the prize giving at the Cotley after the match and picked up a bottle a gin and some chocolates for being last and won a bottle of plonk on the raffle.
Next up – 2002