Due to the Corona Virus, this years Summer League would be a shortened six match series and I was quite looking forward to it, hopefully it would fish a bit better than the last time pleasure session when I only had one chub! Even though Terry 'The Toast' was off zoo creature hunting at the Viaduct, Cafe Morgan was open for business and we all enjoyed cracking sausage sarnies. Baz joined us and Steve P had gone from Chuckle Brother to escaped convict with his streamlined new Covid cut which meant I started getting some stick for my Father Ted hair! All good fun though and we stuck another fiver each into the Stoke charity fund.
With our bellies full we headed out to the pond where there was a decent turnout with a dirty dozen booked in and it was nice to Neil Purchase fishing his first match with us and also Richy White who I hadn't seen for a while. Rob had brought some hand sanitiser so we could draw our own pegs and we would be called up in the order we'd put our names down which meant I'd draw first (told you I was keen!). I wasn't too worried where I drew although if I had a choice I'd have gone for peg numbers 2, 14, 19, 20 or 21, I grabbed a ping-pong ball and it had the number 2 on it, that'll do!
Normally I take my kit round by the pump house but Rob said there wasn't access as the gate was locked so I was going to drive round but the top gate was locked as well so I had a fair old walk round the pond to get to my peg. It was even worse for Baz and Steve who had to go down (and back up after the match) a steep hill, I hope the club can get access sorted soon.
After several trips, I got all my gear to my peg and it looked good as always (I do seem to draw it a fair bit!), I had planned on fishing the feeder but overhanging branches put paid to that. I set up two rigs, a 0.5 gram Drennan Roach to fish 8.5 metres straight out and a 4 x 16 Preston Chianti to fish 11.5 metres angled to my left and also just off the bush to the right. For bait I had a pint and a half of casters, half a pint of red maggots, hemp, corn plus some Bait-Tech Pro Natural Dark and Bream I'd mixed up 50:50. On the whistle I cupped in a single ball of groundbait at 8.5 metres and then three on the other two lines plus a pot of casters, hemp and corn.
I started on the short line with single red maggot on the hook and had a small fish first chuck so I slipped a caster on and had a few more including one nice roach I netted but as always I dropped off one around 3oz. After an hour I had 20 roach for probably a pound but I was itching to go out on my big fish lines. The only anglers I could see were Exeter Mike on 21 (with no one on 20 or 19!), Richy on 18, Bagger Burton on 1 and Fieldy was on 17 although I could only see his pole poking out from the trees!
I cupped in a ball of groundbait on the long line and went in by the bush with corn on the hook, I was hoping an early fish would settle the nerves but after half an hour I hadn't had any indications so next stop was 11.5 metres. After a further hour I was still waiting for a bite but not panicking too much yet as last year the fish were often turning up in the last couple of hours. Dave P wandered up from peg 4 and said he'd only had a few small fish and nobody was really bagging.
Another thirty minutes passed without incident so I fed the two big fish lines again and had a quick go at two sections to hand where I'd been feeding a few casters but nothing there either so it was back out long on the corn. Andy Welch turned up for a walk and reported it was hard going for most, Rob had landed a skimmer, Steve P had lost a decent fish and Baz and Fieldy were catching small roach, I knew there'd be no catching them or Bagger Burton now so had no choice but to stick it out for a bonus fish or two.
Approaching the four hour mark, I still hadn't a bite on corn and boredom was setting in! There were quite a few fish coming up for the odd floating caster so I set up a little Preston Chianti to fish shallow for a bit and fed my long line again ready for 'The Golden Last Hour'. Fishing just off the lilies, I had some small rudd and the odd slightly better roach but rather annoyingly had what felt like a decent roach come off shipping back. I added 14 fish for around a pound in 45 mins but was going nowhere fast, I needed a big fish if I was going to threaten the frame.
Corn was still not producing any bites, so I stuck three maggots on the size 16 B911 hook just to see if I could get a bite, after a few minutes I missed a tentative bite which I put down to small fish but next chuck, the float buried and the strike was met with solid resistance as a big fish tried to reach the sanctuary of the lilies. With pretty beefy gear, it didn't give me too many problems and I slipped the net under a lovely chub around the 3lb mark, that's more like it! A quick look at the watch and there was still three quarters of an hour to go.
I did miss another bite on maggot so tried treble caster and the rig settled before going straight under and another decent fish was on, it wasn't the chub or skimmer I needed but a 12oz eel was welcome all the same. It was a while before the next bite and that was another eel but a small one of 4-6oz, I still had time to go back out but that was the last of the action. I packed up and lugged some of my kit back to the car before heading back as the scales were starting with Ian on peg 1. He'd weighed 5lb 14oz and I thought I'd be short of that and I was (just!) with 5lb 13oz.
Dave on peg 4 had 6oz of mainly small fish and then Steve P had done well with 4lb 8oz but had lost a decent skimmer at the net which could prove costly. Rob had 3lb 15oz on peg 8 which included a tiny little carp! and then Baz on peg 10 had 110 fish for 7lb 7oz which wasn't bad as he was admitting to 5lb! Nick and Leighton didn't weigh on 12 and 13 and then Neil had 1lb 10oz from peg 14. Next up was Fieldy who said he had 3lb which nobody, including him, believed! He weighed 6lb 6oz to go into second place.
Richy had 1lb 4oz on 18 and then Mike who resides somewhere near Exeter had 3lb 12oz from peg 21. So Baz continued his good run of form here with another victory and Fieldy and Ian were second and third as whip/short pole to hand tactics dominated the frame. I picked up £20 for a double default section win so not a total disaster but if I'm honest I hadn't enjoyed it at all. I'd gotten it all wrong today, if I'd have swapped between fishing short and long shallow I reckon I wouldn't have been far away or if I'd tried maggot and caster on the big fish line earlier I'm sure I'd have had a few more bites.
1 – Baz Morgan (Somerset Angling) – 7lb 7oz
2 – Graham Field (Taunton) – 6lb 6oz
3 – Ian Burton (Taunton) – 5lb 14oz
Sections
A – Jamie Rich (Against Men and Fish) – 5lb 13oz
B – Mike Hosgood (So Simple Baits) – 3lb 12oz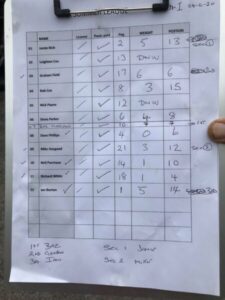 I'd made the classic mistake of trying to catch fish the way I wanted rather than the way they wanted to be caught, if that makes sense! I was determined I was going to catch skimmers and bream on corn but they're just not showing at all, I learnt a few things so still a useful day. The lack of skimmers is a bit of a worry but hopefully they will start to show over the next few matches, what was even more worrying was the appearance of those two little carp (Nick had one as well).
It's feasible they have bred as there are a few large rogue carp in there but I think it's more likely somebody is playing silly buggers which is just irresponsible, firstly it would ruin the pond as the club has tried to keep it a nice mixed fishery but secondly fish being put in without being health checked could wipe out the existing stock, some people are just selfish with no thought for the possible consequences of their actions, I remember somebody put a couple of pike in the canal a few years back, crazy!
Next up – River Parrett
Coming soon – Another trip down memory lane
Check Out – My last match (below)