Even though we're slowly getting back to normal, some clubs and commercials are still not holding many matches and I was struggling to find somewhere to fish again. After talking to James and Chris they said they'd be up for another charity match at Hebditch's Pond and when Harry gave the go ahead, it filled up in no time. I realise not everybody wants to fish every Sunday but there are a lot that do, so with several local clubs all with great waters, wouldn't it be brilliant if they worked together to arrange a full match calendar!. Some clashes would be inevitable but I still think it would benefit everyone, increased club memberships, some bigger matches, fishing different venues, can't see it ever happening though!
I met Steve P for breakfast at the bowling club which was open again and we were well looked after by Drew before heading off with our bellies full to the Memorial Hall in Stoke-sub-Hamdon. After a scorching hot Friday when Chris had been out the pond making sure the pegs were cleared (and sending me photos and videos of all the carp on the top), it was a rather damp and grey start to the day.
With everybody present and correct, James did the draw, I was praying for pegs 1-5 and was a bit gutted when he pulled out number 10 for me. Steve P was on 1 again, Gary T was on 2, Chris was the lucky angler to draw 3 with Peter D on 4 and James on 5. Dave H and Josh T were on 6 and 7 which I wouldn't have wanted, Aaron D was in the corner (peg 8) and Andy B was on my left. As always, the pond looked lovely and there were a few fish moving although I couldn't see as many as last time.
I set up a Drennan 0.3 gram Crystal dibber for fishing shallow at 13 metres straight out and a 0.4 gram Drennan Carp for fishing on the deck at 11 metres angled to the right. On the side tray I had corn, micros, dead reds and 6mm Bait-Tech Carp and Coarse Pellets. Just before the start, there was the unmistakable crunch of breaking carbon and Dave H's number four section was an early casualty, luckily he was able to telescope it through and use it.
James got us underway with a toot on his whistle and I fed some micros and corn on the 11 metre line before starting shallow with a banded 6mm pellet. I was feeding a few pellets constantly while lifting and dropping the rig but after 15 minutes, I hadn't had a bite. From what I could see, it had been an unusually slow start for everyone with the exception of James who'd netted a few little pasties. Normally here, the first three hours are the most productive before sport slows so it's essential to make the most of it while you can, so with that in mind I switched to the depth rig with corn on the hook.
I started getting a few bites from little 4-6oz carp but it felt like I was going nowhere fast, although with nobody bagging, I wasn't pressing the panic button yet! While I was fishing on the deck I was still pinging pellets on the shallow line and typically, without the pole waving about, there were a few fish showing themselves. Back out shallow I had three better carp around 3lb apiece and one of a pound but it was short lived, even Chris was only getting odd fish and I was starting to think my earlier estimate of 60-80lb to win was looking optimistic!
Thinking maybe the way forward would be to nick a couple of fish shallow and then rest that line, I went back on the 11 metre line and toss potted in some micros and corn, the rig settled and the float went straight under and before I had time to strike, elastic was ripped from the pole tip! It felt like a good fish too and I thought I was in control when everything went slack and the hooklength had snapped! Back out again and this time a fish nailed the corn on the drop, I got that one out, about 3-4lb and thought I might start to put a few fish together but then it was back to just catching the odd pastie.
I still thought I was doing alright as James had slowed right up, Peter on peg 4 had a couple of early carp but was now catching silvers and it looked like Chris was mainly getting a few pasties. Gary on 2 was catching the odd decent carp on the feeder although I couldn't really see how anyone else was doing because of the trees but Andy on my left was getting a few judging by all the ripples coming from that direction.
Swapping between the two lines I had three more decent carp shallow but only pasties from the 11 metre line, for the last couple of hours Chris caught really well although it looked to be mainly smaller carp and I didn't think there was too much between us. Going into the last 45 minutes, the odd carp could be seen cruising so I stuck on another section and went to 14.5 metres and missed two really good bites but didn't manage any more fish. My final tally was 35 carp from 4oz to 4lb (7 decent ones) plus a roach.
I packed up and walked round to watch the weigh in and get a few photos but James had already deployed the W.W.D. (Wheeled Weighing Device or wheelbarrow to you and me!) and Chris had plonked 44lb 6oz in the weigh sling which included over 20lb of pasties, well done mate. Peter on peg 4 had 9lb 3oz of carp and 4lb 14oz of silvers (roach, rudd and two nice skimmers), James next door on 5 had 17lb 15oz and then Dave 'Snapper' Hilton weighed 13lb 8oz on peg 6.
Josh had 6lb 11oz on peg 7 and then Aaron weighed 18lb 15oz on 8, Andy had 17lb 1oz and then my roach weighed a magnificent 1oz before my carp gave me a total of 31lb 7oz. Steve had 9lb 13oz and then last to weigh was Gary who secured third spot with 23lb 12oz.
1 – Chris White (Stoke) – 44lb 6oz
2 – Jamie Rich (Against Men and Fish) – 31lb 7oz
3 – Gary Tucker (Stoke) – 23lb 12oz
Silvers
Peter Duke (Stoke) – 4lb 14oz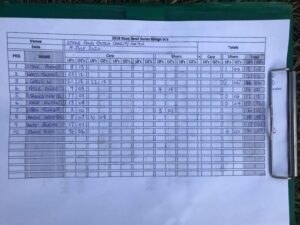 So another really enjoyable day and I picked up £50 plus a nugget off Steve, I have to say a massive thanks, as always, to the Hebditch family for allowing us to use the pond, also to Chris and James for all their hard work sorting the swims and doing the weighing in. Another £60 went into the charity pot and the total now stands at over £400 which is just fantastic.
Next up – River Parrett
Coming soon – Another great review
Check Out – My last match (below)