In the Stoke vs Ilminster match last year we fished the Parrett Works stretch and it was a really enjoyable day, the weights weren't massive but plenty of bites and you had to really work for your fish. I saw in the club book they had a match this weekend but on their Kingsbury stretch which was another section I'd never even seen, let alone fished! A few of the Stoke lads had fished it on the opening day and caught 6-7lb of roach along with a few chublets and it looked lovely, I asked Mike Goad about it and he was really helpful and gave me lots of info.
I was really looking forward to it but then saw on Facebook the draw was 7:00!, in the licence it said 9:00 but it was misprint and I was gutted because I didn't think I'd be able to fish as there was no way I'd be able to get care for dad at 6:00 in the morning! I did ask why the draw was so early and the club put it back an hour, what a lovely gesture. The other added bonus was that 'The Breakfast Club' could assemble at a reasonable time and once again Cafe Morgan did a fantastic job and we had the addition of button mushrooms this week, I'm not really sure the chef can improve on this! Well worth another fiver bunged into the charity pot.
We all headed off in convoy with Baz leading the way and after 20 mins we turned into the drove leading to the river. This weeks welcome party consisted of the two Chris's (White and Deady) and obviously not knowing the stretch, I had no clue what the good pegs were apart from the ends which are normally an advantage. Mr W delved into the bag and held up number 1 for me to see, not only an end peg but a short walk – ideal! There was plenty of parking in the adjacent fields and for the anglers pegged down further they could drive down one field.
I'd seen a few photos of the stretch and it looked fairly uniform with lots of lilies on both sides and I was looking forward to trying to winkle out some roach, so when I got to my peg I was a little surprised to see a big tree in the water opposite! Apparently the swim holds some good chub although they don't always show, not really what I wanted to hear, especially when I'd already mixed my roach groundbait!
I set up a 0.75 gram bodied float for down the middle at top two plus two where I would feed groundbait and then a 0.6 gram DH16 for fishing across to a hole in the branches in the water where I would feed hemp and caster. Both rigs were shotted with spread bulks and two droppers and had 0.10mm hooklengths to size 18 B611's which I hoped would be a bit of a compromise and not put the roach off but also give me a chance of landing a chub. On the side tray I had maggots, casters, Bait-Tech Super Seed hemp plus some Pro Natural Dark and Extra which I'd mixed 75:25 the previous evening.
I was ready in good time so had a little wander to look at some of the other pegs, Baz was next door on peg 2 and his looked nice with trees to the left and lilies across, Dave Pope was next and he had lilies and as I walked down through, most of the swims looked really nice with every peg cut out and strimmed and the club had done a brilliant job of preparing the stretch. I walked as far as Steve P on peg 7 and had a quick chat before heading back a few minutes before the start.
On the whistle I cupped in two balls of groundbait down the middle before starting with the heavier rig and single red maggot on the hook. With the river low and clear and an upstream wind, the float just sat there and I had to have the pole tip in front of the float and almost drag the float along to get any movement, I missed a bite and when I had a small minnow next chuck, that was enough of that. I slipped on a caster and a positive bite right over the groundbait resulted in a 3oz roach, then I had a small chublet of half an ounce before the next bite resulted in a fair bit of elastic coming out and I netted a lovely roach of 6-8oz.
Another little chublet followed and although not bagging, I was getting a few bites, as the first hour came to a close, it started to slow up. I was still feeding hemp and caster across but wanted to leave it as long as possible before trying it so stuck another section on to search further down the peg but that wasn't the answer. I picked up the lighter rig and added another section to go across into the hole but it was a bit of an anti-climax. Even though I had a really short line between float and pole tip, striking was a little awkward and I bumped a couple of fish before catching two 3oz dace. It didn't last though so I took a section off and started inching the float through just off the tree which resulted in a couple of small roach.
Baz wandered up and said he was really struggling and only had ounces, I said I probably had a pound or so. Just after he left I had another decent roach and then another not long after to double my weight with two fish. By swapping between the gap in the tree and running the rig through a section shorter, I was getting the odd small roach and then had a slightly better chublet of 6oz or so.
After that decent little spell, it slowed up so I tried double maggot and missed a bite, next chuck I had another good roach but the next few indications resulted in minnows so it was back to caster. I carried on getting the odd small roach, dace and chublet but also had another roach that was probably 10-12oz and a 8oz chublet from the gap, my last fish was a gudgeon and I ended up with 26 fish (plus a few minnows) which I thought might go 3lb or so.
Chris D arrived with the scales and said it had fished hard, my fish weighed a level 4lb and then Baz had 1lb 3oz, Dave P weighed 4oz on peg 3 and then Dennis H next door had 1lb 5oz. John L on peg 5 and Mark D on 6 both had 4oz and Steve 'The Pole' weighed 10oz, last but not least in our section was Terry 'The Tickler' who had 1lb 11oz.
Back at the results and although there had been several DNW's in the other section, Bob Newbery had the top weight there with 2lb 7oz from peg 16 with Clifford G just behind with 2lb 6oz and Mike Goad had 1lb 5oz from peg 18.
1 – Jamie Rich (Against Men and Fish) – 4lb
2 – Bob Newbery (Stoke) – 2lb 7oz
3 – Cliff Gaylard (Stoke) – 2lb 6oz
4 – Terry Morgan (Ilminster) – 1lb 11oz
Sections
A – Dennis Hawkins (Stoke) – 1lb 5oz
B – Mike Goad (Stoke) – 1lb 5oz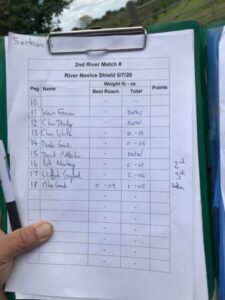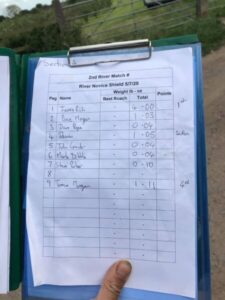 So another really enjoyable day and I'm still loving fishing new waters and different stretches (drawing end pegs always helps!), I picked up £40 plus nuggets from Steve and Terry and I can now add the Novice Shield to my roll of honours.
Out of interest I messaged Chris W to try and find out why the Novice Shield was so called, he wasn't quite sure so consulted the oracle Mike Goad who confirmed 'that historically it was awarded to the best performing new member to the club's match scene. So those in their first year or two fishing the river competitively were up against others in the same boat as opposed to fishing against seasoned campaigners and they had a chance of a trophy at the end of season presentation. As time went by, new match attendees dropped off, so it became another match trophy,' thanks for the info chaps.
Next weekend it's another Stoke match but at the Sedges on Brick lake which I haven't fished for 18 years! I must admit I could get used to other people drawing me end pegs every match, peg 10 or 11 next week please Chris!
Next up – The Sedges
Coming soon – A look at some of the new Guru products
Check Out – My last trip down memory lane (below)