I reviewed the first release of the Guru Mick Wilkinson Signature Pole Float Range last September (you can read that one here) and I have to say I still love them and now have loads! In that review I predicted the next release would be F1 Slims (carbon and wire stems) and a cookie/dibber style float, well I was right about the F1 Slims but the other release was the AR (so I reckon the cookie next, get your bets on!).
With all the corona craziness, lots of new release dates were put back so when they eventually hit the shops I messaged the Tart to see if Tackle Trader were getting them in, he said Max would order them so I asked for a couple of each size and the Tart let Hoff have them at a match and he very kindly dropped them off on his way home (along with a Tackle Trader t-shirt) – cheers mate!
Here's what Guru say about them,
SLIMMING DOWN!  Three new float patterns have recently hit the Mick Wilkinson Hand-Made Signature Pole Float Range! Designed primarily for commercial work, the F1 Carbon Slim, F1 Wire Slim and the AR are proven patterns from the float making master!
F1 Carbon Slim Ideal for fishing on the drop, offering perfect presentation with the float settling slowly with the slow-falling bait and strung-out shot! Carbon stem, visible hollow plastic bristle, available in sizes: 0.15g, 0.25g, 0.3g and 0.45g.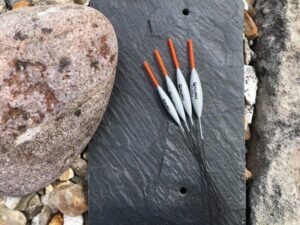 F1 Wire Slim A super stable wire-stemmed version of the above! The wire offers upmost stability, and is fast-setting when you're expecting quick bites. Ideal when fishing on the bottom and holding a bait static. Wire stem, hollow plastic bristle, available in sizes: 0.15g, 0.3g and 0.4g.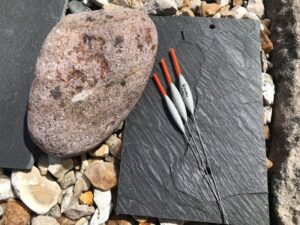 AR A short float pattern designed for fishing in shallow water! The short and stumpy nature of the float tailors it to fishing against far banks, in the margins and is ideal for fishing in the upper layers of the water 'shallow'. The carbon stem makes it virtually tangle free when slapping and tapping, while the hollow plastic bristle is visible and versatile to support a wide range of baits! Available in sizes: 0.1g, 0.15g, 0.2g and 0.3g.
Like the Diamonds, Pinger Wire and Pinger Carbon patterns, all our floats are hand-made in the UK by an amazing team, using Mick's materials, specifications, and to his quality checks, to produce floats that fish effectively and are built to last!
I've been using some of the original MW F1 Wire Slims for years and they are an awesome float, I've never had one break so over the coming months, I'll see how these measure up. I never did manage to get hold of any of the original F1 Carbon's, so looking forward to using them and the AR's look spot on for fishing across at Covey.
There were also several new hook patterns including the Match Special's which look a lovely hook for natural venues although I have to say they do look large for their size, the 18's look more like a 16 but I'm not too worried as they'll normally be buried in a caster!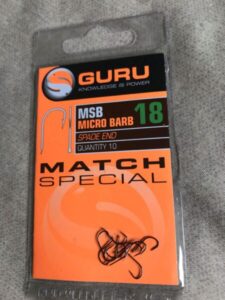 The new Kaizen eyed hooks look a great addition to the range so I'll get some of those to try as well. There are also some new Barbsafe landing nets for natural venues where micro barbed hooks are allowed, some Pole Float Silicone and also coming soon are the new MK2 Stealth Rig Cases, I've got four of the original ones that are still going strong after years and I think they are brilliant. The new ones have been updated with a new 2-inch pin, the pins themselves are now longer to hold more hooklengths and thinner for smaller hook sizes plus the large rig case is now 15-inches long, I will definitely get a couple and see if they are an improvement on what was already a great product.
I ordered one of the new 6 inch Stealth Rig Cases along with a few bits and bobs and the first thing I noticed was the packaging which is recyclable cardboard opposed to the plastic the originals came in, only a small thing but important in this day and age. The new opening points are a big improvement on the previous version as I did struggle on occasion in the winter with numb fingers! The thinner pins look like they should be able to take much smaller hook sizes with ease and they claim they are still extra tough (I rarely use anything under a 20 these days so I'll take their word for it!). There were a few complaints with the original boxes that the pins snapped but like I said earlier I've had four rig cases for years and never had a problem.
The hinge system looks solid although much like the new pins, only time will tell! The external labelling system is a nice idea but the promotional photos show a white label like the ones supplied and I can't see them lasting long with some of the weather we have in the winter, would make more sense to just use a Sharpie! I did have a one little gripe though and that was the internal labels supplied are now half the size and I was struggling to write the hook pattern, size and line diameter on them, only a little thing (literally!) but annoying all the same.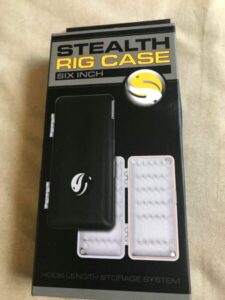 Opening the box, it tells you to have the hooks on the right hand side but I always end up wanting to put them on the left with the loops on the right! That might just be me though! One other thing I did notice as I transferred some hooks across in a bid to rationalise my current chaotic system was how bloody sharp PTFE coated hooks are! Overall though, I feel Guru have managed to make some very good improvements to what was already a fantastic product. The 6 inch case retails for around £10.99.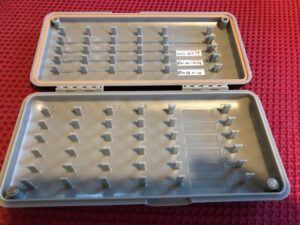 I have to say Guru are releasing some brilliant products and it's not often I get excited about new fishing gear.