I booked me and Steve P in for our first match here for a while and the day got off to a great start with a cracking breakfast at the bowling club (thanks to Drew and Julie for looking after us). Arriving at the venue it was nice to see some faces I hadn't seen for a while although there was a small dark cloud as the Tart was fishing today. There was a decent turnout of 19 (still classed as a knock up according to some!) and with every other peg in, I was hoping to avoid 'Cyanide Straight' after struggling there last time.
Pete announced the draw and would do it in the order people booked in, I was first on the list and he pulled out 33 for me, that'll do! With the water level down a bit, I always fancy the 30's as there's a bit more depth. Steve was next and Pete drew 21 for him, not one I would have wanted, Glynn was on 29, Zooner was on 7 with Alvin on 15 which has been doing well for silvers and Jeff ended up on 9. The Tart was on 13 and agreed to have a pound on silvers even though he'd be fishing for carp!
I set up a 0.3 gram NG Mini Gimp to fish the top two straight out, left and right plus top two plus one and then one of the new 0.3 gram Guru F1 Wires for 8.5 metres where it was a little deeper. On the side tray I had Bait-Tech 4mm Xpands and dead reds for the hook, micros plus my favourite Special G Green and The Juice groundbait I'd mixed the night before.
On the whistle I cupped in a ball of groundbait on the four shorter lines and then put in two on the longer line before starting at top two to the right. First put in, a nice bite resulted in a 4oz skimmer to get off to a great start. I missed a bite before switching to the central line, another missed indication followed before I had a good leaper of 1.5lb. A lumpy carp followed which didn't fight much before my next skimmer of 8oz or so came off the left hand line. So with an hour gone I only had three skimmers for 2.5lb but if I could carry on like that, 15lb over the six hours wouldn't be far away.
Ray Wickham on 35 was hooking a few carp if the head shaking and yards of elastic was anything to go by and Jack Billett on my right was getting some decent carp on paste. I fed another ball of groundbait on the longer line and decided to stay short while I was getting a few indications. Another skimmer fairly quickly had me thinking I was going to have a nice steady day but then I couldn't get a bite! I tried double and treble dead red maggots but only had a 2oz roach and although I'd only hooked the one carp so far, there were loads moving about and several tried eating my float!
Roger Russell turned up to see how we were doing and while he was with me, I had a couple of little knocks but he soon got bored and went to see how the others were doing. With two hours gone I only had four skimmers and that roach for 3.5lb and things would need to improve drastically if I was going to do any good today. Jack got fed up catching big carp and went for a walk to see how Martin and John were getting on!
I went out to top two plus one and waited ages for a bite which resulted in my fifth skimmer but then the next two fish were rather lumpy carp! Not wanting anymore of that I went onto the longer line and missed several bites so tried double maggot but two more carp wasn't the result I'd hoped for and I didn't really know what to do next.
Back of the short lines and every bite just resulted in a carp, I even had a rather colourful koi. I tried fishing away from the feed which resulted in no bites and feeding just a tiny amount of micros wasn't the answer either. With two hours to go, Jack came back and carried on where he left off, catching some decent carp! In amongst the carp I managed another skimmer from the top two plus one line but was going through the motions somewhat. It did cross my mind that if I carried on catching carp there was good chance of beating my best ever Summerhayes weight which has been 58lb 12oz for years. Steve P walked up and said he'd really struggled and a number four section going in the lake hadn't helped his cause much! He was going in the lake after the match and I said to wait until I was there with the camera so I could record it for posterity!
I did hook a lump with about an hour to go and was just thinking to myself that after landing it I might need to get another carp net when it snagged me solid in open water! The fish came off and I was left with a tangle of branches so I held off on the extra net! I was starting to get regular bites from the top two plus one line and with half an hour to go I had another decent leaping 1.5lb skimmer followed by a couple of small carp. When I had another skimmer I started to think I still had a chance of sneaking in as 7lb was enough to frame in the silvers last week. In the last ten minutes, I missed several bites and my match finished with a whimper! I ended up with 8 skimmers, a roach and around 20 carp.
The scales started with Ray who had 25lb 1oz of carp and 5lb 8oz of silvers, my carp went 53lb 10oz and my silvers added 6lb 11oz to give me a new pb match weight of 60lb 5oz. Jack 'Half a match' Billett weighed 70lb 7oz and had some proper lumps. Glynn weighed 11lb 11oz of silvers and I handed over my first pound of the day with the possibility of losing another three yet! Jacko on 27 had 54lb 9oz of carp and 5lb 3oz of silvers and he'd suffered lots of foulhookers too.
Peg 25 didn't weigh and then Steve P had 4lb 3oz of silvers which included a nice perch so the sidebet score was back to 1-1 although he'd already been in the lake to retrieve his section (spoilsport!). Martin B on 19 had 34lb 10oz of carp and Roger K on 17 weighed 9lb 4oz of silvers before Alvin went into the lead on 15 with 14lb 4oz of silvers and only had one carp all day.
The Tart was next and admitting to 100lb but had he beaten me on silvers? No was the answer as his single skimmer weighed 1lb 9oz and the sidebet score was now 2-1 (shall I resurrect the Nuggotmeter again?), I don't think he was actually that bothered as it was looking like he was going to win the match with a total of 102lb 9oz (decent clicking for once!). Will P on 11 had 4lb 5oz of silvers and 23lb 4oz of carp and then Jeff took another nugget off me with 10lb of silvers and the score was back to 2-2.
Jess had done well in peg 7 to go into second in the silvers with 13lb 8oz, looking at the weighboard I was actually still in third place overall but I was sure it wouldn't last. Adie Bishop on 5 (which was also the golden peg) weighed 60lb 9oz to push me out the frame, John B had 54lb 4oz and then Bill 'The Paste King' went into second spot with 72lb 11oz from peg 1. Jim Jenner on 39 weighed 46lb 11oz and peg 37 had chucked back.
1 – Brendon Ions (Tackle Trader) – 102lb 9oz
2 – Bill Hopping (Summerhayes) – 72lb 11oz
3 – Jack Billett (Summerhayes) – 70lb 7oz
Silvers
1 – Alvin Jones (County Gardening) – 14lb 4oz
2 – Jess Jordon (Summerhayes) – 13lb 8oz
3 – Glynn Wickham (Summerhayes) – 11lb 11oz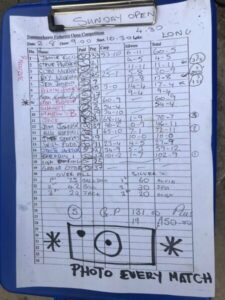 So actually a really close match, I wasn't far off framing and easily lost enough for second place but then so did others and if Jack had fished six hours instead of four I reckon he could have pushed the Tart! I'm still nowhere near as far as the silvers are concerned and drew a good peg so no excuses, I'm just not getting it right at the moment.
Next up – River Parrett
Coming soon – My next Spotlight on Bait-Tech products
Check Out – My latest review (below)