It was back to the Parrett Works stretch for another Stoke match and once again The Ranch was open for breakfast, I went for the Full English this time and it was lovely although nearly too much for me! Then it was time for the draw and even though he wasn't fishing with us this week, Chris W decided our fates for the day. Nick P was on end peg 32, The Toast was the other end on 7, Steve P was on 29 where I was last year and I ended up on 25 which the regulars said was a decent peg.
After a short drive we turned off and then went across a field before parking up, all the pegs looked really fishy and mine had loads of far bank cover. I set up a 1 gram bodied float for down the middle and a 0.6 gram DH16 for fishing tight across, both rigs had Guru Match Special size 18 hooks to 0.10mm. On the side tray I had maggots, casters, Bait-Tech Super Seed hemp plus some Pro Natural Dark and Extra which I'd mixed 75:25 the previous evening.
On the whistle I cupped in two balls of groundbait down the middle and flicked some hemp and caster across, starting with the single red maggot on the hook, I missed a couple of bites and bumped a fish before catching a small gudgeon to get off the mark. Switching to caster, I hooked a slightly better fish, either a dace or roach but I'll never know as it came off! Next put in I had a 3oz dace followed by a nice roach and it felt like there were a few fish there. Of course, then all I could catch was the odd minnow and gudgeon!
Just as the first hour was coming to a close and with not much in the net, I was thinking I'd have to go across a lot earlier than I'd have liked but then I've had three nice roach in quick succession from the top of the peg. The second hour was similar with just the odd roach, tiny chublet, gudgeon and minnow from all over the peg as I couldn't seem to get more than one bite from the same place.
As we approached the halfway point, there were a lot of ripples coming from under the trees above and there was obviously a predator of some kind on the prowl (Chris Deady above me on peg 24 said after the match that it was a big mink). I also managed to get my rig caught in the tree but after much careful jiggling it fell out and I made a mental note to myself to be more careful as I didn't have a duplicate rig in my box.
With two hours to go, I went across for the first time just as Kev Francis came for a walk, I had a gudgeon while he was there and just as he walked off, the float buried and some elastic came out before I netted a lovely roach of around 6-8oz. I had another and missed a few bites but I felt like my catch rate was still ticking over nicely. Dennis H turned up to see how we were doing and when I said I had around 1.5lb, he said that was good, after wandering down to see how the others were doing, he reported nobody was bagging.
Remembering that The Toast had caught some roach on hemp in the last match, I slipped a grain on and tried down the middle to rest the far line and missed several really good bites, trying across with hemp I missed a couple more positive bites before finally connecting with one which resulted in another nice roach but that was the only fish I had on it. It was also starting to get scorching hot which wouldn't do the fishing any good either. There were a couple of splashes downstream and then as I was looking a streak of blue dived in with a 'plop' as a beautiful kingfisher grabbed some lunch.
I decided to rest the far bank again for a bit and tried fishing to the right in the middle, I had a gudgeon quite quickly and then next put in, disaster when I missed a bite and the strike resulted in the rig going up the tree again, despite loads of jiggling, it was going nowhere so I had no choice but to grab the elastic, pull and hope for the best. It came away at a rate of knots but crucially everything was still intact although the float was a little damaged and the prong on the olivette had bent! Still I hadn't lost the rig and reminded myself to be more careful as I'd had not one, but two, lucky escapes (you can probably guess what's coming next!).
Searching the swim I missed a bite and lifted the rig out to see if the caster was alright and bugger me if I didn't go up the same tree from earlier! This time there was no saving it and I lost the lot so I would be fishing across for the remaining hour! I kept swapping between the far bank and downstream off the end of the overhanging branches and missed several bites that looked unmissable but I think it was probably minnows. With time running out I concentrated on the far bank and had a 2oz dace and a gudgeon but also missed a lovely bite with five minutes to go and then had another dace just before the all out.
My final tally was 32 fish (around 10 roach, 4 dace, 2 little chublets and the rest gudgeon) plus a few minnows which I thought might go 2lb. I packed up and walked down with Chris so I could get some photos while he did the weigh in. Nick P's swim looked really nice and he said he'd caught well although had lost a good chub ten minutes before the end, he pulled his net out and had some lovely roach and dace for 3lb 7oz, all on tares. John Simms was next and had 1lb 5oz from peg 31.
Steve P weighed 1lb 10oz from 29 and then Bob Newbery had a nice net of quality roach to go into the lead with 4lb 5oz. My fish went 3lb 1oz which was a bit better than I thought, Chris D had a nice roach and loads of gudgeon for 2lb 2oz and last but not least in our section was Mike G who also had 1lb 10oz.
Back at the results and in the other section, the weights had been really close, Derek G was top with 2lb 12oz from peg 13 followed by Dave Pope with 2lb 11oz from 16, Dan Mattock with 2lb 9oz (peg 9), The Toast with 2lb 7oz (peg 7), Clifford G with 2lb 2oz (peg 15), John L (peg 10) with 13oz and Mark D (peg 17) with 10oz. So I'd actually sneaked third spot and picked up £25 plus nuggets off Steve and Terry although I lost one to Nick.
1 – Bob Newbery (Stoke) – 4lb 5oz
2 – Nick Payne (Ilminster) – 3lb 7oz
3 – Jamie Rich (Against Men and Fish) – 3lb 1oz
Sections
A – Derek Goad (Stoke) – 2lb 12oz
B – Chris Deady (Stoke) – 2lb 2oz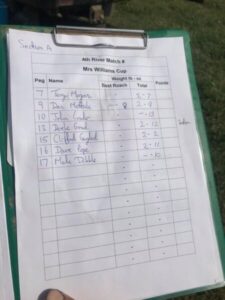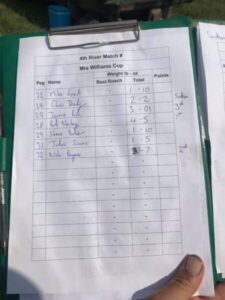 I have to say I'm loving fishing these matches, I know there's no such thing as a truly fair venue and obviously the end pegs will nearly always be an advantage but once again the weights were really tight with just 1lb 5oz separating 2nd place and 8th and just ounces making all the difference so every fish is crucial!
In the latest Summer League match at Dillington, Ian Burton had the top weight with 8lb 14oz of roach from peg 14, Leighton Cox was second with 7lb 12oz of skimmers and Graham Field was third with 6lb of roach.
Next up – Todber Manor
Coming soon – My next Spotlight on Bait-Tech products
Check Out – My last match (below)