I'd booked a week off work and really wanted to fish somewhere so when I saw Todber had a match on, I stuck my name down. It's been fishing it's head off with huge winning weights and 300lb plus needed to frame, I was hoping I'd be able to have a nice days silvers fishing as I don't own enough keepnets to fish for the carp!
A quick stop at Cartgate for a takeaway brekkie which was nice although it's never the same in a polystyrene carton with plastic knives and forks but it's still better than no breakfast. I did think about waiting until I got to Todber as they've now got a food van on site but wasn't sure if that was midweek as well as weekends so didn't chance it.
Then it was a 40 minute drive to the fishery and one of the first people I saw was Aaron D, one of the Stoke lads who was fishing Todber for the first time. I popped into the shop to get a couple of pints of reds and of course ended up spending more on various bits and bobs. John said the match was on Hill View which I was a little disappointed with as originally it was going to be on Ash and Homeground.
The draw was announced and I grabbed a ticket, hoping it wasn't going to one of the carp fliers! I opened it and peg 41 was my home for the day. Aaron was on 47 next to Gary O Shea who'd drawn 48 which is one of the best pegs on the lake, Tackleuk's Ash Tomkins had the last peg in the bucket which turned out to be 56.
As I unloaded the car it was already shaping up to be another scorching hot day and I must admit I'm not a huge fan of it when the temperature is as high as it has been. There were loads of carp cruising about and I was fearful it could be carnage today! I'd spoken to a few people who'd said fishing deep shallow would probably be the way to go for the skimmers along with frugal feeding. I slapped on plenty of sun cream and had lots of water in a cool bag.
I set up a Drennan 0.4 gram Carp 1 for the top two plus two line where I would feed a ball of groundbait and one of the new Guru 0.3 gram AR's for the shallow line at 11.5 metres, both had Guru F1 Pellet size 18's to 0.10mm. On the side tray, I had red maggots (dead and alive), some micros plus Bait-Tech Special G Green and The Juice groundbait which I'd mixed the previous evening and due to the heat, I'd put in a bag in the fridge overnight. Just before the start, John came round and dropped off some scales for me to weigh in although thankfully I only had to do five pegs!
The six hour match kicked off at 10:15 and I cupped in a single ball of groundbait on my shorter line and that's where I started with double dead reds on the hook and toss potting in a few live ones. It took a while to get a bite and the first indication resulted in a foulhooked carp which came off, the next one saw me reverse a small carp into the net and I hoped it wasn't going to be like this all match! Thankfully my next fish was a 4oz skimbob and a few more followed although it wasn't fast and furious. I was just thinking about going out on the shallow line when I had a decent skimmer around the pound mark, next chuck I had another of the same size and then one of 8oz. As the first hour came to a close I had nine skimmers for around 3lb but would need to double that an hour to do any good today.
The second hour was similar and I wasn't having too much carp trouble but it would only be a matter of time, I did hook one that was just like hitting the bottom and it moved off like it didn't know it was hooked and just kept going. With two hours gone I probably only had around 5lb of silvers and my catch rate was going in the wrong direction, I could see venue silvers expert Dave Willmott on 35 getting the odd decent skimmer and it looked like he was fishing shallow so it was time to have a go myself.
I slipped on three dead reds and shipped out but there were carp everywhere and the first two fish I hooked were carp so I moved the float up six inches and next put in the float sailed away and I hooked a decent 2lb plus skimmer, that's more like it! Thinking I'd cracked it, I then went on to hook about four carp on the trot and was going nowhere fast. I did try the shallow rig on the short line but only hooked carp on it so that was enough of that.
Back at top two plus two I had the odd small skimmer but was also starting to hook more carp, at times they were trying to eat the float and there were tail patterns and plumes of silt everywhere. I bumped a few skimmers and was also getting the odd tiny skimbob and micro perch, I tried feeding little nuggets of groundbait but I'd catch a couple of skimmers and then hook two carp on the trot, I really didn't know what to do next. I had a load of micros with me so started feeding them down the edge, partly just to get rid of them but also to try and distract some of those bloody carp. In no time at all it was rigid down there with some proper lumps too.
With around half an hour to go, I had 40 skimmers from 2oz to 2lb although I could see Dave W was getting loads of carp but crucially he was still getting the odd proper skimmer. I'd still been feeding a few maggots on the long line so picked up the shallow rig and first chuck had another two pounder, then it's twin next chuck, followed by one of 8oz and I was regretting not trying it again earlier.Then disaster when I hooked another decent skimbob only for it to come off shipping back, then a smaller one slipped the hook at the net!
It was now black with carp on the long line but I found by laying the rig in to the left or right of my feed (i.e. away from the carp) I could catch skimmers and had two more smaller ones and another two pounder just before the all out. My final tally was 46 skimmers plus a few little bits and bobs and around 20 carp. It had been boiling hot and I was a sweaty mess, I had a much needed glug of water before packing up and going to start the weigh in with Aaron on 47, he weighed 38lb 10oz and said he'd enjoyed his first visit.
Steve Nadin was next and he had a load of nets in, after multiple weighs, his total was a massive 340lb 2oz, then Steve Trevett on 44 had 266lb 8oz and I was knackered already! Bait-Tech's Garry Thomas was surrounded by keepnets as well and was hoping he'd broken the 300lb barrier for the first time after weighing 299lb in his last match! He eclipsed it with a brilliant 339lb 6oz but fell agonisingly short of Steve's weight. I was last and my carp went 61lb 6oz and then my silvers weighed 21lb 6oz which I was quite pleased with but  Dave W was admitting to 20lb with an hour to go so knew he'd beaten me but was hoping I had a chance of second.
Back at the car park, I saw Ash who said he'd had 318lb but hadn't even won his section and when I told him what weight I'd had, he said I'd just missed out as he'd heard of three 20lb plus silvers weights. I must admit to feeling a bit deflated, especially as I'd bumped and missed quite a few skimmers and should have fished shallow again earlier than I did.
John announced the results and Greg Welsby's huge 376lb was top with Gary O Shea just one carp behind on 372lb and it was close for third and fourth as well with Martin Rayet's 342lb just edging Steve's 340lb. Dave Willmott had won the silvers with 28lb (and he had 240lb of carp as well!) and then I was called out in second and picked up £35, well chuffed.
1st: Greg Welsby 376lb 12oz. (Peg 58)
2nd: Gary Oshea 372lb 2oz (Peg 48)
3rd: Martin Rayet 342lb 8oz (Peg 61)
4th: Steve Nadin 340lb 2oz (Peg 45)
Section A: Gary Thomas 339lb 6oz (Peg 43)
Section B: Ash Tomkins 318lb 12oz (Peg 56)
Silvers 1st: Dave Willmott 28lb 0oz (Peg 35)
Silvers 2nd: Jamie Rich 21lb 6oz (Peg 41)
I must admit I got home and was absolutely shattered, probably a combination of a long day, the intense heat and having to weigh in nearly 1000lb of fish didn't help! I'm not sure how people catch that many fish several times a week, I only had to weigh them in and I've hurt my left arm somehow, I don't know if it's similar to tennis elbow but my upper forearm/elbow is killing me.
When I got home there was a nice surprise waiting, a cap signed by Alan Scotthorne from a Facebook comp, thanks Drennan International!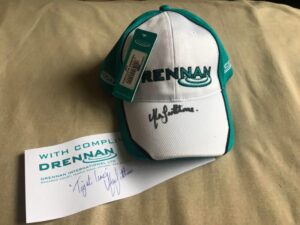 In other news, some great TV to look forward to with Mortimer & Whitehouse Go Fishing returning to BBC2 on Sunday 23rd August at 20:00 and then Monster Carp on ITV4 the following Thursday (27th), also at 20:00.
Next up – Summerhayes
Coming soon – Another trip down memory lane
Check Out – My last match (below)