I've been a big fan Pro Natural since it first came out and use the range for practically all of my fishing on natural/non commercial venues. Over the last few years, the range has expanded to cover most situations on rivers and lakes.
Pro Natural
Pro Natural Extra
Pro Natural Dark
Pro Natural Fine Lake Dark
Pro Natural Bream
Pro Natural Bream Dark
One of my favourite mixes for rivers at this time of year, when they are low and clear, is Pro Nat Dark and Extra mixed 75:25. I got to the party rather late where Extra is concerned but now love it and use it quite a bit when I fish deeper venues. It's effectively a stickier version of the original Pro Nat and helps get your groundbait down where you want it without breaking up too early and you can also pack lots of bait into each ball.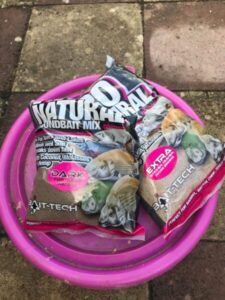 When it comes to mixing your groundbait, it's not rocket science and there are a million instructional YouTube videos out there but the main points are;
add water slowly to mix
mix vigorously
let it stand to absorb water fully
add more water as required
riddle
voila! scrummy groundbait
Also as a general rule, if you require an inert groundbait for bream you can mix it the night before or if you want a more active mix for roach you would do it on the day before you set your gear up, I go against the grain somewhat and nearly always mix my groundbait the night before. The other thing I like to do is add some flavouring to the water I use to mix the groundbait, at the moment I've been using The Juice or Sweet Coconut. Although it's difficult to categorically say additives work or not, I certainly don't think they do any harm and they can give you confidence which is always a good thing.
For all the latest Bait-Tech news and some top tips head to their Facebook page.