It was back to Summerhayes and Longs on Sunday and after the last match where I'd struggled on 33, I was hoping to avoid the 30's and maybe have a change of scenery down on the bottom bank which seems to be the place to draw for silvers at the moment. I met Steve 'The Pole', Terry 'The Toast' and 'Bombardier' Payne at the bowling club for brekkie although those two were headed to the Viaduct with Stoke.
We soon arrived and there was a good turnout with all the usual suspects although seeing the Tart's gurning smile put a slight dampener on things! After getting nets and having a coffee it was time for the draw and once again Pete would be deciding everyone's fate. I actually quite like this way of doing it as it creates a bit of a buzz, the golden peg was first and the number 15 came out of the bucket which is a great peg both for carp and silvers at the moment. I was fourth on the list and Pete pulled out 35 for me (I take it back, it's a rubbish way of drawing pegs!!), I've been on it several times and never seem to do any good, Ray had it last match and weighed 5lb 8oz.
Glynn ended up on 37 which can be a good silvers peg, Steve P was on 27 which I wouldn't have fancied, number 7 was drawn for Alvin and it's a peg with form (first and second in silvers the last two matches so why I agreed to have a pound I'll never know!), Bill 'The Paste King' Hopping was the angler on the golden peg and nobody was betting against him topping up his pension fund! The Tart was on 25 and despite my best efforts, wouldn't have a nugget on silvers but instead suggested having the pound on our respective positions (which was probably the fairest why of doing it). In total I had five side bets on today (Steve P, Glynn, Jess, Alvin and the Tart) so it could be an expensive day!
I got my kit to the peg and the aerator in 36 was on and there were carp everywhere but hopefully there were a few skimmers around as well. I set up a 0.3 gram NG Mini Gimp to fish the top two straight out, left and right plus top two plus one and then one of the new 0.3 gram Guru F1 Wires for 10 metres towards peg 36 where it was a little deeper. On the side tray I had Bait-Tech 4mm Xpands and dead reds for the hook, micros plus my favourite Special G Green and The Juice groundbait I'd mixed the night before.
Pete got us underway and I cupped in a ball of groundbait on all five lines before starting on the right hand top two line with soft pellet on the hook. The first action came from a foulhooked carp which came off and then I had an indication but as I lifted the rig it was snagged up and that was enough of that! Onto the short central line and I had my first skimmer of 6oz or so but I was already behind Glynn who had three or four skimmers.
The last match had turned into a carp fest so after my initial feed I was toss potting in literally 6-10 micros which I hoped wouldn't attract too many pond pigs! I had a tiny skimmer from the left hand line but with over an hour gone I certainly wasn't bagging up. Rog turned up for his weekly stroll and I had a 2oz roach on double dead reds while he was with me and he soon got bored and left me to it. On his return he said nobody was doing that well with the exception of Ray on 21 who had several decent skimmers.
With two hours gone I'd only added one more skimmer and carp were starting to become more and more problematic with some of them quite lumpy as well. Glynn was having similar issues although he was getting the odd decent skimmer. The top two plus one line proved to be a waste of time so it was back to swapping between the short lines and trying to avoid the carp.
I even tried feeding nothing at all and when I had two skimmers in as many chucks I thought I'd cracked it but it was short lived with the next two fish carp, I even landed another pretty koi which I'm sure was the same one as two weeks ago. Then with two hours to go, the bites pretty much dried up completely for Glynn and me. I was going through the motions somewhat and really didn't know what to do next.
Going into the last hour I started getting a few bites again (from carp of course!) and as my elastic once more headed to the horizon, I could see Glynn in a similar predicament and it was almost laughable! I must admit I wasn't too upset to hear the final whistle and knew my 9 skimmers plus a few bits wouldn't be winning any prizes, all that remained was to see how many of the side bets I'd be handing over and I feared the worst!
After packing up, Glynn was first to weigh and had 7lb 1oz (so that was 1-0 down), I was next and my carp went 54lb 2oz before my silvers weighed 3lb 14oz to give me a total of 58lb and I was one fish away from beating my Summerhayes pb match weight again. A lad called Baz on 33 had 54lb 12oz and then Zoooner (Jess) had 7lb 13oz of silvers (2-0). Gabe Skarba on 29 had three nets of carp and a few silvers for 159lb 12oz which would be hard to beat.
Steve P was next and was cursing the loss of a big perch, he pulled his net out and I thought it was going to be close but the scales read 4lb 1oz (3-0 and it was starting to look like a whitewash!). My day went from bad to worse when the Tart on 25 had 89lb 13oz of carp and 2lb 12oz of silvers and despite me trying to persuade him we'd had the pound on silvers, it was looking like he'd frame and I was 4-0 down.
Ray on 21 had a nice net of skimmers to weigh 10lb 12oz and go into the silvers lead, Jim on 19 had 26lb 7oz and then peg 17 didn't weigh. Bill on 15 weighed 87lb 14oz so the golden peg would roll over to the next match. Peg 13 had chucked back and then Glen Bailey had 106lb 6oz to go into second place.
Roger K had 6lb 8oz of silvers and then Alvin had done well on 7 to weigh 10lb 4oz of skimmers and make it 5-0 so I'd been well and truly battered and would have stopped on the way home for fish and chips but I didn't have any money left! Steve on peg 5 weighed 48lb 6oz of carp, peg 1 didn't weigh and then Anz on peg 39 had 50lb 3oz.
1 – Gabriel Skarba (Mosella) – 159lb 12oz
2 – Glen Bailey (Summerhayes) – 106lb 6oz
3 – Brendon Ions (Tackle Trader) – 92lb 9oz
Silvers
1 – Ray Wickham (Summerhayes) – 10lb 12oz
2 – Alvin Jones (County Gardening) – 10lb 4oz
3 – Jess Jordon (Summerhayes) – 7lb 13oz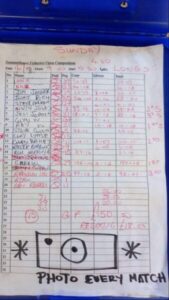 Another really disappointing day for me, I've lost my way somewhat at Summerhayes and I'm just not getting it right. It does seem to be that with the water level down, the best areas for silvers are now the wider pegs with 7 and 15 on the corners doing really well but the worm heads are still doubling my weights from nearby pegs. Mind you, I still finished fifth overall with my accidental carp so maybe I ought to fish for the bloody things next time!
It's a funny old game really, I was sat there going through the motions wondering what I could have done differently and if truth be told there were loads of things I could have tried but didn't, I didn't even pick up the other rig and just basically did the same thing all day, okay I did play around with my feeding a little bit and swapped hook baits but that was it. I have touched on the subject of how complex our sport is and the many variables there are in several posts but today really got me thinking about 'Going through the motions' and I'll explore it further in an upcoming post.
Next up – River Parrett
Coming soon – Some more Random Ramblings
Check Out – My latest Spotlight On… (below)