After a great start to the league in the first match, I was hoping for more of the same this weekend and after some rain mid-week, the river was in perfect condition but with more forecast for Saturday would it be too much? Looking at the river levels online, it was touch and go whether we would be on the river or the pond (if the latter, it wouldn't be a league match). I was up bright and early Sunday morning and one of the first to arrive at the bowling club, Dave P was already there.
As the others started arriving, the banter began in earnest and I have to say, that and the breakfast are a huge part of why I love my Sundays so much. Rob arrived and confirmed we'd be on the river with pegs at Isle Brewers, Hambridge and upstream at Midelney. After everybody had finished eating, Rob had to run through the latest guidelines from the AT before the draw commenced.
As per usual, your peg would be drawn in the order you were booked in and when it was my turn, Rob pulled out 129 and I had the choice of 129a as well. I was happy with that as they'd both done decent weights in the first league match although to be honest I wouldn't have minded which peg I had as there wasn't a bad one in the bag.
After parking up at Isle Brewers, the river looked really good although there was a fair bit of pace to it but hopefully it would fine down during the day. Dave was on 124a and modelling his new set of waterproofs, Digger had 125, Rob was on 126a with The Toast next door on 126 and Big Frank was on 128.
My peg was a little bit of a walk and by the time I'd made several trips with all my kit I didn't have long to set up. I had a quick look at 129a but decided on 129 as it had some branches in the water and plenty of steadier water. The swim looked gorgeous although as the level was up, where you normally sit was under several inches of water. I only had time to set up a 1.5 gram DH13 and the swim was very deep, nearly top kit plus one! On the side tray I had a pint and a half of casters, red maggots plus some Bait-Tech Super Seed hemp.
Just before the start there were a load of ripples to my right and I was hoping it wasn't one of our furry friends so was thankful when a little diving bird popped up! My next visitor (and I had several more throughout the day) was a grey squirrel that came down from the tree tops and sat on a branch opposite just above the water for a drink. On the whistle I started above the branches to my right with double red maggot, holding back, after a couple of minutes the float slid away and my first fish was a ruffe!
The next fish was a decent roach and it was a bite a chuck, I also tried below the far bank cover and caught straight away so thinking the swim was rigid, I had a go fishing three sections to hand but never had a bite there. I was catching lots of small roach with the odd net fish among them as well as dace and gudgeon. Running the rig down the middle in the main flow at about six metres I had a decent spell of fish and then tried swinging the rig upstream so that it settled in front of me and caught really well including some lovely roach.
After an hour I had 31 fish for 3-4lb and if I could keep catching like that, a big weight was on the cards. Visitor number three was a heron that as it came flying round the bend, saw me and veered off sharply, I'm not sure who was more surprised! I also noticed that I was now sat on dry land and the river must of dropped off around six inches already!
Going into the second hour I was still catching down the middle, I did try caster and had a couple of fish but they were no bigger than the maggot fish and it was slower. I added another 24 fish in the second sixty minutes and it still felt like there were a lot of fish in the swim. A young swan then came up through and not long after a pair of electric blue kingfishers darted past which is always lovely to see.
My catch rate was still ticking along nicely although I wasn't hitting the heights of the first hour and I was having to keep chasing them round a bit, a couple of fish down the middle, then add a couple of sections and go above the branches for a few more before going below and repeating the process. It was still mainly roach along with occasional dace, gudgeon, chublets and another daddy ruffe!
I kept trying caster and with around an hour and a half to go, had a really nice run of quality roach down the middle with a couple around the 8-10oz mark and I thought a strong finish was on the cards but much like the last two river matches, it slowed up. The clicker was reading 123 fish (plus a few minnows I hadn't counted) so less fish than last week and no bonus perch but the average stamp was bigger so possibly 12lb maybe a bit more. I wasn't sure that would be any good as I was expecting some big weights today.
As I took some of my kit back to the car I asked how Frank had got on and he said that he'd really struggled for 5-6lb and then The Toast and Rob said the same so maybe I'd done better than I first thought (unless they were telling porkies of course!). I walked back down with Rob who had the scales and my fish went 14lb 5oz, Frank had 5lb 11oz and then Rob weighed 2lb 10oz and Terry had 6lb 14oz. Above the bridge Digger had 7lb 12oz from 125 and Dave had struggled for 1lb 11oz but was still nice and warm in his new gear!
We met back at Coxes for the socially distanced results and the lads from Hambridge were already back, Leighton had 4lb 8oz from H3, Neil weighed 5lb 6oz on H4 and then below the bridge Fieldy had 9lb 2oz from H5 and Ian 'Bagger' Burton weighed 12lb 14oz. During the match Graham hooked and lost a big chub, a bit later Ian landed a chub (weighed at 3lb 12oz) and it still had Fieldy's hooklength in it's mouth, to rub salt into the wound, Ian beat him by……3lb 12oz!
I started to think I might have won my second match on the trot but when the Midelney section got back, it had fished it's head off although they couldn't fish their pegs upstream so had to go below the bridge (after checking with Rob first). Jake was top there with a brilliant 19lb 8oz of quality roach and perch (the warning signs were there in the morning as he was very hungover and he always catches a lot of fish when anybody else would still be in bed suffering!). Baz had also done well with 15lb 6oz from M3 and Steve 'The Pole' had 11lb 6oz from M1 despite loads of people hanging over the bridge and even playing Pooh sticks at one point! Thanks to Leighton Cox* and Steve Parker** for the photos.
1 – Jake Woodard (Ilminster) – 19lb 8oz
2 – Baz Morgan (Somerset Angling) – 15lb 6oz
3 – Jamie Rich (Against Men and Fish) – 14lb 5oz
4 – Ian Burton (Taunton) – 12lb 14oz
Sections
A – Phil Denslow (Taunton) – 7lb 12oz
B – Steve Parker (Ilminster) – 11lb 6oz
So I finished third and picked up £40 plus nuggets from Steve and Terry and the river has fished well again with five double figure weights and it's lovely fishing with loads of bites at the moment. I have to say I used a Guru Match Special size 18 to 0.10mm Pure Fluorocarbon and they are just superb hooks, I had just three fish come off all day.
The framing pegs (top three) from all the river matches so far are as follows,
M3 – 2 times
128 – 1 time (won 1)
H3 – 1 time (won 1)
M2 – 1 time (won 1)
126 – 1 time
129a – 1 time
129 – 1 time
H6 – 1 time
*Note, the pegs at Mideleny aren't permanently pegged and may vary.
Lastly I can't go without mentioning the sad demise of the Angler's Mail, I was lucky enough to appear in two features thanks to Brian Gay and when I used to religiously buy all the fishing mags when I was at school, I never thought I'd ever actually be in one! Unfortunately it's a sign of the times and in this digital age where all the match results and the latest big fish captures are online the same day, I fear the Mail won't be the last casualty.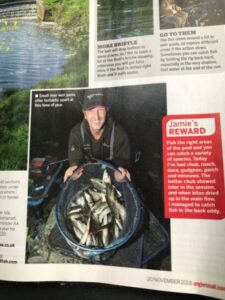 Next up – Hebditch's Pond
Coming soon – My next review
Check Out – My last match (below)