January 2020

A few of us decided to have a knock up at Sadborow before the Xmas break was over, I drew peg 7 which I was happy with and had a steady start but I fell behind the others and couldn't catch up, I did land a big chub which was easily 4lb 8oz and would have been a new pb if it hadn't been foulhooked! I ended up last on the pond but my chub, a skimmer and few small perch went 7lb which took the £5 silvers pool.
Then on the Sunday we were finally able to get on the river for the penultimate Warehouse League match and I was the first peg below the bridge at Midelney. The expected big weights didn't materialise but I had a steady day to weigh 8lb 8oz of quality roach and perch which was second behind Andy Saunders with 11lb 10oz.
The river looked in good condition the following Sunday as well and Rob pulled out H4 at Hambridge for me again and when a fish topped above me before the start I thought I was going to be in for a good day. No bites for ten minutes suggested otherwise but then I started catching well and a switch to caster resulted in some better roach before bites tailed off and I only caught in spells for the rest of the match. I ended up with 122 fish and thought I had double figures but actually weighed 8lb 10oz and needed another 4oz to win the section! Ian Burton won with 12lb, followed by Digger with 11lb 7oz and Vic Bush with 9lb 14oz so a close match.
I was really looking forward to the Ilminster v Taunton match on the Isle but the draw bag wasn't kind at all, I ended up on 124a which I wasn't too disappointed with, not one of the fliers but I still thought I'd get a few. Five hours later, I'd struggled my way to 14oz! After the weights had been totted up, we'd been duffed right up by Taunton as their top eight anglers weighed 94lb compared to our rather pitiful 6lb!
It was the away leg on the Tone the following week and I drew peg 7 which is a great peg, three decent chub in thirty minutes had me thinking a big weight was on the cards but then it rained quite heavily and the river rose a few inches which didn't do us any favours. I managed four more chub (and lost one) for 5kg 800g and I thought I might sneak the section but actually won the match and had a very nice pick up of £151. In the team stakes we lost again but at least it was a bit closer than last week, they had 20kg to our 15kg.
Highlights – Winning the Taunton v Ilminster match
Lowlights – Struggling in the home fixture
February 2020

The final match of the Ilminster Warehouse League saw Andy Saunders with one hand on the title and although mathematically he could be caught, he would need to blow out big time. Ian Burton drew me an absolute bunghole in the shape of peg 9 below the bridge at Muchelney. The river looked perfect with loads of fish topping, I got off to a brilliant start catching 22 roach for about 4lb in the first half an hour but then the river started rising and it was a struggle for everyone. I kept putting the odd fish in the net and finished with 77 fish for 9lb which won on the day and I ended up second in the league behind Andy with Paul Adams completing the top three.
Then it was the open but with awful weather forecast and the match switched to the pond we only had a rather disappointing five anglers fishing, I was still quite looking forward to hopefully getting a few pulls on the feeder but it just hasn't happened and my 10oz of roach was last. Gordon Aplin continued his good form in the open with loads of small fish for 3lb 1oz from peg 19 for victory.
The following weekend there was no let up in the weather as Storm Dennis paid us a visit and created havoc, matches were cancelled all over the place and I ended up at Sadborow for a little knock up. I drew peg 5 behind the island and fancied it but the flow coming out of the inlet pipe due to the heavy rain made the island unfishable, I struggled for ten carp and a skimmer for around 30lb but chucked back, the Tart won with an excellent 102lb from peg 1.
Then for round five of the V.E.S. Precision league we headed to the canal hoping for plenty of bites like the last match down there but it just hasn't happened. I had the top weight with three perch for 5oz!
A rare double header the following weekend, on the Saturday I ventured down to Todber for the silver fish open and didn't disgrace myself catching 12lb 14oz of silvers and 19lb of carp but with 17lb of silvers framing I wasn't a million miles away.
Highlights – Winning on the Parrett
Lowlights – Winning on the canal with 5oz!
March 2020

The following day I was at Hebditchs for Barneys Pairs with Andy Saunders on Dillington, I've struggled for one carp and a few silvers for 3lb 13oz and joint third on the pond, Andy had 1lb 9oz and we tied with two other pairs on nine points for third place with Rob and Leighton Cox taking the verdict with a superior weight. I did win the section money by triple default! Karl and Stuart Aplin won the pairs with a perfect two point score.
With the rivers flooded once again we headed to Dillington for the penultimate V.E.S. match and I was expecting it to be hard but it's actually fished really well, I've had a bite a chuck all day and caught 161 roach for 9lb 6oz and second spot behind Baz who had 286 fish on the whip for 12lb 14oz and a comfortable victory.
I was at Perry St for the first round of Chard AC's spring league and wasn't too disappointed with peg 19, it was quite slow going but I've caught odd carp on corn and maggots and thought I'd done alright as there were several people with a similar number of fish but mine were a bit smaller and I finished up with a lowly three points. Derrick Hounsell had the top weight on the day with 85lb 4oz from unfancied peg 4 at Sadborow.
The final V.E.S. match at Dillington arrived and I was leading the league with a slender one point lead over Ian Burton and Steve Parker close behind him. We all drew in the same section with Steve on 2, Ian on 8 and me next door on 9, I needed to beat Bagger Burton as if we tied on points, he had a superior weight advantage. We'd had a frost overnight but I still thought lots of small fish would show and that skimmers would be needed to win. With that in mind, I fed a single ball of groundbait at 10 metres and then a more positive line at 11.5 metres angled to the right received three balls and a full pot of casters, hemp and corn.
It took an hour and a quarter to catch my first fish which was a little roach but then I've caught small fish quite well. I was regularly trying caster but only had a couple of slightly better roach on it, I kept my other line topped up but decided to get my head down and catch roach and only go for bonus fish if I saw one caught. I ended up with 100 fish (all roach apart from one tiny perch) and as we went round with the scales it had fished really hard with lots of people chucking back, Baz was leading with 5lb, Frank weighed 2lb 12oz then Ian had 3lb 11oz to go into second place. I thought it might be close between me and him but the needle crept past the five and Steve called it at 5lb 1oz, so I'd won on the day but more importantly secured the section win which meant I'd won the V.E.S. Precision league for only the second time – well chuffed. A nice pick up of £85 on the day plus £100 for the league was the icing on the cake.
Highlights – Winning the V.E.S. Precision league for the second time
Lowlights – The Corona Virus
May 2020
With pleasure fishing allowed I popped out Dillington for my first trip in nine weeks and it was hard going to be honest and I only managed one fish, a decent chub around 3lb on corn but it was nice to be out of the house for a few hours.
My first match post lockdown was a Stoke AA charity match at Hebditch's Pond, a venue I always enjoy fishing. With the social distancing measures, my peg was drawn for me and I ended on number 5, the last one on the far bank. As I got there carp were cruising everywhere and I had a really enjoyable match catching shallow for three hours and then mugged the odd fish to end up with 33 carp for 84lb 2oz and first place on the day.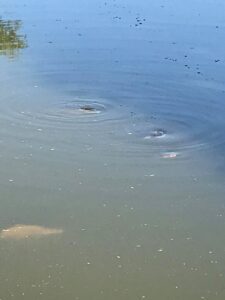 Highlights – A lovely day at Harry's
Lowlights – The Corona Virus
June 2020
First match of the month was another Stoke fixture, this time at Covey Fisheries, a new venue for me and I was really looking forward to it. The day got off to a fantastic start with a full English at Cafe Morgan before we headed to the fishery. Peg 13 was my home for the day and I haven't fished a very good match, tried to catch shallow and it was all wrong. Still a very enjoyable day and I ended up with 30lb 4oz including a lovely little barbel and with 35lb framing, I wasn't too far away.
The following weekend I was at Summerhayes for an open on Longs, Roy's drawing arm proved to be worse than mine when he pulled out peg 5 on 'Cyanide Straight' for me. I've struggled all day to catch a few skimmers and roach for 5lb 15oz (plus six carp I chucked back) and I didn't trouble the frame places. Mike Bendall won the silvers with 20lb 13oz from peg 28.
Chanter arranged another match at Covey and once again, Cafe Morgan looked after us in the morning and as the chef wouldn't accept payment, we all bunged a fiver in for Stoke's charity. On arriving at the venue, there were only a few pegs left in the hat including bunghole peg 1. James W then went and pulled it out for me, cheers mate! I've had a lovely day catching carp and F1's mainly across to the far bank to win with 97lb 11oz and had a nice pick up of £110. Thanks to Steve Chant for the photo*
For the last match of the month, it was the first round of a shortened Ilminster Summer League at Dillington and I got off to a great start when I drew peg 2. I spent far too long trying to catch on corn and then switched to maggot and caster in the last hour for a 3lb chub and two eels, I weighed 5lb 13oz to win the section money but with 5lb 14oz framing, it was a chance missed. Baz had the top weight with 7lb 7oz from peg 10.
Highlights – Winning at Covey
Lowlights – Drawing Cyanide Straight again
July 2020
The next Stoke match was on the Parrett at Kingsbury, a stretch I'd not fished before. Chris W drew me peg 1, so an end peg and a short walk – ideal! It was quite tough fishing but I had a steady day catching quality roach, chublets, dace and a gudgeon on caster for 4lb which was the top weight on the day.
The Sedges was the scene for the next one and it was on Brick lake which I hadn't fished for around 17 years, after a fantastic breakfast at Cafe Morgan, my day went downhill rapidly. On arriving at the venue, all the corner pegs had gone and peg 2 was my home for the day, not great according to the locals. Biting into a pre-match chocolate bar resulted in a sickening crunch as part of my tooth and filling broke off which set the scene for the day.
After mugging a big carp early I then really struggled, having my elastic snap on a carp and losing a brand new Guru float in the process did nothing to improve my mood. I finished up with 14lb 6oz of silvers and two carp for 15lb odd and a big thanks for coming, should have fished for silvers all day as 20lb was top. Glen Radford did well to win with 96lb of carp on the pellet waggler.
The following week we had another charity match at Hebditch's and I was hoping for pegs 1-5 but James W's drawing arm let me down again when he pulled out peg 10. I wanted to catch shallow but could only catch odd fish and the deck rig resulted in lots of little pasties, I ended up with 35 carp (7 decent ones) for 31lb 7oz which put me second behind Chris White who had over 44lb from the reeds peg.
Another Stoke match on the Parrett at Kingsbury and Chris drew me peg 14 which was a lovely looking swim, I had a really enjoyable match catching the odd better roach and ended up with 3lb which was fourth in a very close match. Chris Deady won on the day with a cracking net of roach weighing 5lb 12oz from peg 1.
Highlights – A really enjoyable win on the Parrett
Lowlights – Everything going wrong the following week!
August 2020
My first match at Summerhayes for a while and I was hoping to avoid Cyanide Straight, Pete drew me 33 which I was very happy with, I had a 4oz skimmer first put in and three for around 3lb after an hour so on target for a decent weight. Then the carp moved in and I must have had 20 with only the odd skimmer to end up with 6lb 11oz of silvers and 53lb 10oz of carp. My total of 60lb 5oz was my biggest weight at Summerhayes to date although I've lost loads with 70lb enough to frame. The Tart won with 102lb and top silvers went to Alvin with 14lb from peg 15.
The next Stoke match was at Parrett Works and Chris W drew me number 25 which apparently was a decent peg, another tough but enjoyable day saw me catch some nice roach including one on hemp plus dace, chublets, gudgeon and minnows for 3lb 1oz and third place. Bob Newbery won with 4lb 5oz and Nick Payne was second with 3lb 7oz but lost a chub.
A rare midweek outing saw me at Todber, it was a boiling hot day but I've had a nice days fishing to catch 46 skimmers for 21lb 6oz and second in the silvers. Greg Welsby won with a huge 376lb 12oz and Dave Willmott won the silvers with 28lb.
Another match at Summerhayes and Pete drew me 35 and I can't seem to get away from the 30's when the pegs on the bottom bank seem more favourable for silvers. Not much to say really, couldn't catch silvers and got carped out, weighed 58lb (of which 3lb 14oz was silvers) and lost all five side bets, one to forget!
Back at Parrett Works for another Stoke match and Chris W drew me peg 21 which hasn't been used for a while, I've had some nice roach along with a dace and lots of gudgeon plus a few minnows for 4lb 4oz and third place. Terry The Toast was second with 5lb 12oz and Bob Newbery won again, this time with a cracking net of roach weighing 6lb 13oz from peg 10.
I booked a day off work to fish a charity match at Hebditch's Pond and was happy with peg 1, I got off to a great start with a carp first chuck shallow, a few more followed then had a really good spell fishing on the deck with pellets before the whole pond seemed to switch off with the exception of Toastie on peg 4 who bagged up all day to win with 104lb! I limped home with 27lb 15oz for third place.
Another match at Covey and after doing my back in during the week I've struggled fishing across on peg 16 for a few F1's and carp before switching to the short line and having a really enjoyable day catching crucians, skimmers, roach, rudd and a lovely barbel for 12lb 5oz but was a long way behind the top silvers weight of 21lb 2oz. Dave White made no mistakes in peg 1 to win with 96lb.
Highlights – Still loving fishing the Parrett
Lowlights – Doing my back in!
September 2020
We were back on the Parrett for Stoke v Ilminster which I'd really been looking forward to, I drew a decent peg but after catching some gudgeon and a few chublets I really struggled for 2lb 1oz. On the team front we beat Stoke 24lb to 18lb and became the first holders of the Isle & Parrett Challenge Shield which was very kindly donated by the host club.
With one of this years Garbolino Club Angler of the Year qualifier's at Todber I decided to have a crack at it, I was really looking forward to the day and I got there in good time. Darren Cox drew me peg 35 on Hill View (not good) although I got off to a blinding start with two carp in two chucks but then struggled until an hour to go when I've caught quite well shallow to end up with 77lb for nowhere. An enjoyable experience and I'll give it another go if it's at Todber again next year.
Then it was back to Dillington and I wanted to fish the feeder in readiness for Bob's match the following week and I caught quite well in the first half of the match to end up with 12 skimmers and a few bits for 7lb 9oz and a section win.
I was really looking forward to Bob's match and the day got off to a great start with breakfast at the bowling club and got even better when Rob drew me peg 19. I had a brilliant first hour catching five skimmers and three roach but that was basically it! Over the next four hours I had one skimmer and a few roach before catching two more skimmers in the last hour. I weighed 8lb 5oz for a section win but all the leading weights were anglers fishing waggler rods to hand, Baz Morgan won comfortably with 19lb 4oz from peg 2 which included two chub.
Bobs family presented the trophy and brought along some lovely homemade sausage rolls, the anglers raised £65, Ilminster AA added another £35 and Baz very kindly donated £20 from his winnings and the money went to Bristol Children's Hospital.
I was looking forward to the next match which was silvers only at Covey but I really struggled for 2lb 2oz and came away feeling really deflated.
Highlights – Bob's match
Lowlights – Getting it wrong everywhere!
October 2020
Stoke had a pairs match on the Parrett and I booked in with Steve P after really enjoying fishing it all summer. The weather had other ideas and heavy rain for three days put paid to that. Ilminster very kindly said we could use Dillington and despite atrocious conditions it was a close match. Dan Baldwin and Ian Burton won comfortably with 16lb 14oz with Chris White and Bob Newbery second with 10lb 7oz and Steve and me were close behind with 9lb 12oz.
Then it was time for the V.E.S. Precision league to start on the Isle and I always look forward to fishing the river but you need a good draw to do well and when 124 was pulled out for me, I didn't think I'd got it! I've ended up having a lovely day catching 98 roach, chublets and gudgeon for 9lb 15oz and a section win to get my league off to a great start.
Two matches the following weekend, first up was Charlie Barnes memorial at Summerhayes, I got drawn peg 19 which I was really happy with but it was really hard and I struggled for four skimmers and a few bits for 2lb 8oz and nowhere. Jeff Sparkes won with 11lb, Roy Hughes was second with 9lb 2oz and Mark Leahy was third with 7lb 9oz.
The next day it was Ilminster v Stoke on the Isle and I wasn't too happy when I was on H3 above the bridge at Hambridge but when we arrived, there were loads of fish topping and I had a cracking day catching some big perch, roach, chublets, bleak, gudgeon and even a ruffe for 16lb 8oz and first place on the day. Ilminster completed the double over Stoke, 95lb to 35lb.
For round two of the V.E.S. Precision league, the river was up and coloured but looked really nice and I was happy when 129 was drawn for me. I've had another lovely day catching 123 fish (mainly roach) for 14lb 5oz which was third on the day behind Baz who had 15lb 6oz and Jake's excellent 19lb 8oz from Midelney.
Highlights – Winning the Ilminster v Stoke match
Lowlights – Struggling in Charlie's match
November 2020
For the first match of the month we had another charity match at Hebditch's and I got drawn on the far side, after struggling for two carp in the first two hours, I started fishing for silvers and really enjoyed myself catching two nice chub, five skimmers plus loads of roach and rudd for 10lb 15oz which won the silvers pool. Young Sam Hinton won his first match with 33lb 7oz of carp from peg 4 and the anglers raised £110 for charity.
Then with Covid deaths rising again there was another lockdown which meant no more matches for a month.
I did have a day's pleasure fishing at Chard resi and caught four bream, sixteen skimmers and some roach for around 25-30lb.
The month ended in the worst possible way when I lost my dad after a long battle with vascular dementia, horrible disease.
Highlights – Another lovely day at Harry's
Lowlights – Losing my dad
December 2020
Lockdown was lifted on the 2nd and matches resumed with my first outing a trip to Avalon on the 6th for the rescheduled Simm's Silvers match. There was a brilliant turnout of 27 anglers and I was on peg 8 which was one of the favoured open water pegs. I had a really nice day catching two decent bream, some skimmers, roach and a 1.5lb perch for 11lb 11oz which won the section and was third in the superpool. I also had two big carp (the biggest was around 15lb!) which didn't count. Vic Bush won with a lovely net of quality fish weighing 22lb 9oz caught mainly on the waggler.
The Xmas Fayre was next and I was gutted to draw peg 19 at Coxes and didn't bother weighing my four small chublets and two minnows. John Dursley won with a brilliant 17lb 5oz of roach and chub from peg H5.
With the river flooded we were at Dillington for the next match and Rob drew me a great peg in the shape of peg 2 and I've caught small fish quite well before a 2lb chub five minutes before the end boosted my weight to a match winning 8lb 6oz.
It was back to Dillington the following week as well, it's fished quite hard and I managed second place from peg 21 in a close match with 4lb 12oz behind Ian Burton who had 5lb 2oz from peg 2.
The last two matches saw me finish the year with a whimper, another of Chanter's opens at Covey saw me on peg 14 for the third time and I caught a few F1's early before really struggling to end up with 16lb 3oz and nowhere. Dan Squire won with 56lb from peg 3. The final match was Brendon's Bonus Bash, I was on peg 5 and had a great start and led for over three hours but then everyone overtook me and my 39lb was last on the day, Hoffy won from peg 5 with 50lb.
Driving home it was announced that we were moving into tier 4 which effectively put a stop to match fishing for the third time this year!
Highlights – Winning at Dillington
Lowlights – The Corona Virus (again!)
Summary
My orphan year, 2020 has been one of the worst years of my life on so many levels. My poor dad was going downhill fast, I was working full time plus trying to care for him and my stress levels were off the charts, then the Corona Virus and lockdowns arrived and life changed beyond all recognition for everyone. As the year came to a close, it ended in the worst possible way when my dear father passed away in late November. Looking back at that horrendous twelve months and everything that went on, I'm amazed I got through it and am still here to tell the tale! During the worst of it, due to the pandemic, I couldn't even go match fishing which had always been my release, pleasure fishing was still allowed and although I did go a couple of times, it just doesn't really do the trick for me.
On the fishing front, it had been shaping up to be a fantastic year before the pandemic hit, I had the top individual weight on the River Tone in the Taunton v Ilminster match with 5kg 800g, I won the V.E.S. Precision league for only the second time, was runner up in the Ilminster Warehouse league and had wins at lots of various venues including the River Parrett, Ilminster Canal, Harry's Pond, Covey Fisheries, Dillington and the Isle.
In the end I fell well short of last years winnings total with £1379 but given that I missed 13 weekends due to the Corona Virus, it was still a really good year! Obviously there were no foreign trips (and I can't see that changing in 2021) and I still haven't done much regarding other species, I did have a nice day's feeder fishing at Chard resi but that was about it.
I really enjoyed fishing the Stoke matches on the Parrett and can't wait to fish it again next season. There were some lovely matches on the Isle and I recorded two section wins out of two in the V.E.S. league until floods or the Corona Virus put paid to that for the year, hopefully we'll get to fish the remaining matches.
New Venues
River Parrett (Kingsbury)
Covey Fisheries
Revisited
Chard Reservoir
Avalon Fisheries
Sedges (Brick Lake)
The blog continues to do well and the feedback and comments I've received have been amazing, if you like what I do, please get in touch or if there's things I could do better please let me know, I'm always open to constructive criticism. I would still love to feature more guest blogs and collaborations, if you're interested, contact me using the form in the sidebar.
The number of hits sailed past 4 million and currently stands at 4,010,082 which is staggering (if only I had 50p per hit!). In an uncertain year I'm very grateful for the support from Peejay Tackle and I continue to be immensely proud to be associated with Bait-Tech, I'm really excited to see their new releases for 2021 and on a personal level I feel very lucky to count Hayley as a friend.
So here are the stats (with how they compare to last year in brackets),
Matches won – 9
Silvers wins – 1 (–4)
Winnings – £1379 (–£495)
Golden peg wins – 0
Matches fished – 47
Number of pick ups – 28 (–11)
Success rate – 60%
New pb match weight
Summerhayes – 60lb 5oz