In my last post I asked if anybody had suggestions for blog posts while we're in lockdown and several people got in touch and suggested interviews with local anglers, so here's the first and hopefully I've got a few more lined up.
Hi Ivan, thank you very much for taking the time to answer my questions,
You've been blogging a long time, since 2012? and we've met a couple of times over the years, what made you start a fishing blog?
My youngest daughter used to write a blog on fashion, a subject she was passionate about before she went to study it at University and just happened to say one day "you should do a blog on fishing Dad" and that's when it started. I was already reading your blog as well as Tim Ford's so showed her these and she helped me set up and build my site. Nothing has changed with regard to the format on my site since 2012 and I am now on nearly 250,000 hits. The amount of contacts I have made by writing the blog is incredible and i get recognised both on and off the bank by complete strangers. If the wife is with me she shake's her head is disbelief. Lot's of other anglers use the blog to get info on a certain venue that I have fished or contact me direct. It's very satisfying.
Let's find out a bit more about you? When and where did you start fishing and what was your first fish?
I was about 10 years old when I started fishing. Dad bought my brother and I a 10 foot bamboo pole each, this would have been around 1966. Not a lot of finesse fishing with a big porcupine quill, 10lb line and what must have been a size 12 Mustad hook and a big black headed worm on the hook. Needless to say we didn't catch anything. Dad then whipped a set of eyes on the poles and taped a crude type of centre pin reel on the bottom section. We were taken down on the Upper Bann a short walk from home when dad came home from work in the summer. It was my brother who actually caught the first fish in those early days, a small bream but I was 'hooked'. My first fish was a small jack pike which certainly put a strain on the bamboo rod.
Those bamboo rods were replaced by solid fibre glass rods and proper reels one Christmas and we joined the village Angling Club (Gilford AC) which had a trout lake and also controlled about 10 miles of the Upper River Bann above Portadown which contained brown trout, perch, pike and eels, this was before the famous 'roach explosion' on the Bann.
Once I learned to swim I was allowed to go on my own, I entered the odd competition which were for trout and pike and won a few of the junior prizes. I had to walk or cycle as we had no family transport.
Dad used to bring home the Radio and TV Times television guides on a Friday night and imagine my delight when I opened up the TV Times to see a photo of an angler under an umbrella with a cigarette hanging out of his mouth. It was Ivan Marks and there was a programme going to be shown about match fishing and the Leicester Likely Lads. That programme got me totally obsessed with match fishing, we had no recording equipment in those days but if we did I would have watched that programme over and over again.
I then ordered the Angling Times from the village paper shop and couldn't wait for it to be delivered each week. I learned so much by reading it. Of course I couldn't put a lot into practice as I had no way of getting maggots in any quantity, no groundbait and as for tackle the rods sold were either for spinning or fly fishing.
Then around 1970 an event happened that totally delighted me. I was down on the river one morning in the spring and fish were topping all over the place, the water was black with them as far as you could see. A couple of anglers spinning for pike foul hooked some and they didn't know what kind of fish they were. I did … roach. This was the start of the roach explosion on the Bann.  I caught those roach in huge numbers by simply mixing up some flour and water into a paste and putting a little blob on the hook. Mashed up bread and cooked potato peelings for ground bait.
Five miles away in Portadown where the Bann is slower and wider they started up a coarse fishing club. Individual anglers and match teams travelled across from the UK mainland to plunder the roach. Ian Heaps and Kenny Collins were among some of the visitors. Proper coarse fishing tackle became available locally.
I got a Saturday job picking carrots, potatoes and turnips and saved my money to buy tackle etc. I used to get on the bus with all my tackle to fish the famous Boat House stretch and Shillingtons right in the centre of the town, unbelievable fishing.
Northern Ireland was a very troubled place at that time and I remember my dad asking me not to go into Portadown one Saturday. He would not say why and I did go. I was fishing the Boathouse stretch and noticed a man continually walking up and down the gravel path behind me, he didn't say anything but was always looking around, he had a newspaper folded under one of his arms.
Nothing untoward happened but I learned afterwards that my dad and the family was at risk from a paramilitary organisation, that guy walking behind me was a minder. Around the same time I had just left school and was working in an office. Six months later I was in the Royal Navy, I missed out on the evolvement of match fishing in N Ireland but I think it was a good move for numerous reasons.
What's your favourite style of fishing?
I love standing in the river fishing the waggler, up in the water or on the deck. You can't beat it once you are in the right rhythm with everything close to hand. Loose feeding every cast, casting, controlling the float, letting it run or holding back. Even more enjoyable if you are catching fish as well.
Your favourite venue?
So many favourite venues to be honest and depending on the time of year, I enjoy them all.
January to March it has got to be my local River Kenn in Clevedon, North Somerset. Great bags of big perch and tench along with roach and hybrids, all on the waggler in less than 4 foot of water.
Spring time it's the Gloucester Canal. I fish the spring league as well as pleasure fishing. What a venue for bream at this time of year using the feeder and you don't need a lot of bait. In addition I also go pole fishing on the Bristol Feeder Canal for skimmers, roach and dace and what's more, it's free!
June, July and August I can be found on the Bristol Avon, King Sedgemoor Drain fishing the SW Super League and the Warwickshire Avon at Evesham. I did enjoy Evesham last summer.
In the Autumn I usually go and fish a festival in Ireland during the first week in September and then fish the 6 match series of the Bristol Commercial House League on the Avon and Kennet and Avon canal.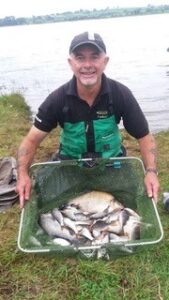 I fish the odd Clevedon Club match in-between the above but not on a commercial.
If I did have to pick one venue it would probably be Port Talbot Dock. What a place, not the most scenic but a great venue for roach, bream and skimmers, oh and the odd mullet.
And favourite fish?
That's an easy one ….. roach. Love catching them especially the ones around 8 to 10oz in numbers.
Can you remember your first match win?
I have had plenty of match wins at what you would call club level but back in 2011 I entered an open on the Bristol Avon at Newbridge. I drew peg 74 below Newton St. Loe railway bridge and won the match with 65lb of bream, no one knew who I was then. After that I was asked to fish for a Maver sponsored team which got me into match fishing properly. I was a late starter.
Most Memorial Angling achievement?
I travelled up to the Warks Avon at Evesham for the first time last year and fished some of the Wednesday qualifiers. I won my section once and on the final qualifier won my zone to get invited to fish the final on the August BH weekend. I felt that was a real achievement especially when you see the class of angler fishing these matches.
Have you any angling heroes or anyone who has inspired you?
Ivan Marks is the one who started me off without a doubt. Ian Heaps and Kevin Ashurst are two other anglers who influenced me greatly. I bought their books and gained a lot of knowledge from them. I would also add that the Angling Times articles also helped me a lot in the early days.
I get the impression that, like me, your preference is for fishing natural venues, would that be a fair assumption?
I do dabble in the odd commercial fishery match, mainly the Tuesday open's in the winter at Acorn Fishery near Clevedon when the weights are not stupid. I much prefer natural venues as they present a real challenge. Of course access and parking is a big problem on a lot of them but I'll keep going for as long as I can.
A lot of people say commercial fisheries have been the saviour of match fishing, especially with the decline of the rivers but more recently there seems to have been a swing away from carp back towards silver fish matches and rivers, where do you think the future of fishing lies?
I certainly do not knock commercial fisheries and there will come a time in my life when I will be on them. I think fishery owners have cottoned on that anglers like a bit of variety and not everyone wants to bag up on carp, it keeps them and the tackle trade in business. I fished the Evesham Festival qualifiers for the first time last year and I was impressed with the organisation and the ability to more or less park behind your peg on a natural venue. The Trowbridge AA Wednesday Open's on the Middle Bristol Avon are well attended because you can also drive to your peg. Only this week I see that Twyford Farm on the Warks Avon are also making improvements to access the swims. Many of us watched the Riverfest Final on the Trent last year, again, park close to your peg facilities. Overall natural venue fishing is very much alive and well but there's a place for commercials as well.
Have you got any advice for youngsters who might want to get into fishing?
Join a local club, ask to go with a regular angler and watch. Of course the club needs to respond to young peoples demands by being free with information and time. My own club, Clevedon gives free membership to under 16's and we have a good up to date Facebook page and website to publicise and share information on.
If you had a time machine is there one moment in fishing you wished you could go back and change? i.e. a dream fish coming off at the net or a decision in a match that's cost you a title?
I wish I had moved to the match circuit a lot earlier in life as that's were my fishing appetite is but let's hope I have a few more years yet.
Have you got one piece of advice that will help the readers put more fish in their nets?
That's a good one …… never give up.
Match fishing has been steadily becoming more professional with anglers smartening up their appearance, big money televised events and more and more sponsored anglers but there are still only a handful of full time anglers, do you think there will ever be a time when match angling can become a viable career, like say professional footballers?
My view is that this is unlikely. There are very few sponsored anglers who can actually make a living out of just angling. Most sponsored anglers and teams simply get tackle at trade prices or below so the tackle manufactures still make a profit.
I've noticed on your blog you do a bit of fly fishing as well, are there any other types of fishing you'd like to try?
I have tried a bit of sea fishing from a boat but didn't like it, got sick. Not very good for an ex Navy man but I was in Submarines (that's my excuse anyway).
Before I let you go, here are a few quick-fire questions,
What's your biggest fish in the UK? And abroad?
UK – 18lb carp on the pole
Abroad – 17lb cohoe salmon off Vancouver Island, Canada
What's your favourite drink?
A nice Real Ale here and a Guinness when in Ireland
Favourite meal?
Steak, chips, onion rings with salad and a nice bit of English mustard.
Favourite film?
Dances with Wolves
TV show?
Hunted.
What music do you listen to?
I have a wide range in music taste but I am partial to a bit of Paloma Faith
Football team?
None, don't watch it.
Do you have any other interests/hobbies outside of angling?
I do like to travel and have been right around the world but that's on hold for now.
Thanks Ivan it's been lovely to chatting to you, hopefully I'll see you again soon,
Against Men and Fish
Check out Ivan's blog here – Ivan's Angle
*All images courtesy of Ivan Currie