Hi Paul, thank you very much for taking the time to answer my questions,
Our paths frequently cross at various venues in the South West but you haven't got a Zummerset accent so tell us a little bit about your younger years and where you grew up?
I grew up on a small-ish council estate in a village about 3 miles south of the urban sprawl of Croydon, Surrey (now deemed Greater London) and lived there until I got married at 24. There were a few lads on the estate who fished and we'd get together most weekends to fish a local pond, about a 2 mile walk away, or a train journey to Edenbridge to night fish the River Eden. As a youngster I was captivated by water and spent a great proportion of the summer holidays and half terms searching for newts and frogs. Opposite the main road at the bottom of the estate was a very large tract of land that had been earmarked for housing expansion and all the small holdings and related farm houses had lain derelict for some time. Although there were no ponds to fish, a few of the houses had garden ponds and it was here that the newt and frog population got moved into neighbour's ponds on the estate were we lived.
How did you get into fishing and what was the first fish you caught?
I suppose it was a natural progression from the newt/frog thing really and when a chap who worked for my dad asked if I wanted to go fishing with him I jumped at the offer. I must have been about 9 or 10 and we went to a lake just outside Redhill in Surrey called Earlswood. After a fruitless few hours and with optimism fading rapidly I had wandered off to find a tree to climb, when a sudden shout called me back to the waters edge. "I reckon you've got one on there" says Martin, when I reeled in there was a roach about 2oz flapping about on the hook. I've a strong suspicion that in my absence Martin had caught this fish, rehooked it on my rod then shouted at me. I was mesmerized by the fish and although I didn't get the opportunity to go again for maybe a couple of years, the bug had bitten!
What's your favourite style of fishing?
I'm happy doing any style to be perfectly honest, but if I had to choose only one discipline, then it would be running line float fishing on rivers, be it waggler or stick. I cut my teeth on rivers, before the advent of long poles and had some bumper catches of roach, dace and chub from waters such as the Thames, Kennet and Medway. During the mid 70's to mid 80's there were very few free or day ticket lakes to fish, with the birth of commercials still to come, and generally club tickets were beyond my financial means, so the free waters such as the Thames around Molesey and Kingston and the more intimate Eden in and around Edenbridge were my go to venues.
Your favourite venue?
Currently and geographically,  it's got to be the Sedges in Bridgwater for carp and skimmers,  Chard reservoir for the superb bream fishing, and of course, my local River Tone.
And favourite fish?
A difficult one this, but I'd probably have to say roach.
You've had some big match wins over the years, is there one that stands out that you are most proud of? And are there any matches you would love to win?
This was also a question I pondered over for a while, and decided that on an individual basis it would have to be the inaugural Preston Innovations sponsored festival at Whiteacres in 1999. Preston had backed the event with a winner's purse of £5000. The format back then was a 4 day competition with an option to fish an open on the Wednesday of the week. I was fortunate enough to draw well all week and my 4 section wins couldn't be matched. With 3 lake wins over the 5 days and a flagship pole it took my winnings to very nearly £7000 in cash and prizes – not bad for doing what you love for a week. To win such an event in such esteemed company made me a very proud man indeed.
On a team front, I was torn between two results, the first being an Angling Times winter league final on the River Trent on the Embankment in Nottingham, where the team I fished for, Delcac, lifted the title. I decided that result was just overshadowed by a nationwide competition run on a knockout basis by AT and shipping giants DFDS. Split into regional groups and then a regional semi final, the competition culminated in an all expenses paid two day match on a section points  basis on the wonderful Skanderborg lake in Denmark. I won the second day with 190lb of skimmers, fishing 8 metres to hand to break the Danish match record and was rewarded with 5000Dk from the Danish Tourist Board as a result. Delcac won the team event outright, against Barnsley, Starlets, and Leicester, Banstead and Reading. That day I was pegged next to Steve Hemmingray, who was most gracious in defeat, a true gent.
Any match I'd like to win? That's easy – my next one, ha, ha!
Have you any angling heroes or was there someone who inspired you?
The transition from club to open matches was mainly down to two people. Firstly Steve Sanders, who gave up his time to teach a few fairly inexperienced anglers how to fish the waggler on running water. Summer evening sessions on the Kingston Bargewalk stood me in good stead regards catching the notoriously difficult to catch dace. Secondly, John McCarthy who took me under his wing and taught me so much about rod and reel fishing – remember pole fishing was in its infancy in the early 80's – and most matches were won on the running line. Other anglers that I feel I need to mention are Stevie Gardner who I'd sit and watch whenever I could and Keith Arthur who could make a stick float dance down the peg with great aplomb. Finally, I must give a shout to a former travelling partner, John Daniels. JD, probably the best bream angler that I've had the pleasure to fish with was unbeatable on the feeder with many Irish festival wins under his belt.
If you had a time machine is there one moment in fishing you wished you could go back and change? i.e. a big fish coming off at the net or a decision in a match that's cost you? 
Fishing the 100 teams of 12 Thames championship, yes 1200 anglers!!, I drew a peg on the Longworth section of the river. Arriving at the peg I was a bit disheartened to be on a pretty nondescript bit of the river with bare banks both across and down the inside and coupled with a strong downstream wind wasn't too optimistic about my chances of a decent days fishing. Just a waggler and a straight lead/feeder rod were assembled. The river here is quite narrow, about 20 -22 metres wide, so plan was to fish across as tight as conditions would allow on the waggler and loose feed over the top in the hope of snaring a few roach or maybe a rogue chub.
Second cast and a pouch of bronze maggots at the float and the heavy ripple on the surface seem to 'flatten'. A repeat on the next cast and the penny dropped. Fish, and good'uns too, were boiling just below the surface for the bait. I shallowed up and hooked the first chub, a two and a half pounder. It wasn't mad but after four and a half hours I was thinking I'd put about 25 lb in the net.
With about 20 minutes to go the stewards turned up in preparation for the weigh in and one wandered up and enquired how I was doing. I told him and he said that the bream pegs at Eynsham and Pink Hill weren't producing, so with 25lb I'd be in with a good chance of framing as he'd only heard of one angler admitting to 30lb. Whilst he was with me I had a 3lber. Two minutes later and about 4 or 5 minutes left of the match and I hooked a big fish which tore off upstream and broke me. I was convinced it was a barbel and so was the steward. He reckoned it would cost me as they averaged 7lb, and so it proved, as I weighed a big 27lb and 32lb won the 1200 pegs. I ended up 3rd overall, Simon 'Spike' Duke winning with a similar net from one of the other sections.
Have you got a tip that will help to put more fish in the reader's nets?
One thing I've learnt over the years is if you think you should make a change to your rig or feeding regime, DO IT! 
And any advice on something fishing related that people can do while we're all stuck at home at the moment?
The only thing we can do in these challenging times is prep for when we are allowed to get back fishing matches, the old adage, fail to prepare, prepare to fail could not be more true.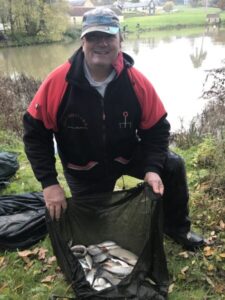 Moving away from fishing for a minute and onto a more personal subject, a few years back you were diagnosed with prostate cancer, can you tell us a little bit about your journey and recovery if you don't mind?
Not at all mate, if my experience can encourage some of the readers of your blog to take the opportunity to get themselves examined, then I'm sure a life can be saved. 1 in 8 men will be diagnosed with this indiscriminate disease, so it's a good chance it'll affect more than a handful of your readers.
A visit to the doctors for a completely unrelated issue gave my doctor the chance to advise me to go for an examination as a precautionary measure. I was of an age where prostate changes in the body start causing problems e.g. struggling to pass water, the need to get up in the middle of the night for a pee, etc, etc. I had none of these symptoms but I'd built up a good rapport with my doc and trusted his recommendation. A good friend of mine had died from prostate cancer a few years ago and I'm convinced that it was his reluctance to go for a check up that ended his life. So, an appointment was made and I duly underwent the internal examination, and to be fair it wasn't as bad as I expected. Ok, you leave your dignity at the door, but as in my case , it turned out that's the least of it. A subsequent biopsy, after the initial examination revealed some abnormalities, was to prove that I indeed had prostate cancer.
The consultant  gave me three options, do nothing and I might get 5 years out of it, radiotherapy to kill the cancer, but couldn't guarantee to get it all, (and once you've had a course of it ,you can't have any more) or a radical prostatectomy to remove the cancerous gland. A no brainer as far as I was concerned, whip it out, job done. Diagnosed April 29th 2016 and on 13th June in the RD&E a successful robotic surgical procedure, albeit five and a half hours and I was minus my prostate gland. Follow up meetings with my consultant Urologist  and I got the all clear. In between it was about 3 months before I was allowed to fish again.
On my last meeting with the consultant I was asked the question did I regret having the operation considering a few issues suffered since (sex life non existent, slight incontinence problems). I thought about it for a couple of seconds and replied "No", "Good, because you'd be dead by now" says the doc and that's when the gravity of this disease hit home. Such was the aggression of the cancer it was becoming more acute daily and would eventually have got into my pelvis then spine and that's what ends up killing you.
Before I let you go, here are a few quick-fire questions,
What's your biggest fish?
22lb 6oz carp on the waggler at the Viaduct in a match
Biggest match weight?
248lb 12oz, again at Viaduct
What's your favourite drink?
Tea
Favourite meal?
Cottage Pie
Favourite film?
The Green Mile
TV show?
University Challenge
What music do you listen to?
Massive Stevie Wonder fan, Steely Dan, George Michael
Do you have any other interests/hobbies outside of angling?
Not really, but like most anglers, just keen on being outside in the fresh air, whether that's fishing or walking the dog
Thanks Paul hopefully we'll get back on the bank and fishing matches again soon!
Against Men and Fish