Hi Tony, thank you so much for taking the time to answer my questions;
Our paths first crossed a long time ago when you used to come and fish the Chard Pairs League at Perry St Pond, Sadborow, Howley and Chard resi, tell us a bit about yourself how you got into fishing and what was your first fish?
Chard Pairs, that was a lifetime ago! Good days with lovely people, interesting venues they were, no egos, always light-hearted, but a challenge none the less.
My dad got me started when I was about 10, first fish was a perch (no surprise there) off the dam wall at Emborough pond, now over 60 (didn't see that coming!). Still fishing three times a week, normally matches, but occasionally I do something different usually with Judith, who has put up with me for 38 years this April, and yes I do realise how lucky I am.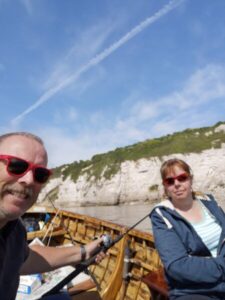 What's your favourite style of fishing?
Favourite style would entail anything with a float, pole or running line. I wouldn't decry tip fishing, but I don't enjoy looking down at a tip, waiting for a carp to try and steal your rod. It's not all like that though and I do enjoy a bit of skimmer or bream fishing and there are brilliant anglers out there who have taken this to a new level. Also on some of the lakes I fish there are anglers who catch more than others on the tip, so there may be something in it, and I have had my share on it at times, and even occasionally from my own swim 😂
Your favourite species?
Fave species, any as long as it means I have done well, least fave, plippy roach and stunted rudd. Back in the day I loved my eel fishing on the Gloucester canal and Huntspill, that could be a real challenge, and hooks were a lot cheaper then!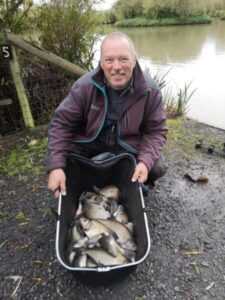 Where is your favourite venue?
Favourite venue would have to be Landsend fishery down at Wedmore, it has been more than kind over the years and I will always maintain that if you can catch carp consistently there you are doing well as they have been in there for a long time and they can be sneaky, seen it all.
Have you any angling heroes or anyone who has inspired you?
When I first started, locally I had anglers like Mervin (Topper) Haskins, Mike Jones and Chris Cooper to name but a few who were the people to aspire to, back then when lots, or most of the river matches were between one and three hundred peggers, it was deffo more than luck that kept these anglers at the top.
Nationally, there was only one, the late great Ivan Marks, and a nice bloke, wherever he fished he would always spend time talking with spectators and willing to share his knowledge as he new he would probably do it better and beat you anyway. I did have the pleasure of travelling with him a few years before his passing, we were invited with the Trabucco team to fish the armed services champs in Holland and we spent most of the travelling time talking as everyone else in the van slept. I was the only driver and Ivan's meds kept him awake, ideal!, lucky to have spent this time with him.
What's your biggest fish in the UK? And abroad?
Biggest UK fish – 34lb catfish, Todber
Biggest foreign – another cat of 145lb from the Segre in Spain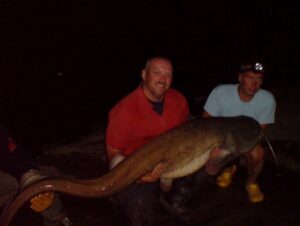 You currently work at Premier Angling and I know before that you worked in Veals, have you always worked in the angling trade?
Started in Veals in 1977, went to Avon Angling in 82 stayed there until it shut in 2015, then back to Veals till the start of 2020 when I went to Premier Angling in Keynsham, that should be my last move. So yes this year I will have been doing it for 44 years, and I do enjoy it.
You're also a blogger and the excellent 'Tony Rixon's days out' has been going since 2009, what made you start a blog and do you still enjoy it?
As for 'the blog' I saw yours and a few others, and thought to myself, it can't be too hard then if they can do it (cheeky git – Ed!). As for enjoying it, not too sure really, it's become a bit of a habit, with the type of match angling now on the commercial scene it can be hard to make it sound interesting as it tends to be a bit repetitive. I do enjoy a bit of piss taking but I try to be a bit careful as some don't take it to well!
Obviously with this awful pandemic we're in unprecedented times with lots of businesses struggling but if anything the tackle trade seems to be booming as fishing is one of the few pastimes still allowed. Licence sales have increased with lapsed anglers returning and more people getting into it, do you think this trend will continue when we eventually get back to some semblance of normality?
Covid may well have saved the tackle industry, after last springs lockdown, sales went ballistic, licence sales rocketed, if we get a good summer and we are allowed to carry on fishing with some sort of normality I think lots from last summer will continue.
These days you predominately fish commercials but back in the days of the Drennan League you used to fish rivers and canals, do you ever venture onto natural venues now or if not do you miss them?
Most (well all) of my match fishing is done on commercials, if I do venture on to some naturals it's barbel fishing and drop shotting with Judith along with some sea fishing, be it boats or shore, or just wrasse bashing from a pier or rock mark, I enjoy it all. If I had to choose one type away from match fishing it would be the Beer self drive boats down in South Devon.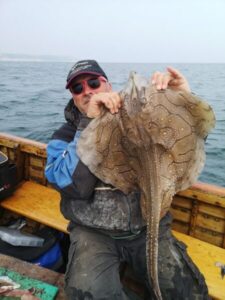 You've had some big match wins over the years, is there one that stands out that you are most proud of? And are there any matches you would love to win?
It's hard to pick a favourite, probably back in the early 2000's I won a match at Viaduct with over 200lb, which consisted of 85lb of tench caught short on caster, the rest was carp shallow on pellet in peg 110 (flyer). I want to win every match I fish but with the high standard of angling out there now it's very hard.
If you had a time machine is there one moment in fishing you wished you could go back and change? i.e. a big fish coming off at the net or a decision in a match that's cost you the win?
Don't do time machine moments, I have difficulty remembering what occurred last week, never mind trying to remember moments from the dim and distant past!
I notice on the blog, your long-suffering wife Judith quite often sits behind you in a match but she also enjoys a bit of sea fishing with you and seems to beat you more often than not, has she ever thought about taking up match fishing?
Time spent on the bank with Judith are priceless, some of the best moments are when Judith catches, she has had carp to 20lb on the pole, a double figure barbel from the Bristol Avon and a 50lb catfish from Todber plus numerous nice sea fish, these days mean more to me than any match win. She's not interested in fishing matches though.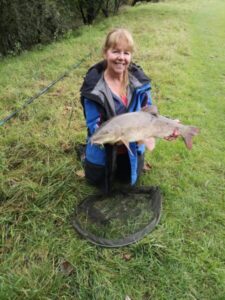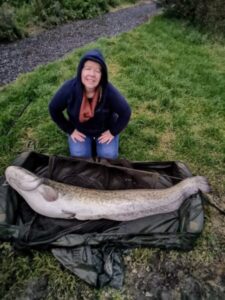 Have you got one piece of advice that will help the readers put more fish in their nets?
Try not to be a sheep, watch and follow good anglers but trying to copy exactly what they are doing doesn't always work. See what they are doing and tweak it to suit your own style, we all do thing differently, and good anglers do things without even realising they are doing it. So if they don't know, what chance have we got!
Well thank you for giving up your time but before I let you go, here's a few more quick-fire questions,
What's your favourite drink?
Pepsi Max
Favourite meal?
Dirty burger
Do you support a football team?
22 overpaid actors chasing an air filled sphere about!
Favourite film?
Original Star Wars
TV show?
Just started watching The Mandalorian, looks promising or comedies from the 70's and 80's.
What music do you listen to?
Genesis, Queen, Tears for Fears, the list is endless, even Kylie (although I'm not sure it's all about the music LOL 😂)
Have you got any other hobbies/pastimes?
Only fishing, couldn't afford anything else!
What's your idea of a perfect day?
A day boat fishing with Judith down at Beer on the self drives, I'm a lucky man.
Many thanks again Tony, from Against Men and Fish
*All images courtesy of Tony Rixon
Check out Tony's blog here – Tony Rixon's days out