Hi Baz, thank you so much for taking the time to answer my questions;
I've known you for a long time but can you tell the readers a bit about yourself, how you got into fishing and what was your first fish?
67 years old, engineer by trade but have been in the fishing tackle business for the last 30 years. I grew up on a small council estate in Othery which is in the heart of the great Somerset Swamp. There were virtually no sporting facilities in these small villages then, so you either kicked a ball in a farmers field or went fishing. My dad did fish but was like a dog in a manger. We were never allowed to touch his kit! My grandad made my first rod, it was a bamboo stick with an eye whipped on the top, a very basic stiff whip in effect. My brother Alan and I had one each and thought they were fantastic.
I went with Al and my mates and caught a little perch in the local drain very first put in (hooked for life), when we went I always seemed to catch more than the others but I think this was because I was fascinated by it whereas they often mucked around like kids do. Gradually our tackle improved and Al and I saved up and bought a little fibreglass rod and reel from Woolies. I think, we were supposed to share it by taking it in turns but he had the devil of a job getting me to part with it, I even resorted to turning the watch back until he rumbled me!
I think the turning point was when, to my utter surprise (and everyone else's) I passed my 11+, I was heartbroken that I wouldn't be going to school with my big brother and all my mates. I think this turned me into a bit of an outsider and I became a bit of a loner, after a while I realised I didn't mind because when I went I wanted to catch fish and not mess about. I remember stalking my first 'Big Fish' a tench of maybe 2.5 lbs.
My first match was a Bridgwater junior prize match, I walked with Al and my best friend to Greylake on the KSD, it must have been 3 miles and when I got there I drew a long way up the bank as well. I came 3rd with 15oz and Al was 6th, as well as 15/- I won some line and a very posh float which I treasured. The organisers took pity on us when they were told how far we had walked to fish and persuaded the coach driver to make a diversion to get us home safely. There were some wonderful kind people about.
There were no more matches we could reach without transport but my friends dad took us to one on the Cripps river, I came 2nd with 1lb 2oz (no it isn't the last time I've framed!). That was it then my friends dad couldn't take us anymore because it was haymaking time and I then left the village to begin my apprenticeship in Yeovil, I hardly ever fished then until my mid twenties.
What's your favourite style of fishing?
Waggler
Your favourite species?
Roach
Have you any angling heroes or anyone who has inspired you?
Not into hero worship, Colin Dyer was a big influence and learned a lot from him, also Dave Searle, they were as good as anyone in the South West at that time. My go to man at the moment is Steve Jackson .
What's your biggest fish in the UK? And abroad?
20lb+ carp at the Viaduct, 10lb 6oz barbel from the Loire in France.
Biggest match weight?
96lb of roach at Sutton Bingham reservoir.
You've been in the tackle trade a long time, firstly with Langport Angling Centre and now with Somerset Angling what changes have you noticed along the way?
The tackle trade has changed a lot, as well as the uplift in online shopping, customers are much more brand conscious and there is much more variety in baits and groundbaits. We turn our own casters at Somerset Angling, it's not always very profitable because of time and waste but our customers seem to appreciate it. Clothing has become much smarter but as I am an infamous scruff I better not say too much!
Obviously with this awful pandemic we're in unprecedented times with lots of businesses struggling but if anything the tackle trade seems to be booming as fishing is one of the few pastimes still allowed. Licence sales have increased with lapsed anglers returning and more people getting into it, do you think this trend will continue when we eventually get back to some semblance of normality?
The tackle trade has certainly been less hard hit than some business but until we get a full years trading we won't really know. Obviously we hope any newcomers fishing will continue to enjoy it for years to come I can't see why not. The really nice thing is to see families out fishing again when allowed to.
You love France and spend a lot of time over there (when we were allowed to travel!), the fishing looks amazing (and you've written a series of posts for the blog about it), yet it seems to be relatively untapped, why do you think this is?
I do love rural France and it's difficult to say why match fishing seems to be less popular there in terms of volume of matches. Just as an example, I think Pontivy has a population of between 15 and 20 thousand people, when we organised the festivals there were only about 3 or 4 match anglers in the town, the others came from miles (or should I say kilometres) away. Also of interest, they came as families and they booked holiday accommodation nearby, they treated the whole thing as a big social event, even bringing their children.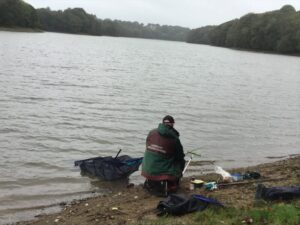 Some enduring friendships were forged and some came over to fish the Durleigh Festival. We even had Jean Jaques Chaumet turn up from somewhere way down south I believe. We still holiday with friends we met at the festival from Ancenis on the Loire regularly and nicer people you couldn't wish to meet, know their wine as well! I think the biggest frustration is seeing all the access points on our venues here squeezed up and so much more disturbance with others on the waterways like cycling, jogging and boating etc yet they have miles of waterways that are hardly used.
You've won loads of matches over the years, is there one that stands out that you are most proud of? And are there any matches you would love to win?
I suppose winning the ACA pairs on the Parrett is up there, there was a strong field with some of the top anglers in the South West fishing. I had chosen Mike Souster as my partner even though he was still a junior, I had coached him for a couple of years and was confident he would do well. I won the match nearly tripling the next weight and Mike did very well in his section giving us the win, he was so chuffed going up to get his prize. I also won a couple of Div 1 Drennan league matches with 50lb+, one on the Parrett and one on the Bristol Avon. The Federation Cup also comes to mind, it was 40 pegs, I weighed 17kilos odd and someone worked out the other 39 combined just beat me by 100grms, I was pegged mid section and no one else caught a bream.
As for a match I'd love to win, any Xmas Fayre, I am cursed on this, I have lost count of how many 2nds and 3rds but never won one. The only time I came home with a turkey is when a whole section of 15 blanked and I won the draw!
If you had a time machine is there one moment in fishing you wished you could go back and change? i.e. a big fish coming off at the net or a decision in a match that's cost you the win.
Yes, a question I can answer easily, losing the Pontivy Festival twice in 10 mins! Because I had been involved in running the festival from conception to finish I didn't think I had applied myself to the actual fishing at times. On being informed that I was a crap angler (no names, probably fair comment) I decided I would try to apply myself a bit more. With a decent draw I won the first match and my section in the second, I just needed a top 3 place to win. The section was the pole only day and of course it poured and blew a hooley. I was in the middle of the section and the end pegs were doing well plus one angler had a bream early. Well I had 2 bites late on, both bream, both spat the hook right at the net, I hadn't lost one the first two days, I was gutted but hey-ho, at least some French anglers learnt some ripe swear words!
Hopefully this pandemic will be over soon and we can get back to some kind of normality, where will be your first match?
Depending on which day restrictions are lifted the Isle, Dillington, Sedges or Revels.
Have you got one piece of advice that will help the readers put more fish in their nets?
I think for general pleasure fishing, try to walk the banks of where you intend to fish on quiet evenings, fish have a habit of showing themselves at dusk and if you find them you can catch them. From a match angling point of view, be realistic about your abilities, how much time you can put in and stick to just a few venues you enjoy. Never worry about what others think or say, if you do well and enjoy it, that's fine.
Have you got any regrets in match fishing?
I do wish I had worked much harder at fishing years ago but there aren't 8 days in a week. I enjoyed the football, rugby and cricket but maybe could have come home a little earlier after and prepared a bit more.
Hopes for the future?
I hope that the next generation get as much from it as I have. I would like to see more access to more venues in the coming years. I would like to see the close season reconsidered and at the discretion of the clubs. On a personal level I hope to stay well enough to carry on enjoying these last few years of competition.
Any surprises?
That Jamie is scraping the bottom of the barrel asking me for an interview, there's plenty out there with much more to tell than me!
Well thank you for giving up your time but before I let you go, here's a few more quick-fire questions,
What's your favourite drink?
Bordeaux wine
Favourite meal?
Home cooked Sunday roast
Favourite film?
Crocodile Dundee
TV show?
Quiz shows
What music do you listen to?
Bob Marley and the Wailers, Dire Straits, Roy Orbison, U2, Coldplay, Eurythmics
What's your idea of a perfect day?
A good coffee and bacon rolls, swim full of roach, loads of banter, a brown envelope, home for a decent glass of wine with a roast.
Many thanks again Baz, from Against Men and Fish
*Photos courtesy of Baz Morgan