Hi Dan, thank you for agreeing to be another interviewee in my Lockdown Q & A series,
A nice easy one to start with, can you tell us a little bit about how you got into fishing and the first fish you caught?
My stepdad (Geoff Charman) used to go salmon fishing in Wales and Scotland several weeks a year. That would have been the earliest memories of fishing and wondering what's all that about?
So the fishing journey started with my stepdad and twin brother Joseph around the age of six years old. I believe the first trip would have been to a little brook (The North River I've just googled it) that ran through stepdads brother Robert's farm. It was no more then 10ft wide with very little flow. But right at the bottom of the farm track was a weir pool that held probably the biggest gudgeon I've seen to this day. There was about every coarse fish you can get in the river and my first fish was a small chub about 8oz.
But the big prize in later years would have been a wild brown trout, Joseph had the best trout if I remember correctly of 1lb 12oz. Later on, around the age of 12, I joined a small angling club (Ockley Angling Society in Surrey) and I would spend hours every day after school and weekends catching monster carp on a porcupine quill laid flat on the surface using luncheon meat down the margins.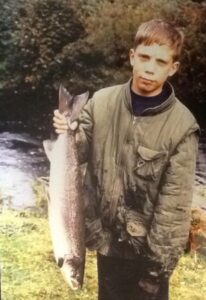 I then moved onto a big river, the Mole in Dorking, this was big time, it had barbel, carp and big chub. Here I would have my first chance trying long trotting and fishing the waggler for chub, although I had much more success on the tip than I ever did float fishing back then.
What's your favourite style of fishing?
I'm going to say whip fishing for roach on a river or salmon fishing on the fly.
Your favourite venue?
The River Camel in Cornwall, it's a nostalgic thing with many happy years salmon fishing but my current favourite venue is the River Tone in Somerset for the roach and bream.
And favourite fish?
There is a pattern emerging here where I'm going to have to give two answers 🤔
The salmon and the roach.
You've had some big match wins over the years, is there one that stands out that you are most proud of? And are there any matches you would love to win?
I was late getting into match fishing (my late twenties) but I've won my fair share of matches from commercials to natural venues. I can't put a finger on one that stands out, my first one I suppose, this was at Willinghust Fishery with 67lbs of carp or my/our efforts in the team event in the Sensas teams of 4 two year's ago now.
Have you any angling heroes or was there someone who inspired you?
My stepdad would be my angling hero but I grew up when John Wilson was first aired on the television with Go Fishing, so he played a big part in my addiction. 
You've been Taunton AA's match secretary for many years (and do a fantastic job) but I know from personal experience how much effort and time goes into what is a thankless task, why do you do it?
I don't know really, it was passed onto me about 4 years ago! I didn't really know what I was getting into and like you say it takes up a lot of my time but I don't see it so much as a thankless task as I do get a great deal of help from other members of the TAA match group.
The most important thing for me is to take Taunton Angling and natural venue fishing in the area forward. I also would like to add most are more than thankful of what I do week in week out. One of the biggest parts of my role in the club is the social media side of things, even after the match has finished its time to type up the results. This has helped our Facebook page more than anything else over the last 3 years.
How long will I do it, I'm not sure, that will depend of the members and if they are still happy with my efforts.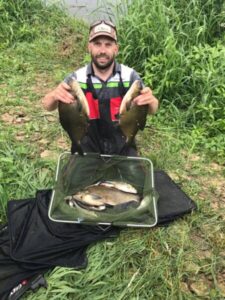 If you had a time machine is there one moment in fishing you wished you could go back and change? i.e. a big fish coming off at the net or a decision in a match that's cost you the win?
I've done so much fishing in my life and I've lost so many good fish over the years, for me and others mind! I was bass fishing with my brother on Chesil beach, he had a good double figure bass on, I threw the net over it and the waves washed it underneath the net, 5 mins later it's broken him off 🤦🏻‍. I would go back and change that if I could.
Or when I was fishing on the Tone at Newbridge, it was neck and neck with Mr Priddle, a minute from the end I managed to hook another bream this put me in front if I landed it. I had to grab the whistle off the side tray but I thought I'm getting this in first before blowing up. So at 15:00 and 30 seconds, I blew the whistle to end the match only to hear Steve say 'Fish On' and his fish had been hooked only 10 seconds before! 🤦🏻‍.
You often fish with the legend that is Ian 'Bagger' Burton otherwise known as 'The Man with the Golden Drawing Arm', have you got any tips on how the rest of us can draw as many fliers as he does?!
Bagger Burton (aka Magoo), top tip – Magoo always pays the water by tossing a freshly minted 50p piece in at the end of each match, ready for the next draw. I mean it may sound nuts but you've seen the results for yourself, a flier 66% of the time!
Most of your fishing is done on natural venues, do you ever venture onto commercials?
I used to love fishing commercials but I'm a silvers man nowadays so they might as well be wild fish.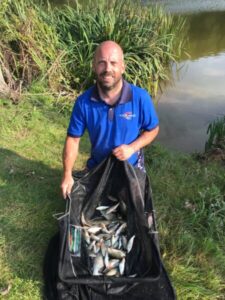 Aside from match fishing, have you or would you like to try other styles of fishing?
I have tried most styles of fishing, I started with coarse fishing, then fly fishing for trout and as soon as I could drive I started sea fishing at Brighton Marina catching bass and conger eels. I moved to Somerset 20 years ago where you have the mighty Bristol Channel cod, I spent probably 10 years chasing them with Magoo (Ian Burton), then salmon fishing in Cornwall and Wales.
I have now made my mind up with roach and salmon fishing. Probably!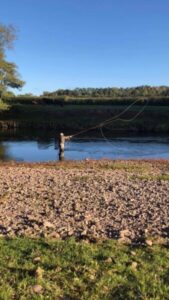 Have you got a tip that will help to put more fish in the reader's nets?
Preparation and try and find out how the angler on the next peg gave you a battering, don't put it down to there were no fish in your peg.
And any advice on something fishing related that people can do while we're all stuck at home at the moment?
Make sure that mouse in your shed isn't going through all your keepnets.
Before I let you go, here are a few quick-fire questions,
What's your biggest fish?
40lb conger eel
Biggest match weight?
112lb of bream
What's your favourite drink?
Tea
Favourite meal?
Chinese takeaway
Favourite film?
Star Trek
TV show?
Gold Rush
What music do you listen to?
Anything really
Do you have any other interests/hobbies outside of angling?
I don't mind a bit of shooting if I get the time
Thanks Dan hopefully we'll get back on the bank and fishing matches again soon!
Against Men and Fish
*Photos courtesy of Dan Baldwin