With only 'local' pleasure fishing allowed and pretty horrible weather since Xmas I've had zero enthusiasm to get out on the bank and haven't even looked at my kit! Thankfully all the graphs are heading in the right direction now and hopefully match fishing will resume from 29th March. I had my vaccination at Dillington on Saturday and I have to say it was very well organised and a credit to all concerned.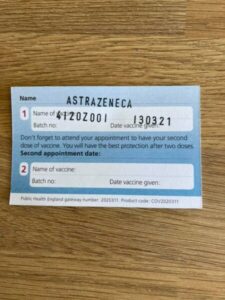 So it's looking like there's finally some light at the end of the tunnel, the daffodils are out, matches are starting to be pencilled in and after a pretty depressing 2021 so far, things are beginning to look a bit more positive. There's an Ilminster match at Dillington on 4th April (if allowed obviously) so I thought I'd pop out for a few hours and Steve P said he'd come as well. I decided I was going to fish the feeder to see if I could catch a few skimmers.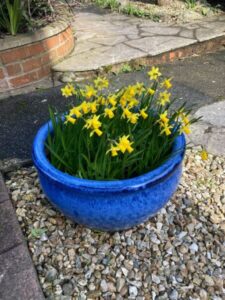 I met Mr Parker at Greggs and we were a little early, 8:00 came and went but the doors remained locked (note to self, check opening times!) so we went across to Costa for bacon rolls and coffee before heading out the pond. Luckily there were a couple of swims free (all 24 of them!), so we sat in 20 and 21 with me on the latter.
Getting my box level, I noticed the tightening screws on the legs had seized up since I'd used the box last (note to self, look after your gear!). I set up my 11ft Guru N-Gauge Feeder rod (which is a lovely bit of kit for the money) with a 20g open end feeder, groundbait was Bait-Tech Pro Nat Bream Dark and Special G Dark plus I had some dead red maggots for the hook and feed. We were both ready around 9:30 and I had five quick chucks to put some feed in before putting three dead reds on the size 14 barbless B611 hook. It had been quite chilly over the last few days and I thought it might take a while to get a bite.
After about twenty minutes, I hadn't had any indications and was mucking about on my phone when I noticed the reel backwinding (note to self, concentrate on what you're doing!). I picked the rod up and it took on a pleasing curve, I was sure it was a decent skimmer as it came in easily before waking up under the rod tip and a lovely chub getting on for 3lb came to the surface, it was in perfect condition with not a scale out of place.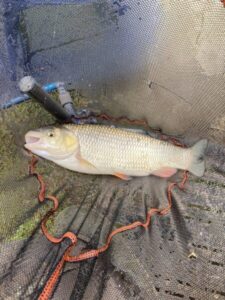 Another hour passed and as nothing was happening I reached for the flask only for the tip to pull round quite quickly and I missed it! I think it was probably small fish though as Steve had a roach and then after a couple more missed indications, I had one as well. During the day I had several visitors and it was lovely to catch up with Julian B, Neil P, Rob, Matt J (one of my non-fishing mates I've know for forty years at least) and Scotty.
We were getting odd indications but nothing that looked like a bream or skimmer bite and we added a few roach but it was very hard going. The wind was bitterly cold and it kept trying to rain so we called it a day around 15:30. I ended up with 8 fish (that chub and 7 roach) and Steve had 4 or 5 small fish and conceded the nugget.
I'd heard several people say that they'd felt quite rough after their vaccinations with headaches, dead arms and flu like symptoms but other than a bit of a headache the previous evening and an aching arm, I felt fine. After packing up, I loaded the car and checked my phone to see a missed call from The Tart, I phoned him back and he was just checking to see how I was after my jab (bless him!). I said I was fine but then actually started to feel like I'd been poleaxed, shivery and with a banging headache!
It was then home, packed the kit away (sprayed loads of WD40 on the screws!), tomato soup and an early night, hopefully I'll feel better in the morning! A disappointing day although it's always nice to have a laugh with Steve P and if nothing else, I can at least rule the feeder out of my plan of attack for the first match!