I fished this event for the first time last year and although I enjoyed doing something a bit different and didn't disgrace myself, I was a long way off qualifying and my lack of experience at Todber and catching big weights of carp really showed. Being realistic, the chances of me qualifying for the final are very slim unless I draw an absolute rocket ship of a peg and even then, I wouldn't bet on me! But as the saying goes 'If you ain't in it…..'
An early start and I was on my way, Todber has a food cabin so I thought I'd have breakfast there as the menu looked good and was reasonably priced. I arrived in good time and there were a few already there but I couldn't see Andy Saunders or Chris Norton who were both fishing today. While I was sat eating my breakfast roll (bacon, egg and hash browns), somebody grabbed the back of my boxers and attempted to give me a wedgie but only succeeded in ripping my lucky pants! Of course it had to be Andy and I knew I was destined for a bad day now my bagging charm had been desecrated!
After buying a few bits and bobs in the shop, we joined the queue and Darren Cox welcomed everybody, explained the rules etc and then the draw started. I was just hoping to avoid the Whitepost lakes although felt that's where I was destined to be after the pants incident. Darren delved into the draw bag and opened it to reveal……. peg 45 on Hill View, a pretty decent area although everybody was predicting Homeground or Ash lake to provide the top weights. Garbolino's Glen Picton and Tucks were on hand to offer advice and all the competitors received a free Garbolino baseball cap which was a nice touch.
Andy was behind me and got drawn peg 56, also on Hill View in a good area so we decided to have a pound on it. As we headed to our vehicles, Chris had turned up and was drawn on Homeground (I can't remember which number). I parked up and as I started taking my kit to my peg, I could see I was going to be in for a good day as I was sandwiched between two Todber regulars, Marco Smith on 44 and Stu White (who'd won this match last year) on 46.
I'd been keeping an eye on the results leading up to this match and everybody that was doing well was catching short and in the margins so that would be my approach. I set up a Drennan 0.4 gram Carp 1 for the top two plus two line, a Drennan 0.3 gram Crystal dibber for fishing shallow and a little handmade pattern for the inside by the reeds at top two plus one on the left. On the side tray I had plenty of Bait-Tech 6mm Carp & Coarse Pellets plus a couple of pints of dead maggots and some micros.
Tackleuk's Ashley Tomkins was also fishing today but is normally late and sure enough after everybody was at their pegs we saw his van arrive and where did he head, Homeground of course! I was ready in good time and on the whistle I baited up with 6mm pellet in the band and started at top two plus two and regularly flicked in a few pellets on the short line and in the margin plus I was pinging a few on the shallow line at 11.5 metres.
After a few minutes the float sailed away and I was into a fish, shortly followed by Stu and Marco who were both fishing short as well, I landed a nice carp of 3-4lb and there was elastic out all around the pond. I was getting plenty of indications but was already suffering problems with foul hooked fish. With an hour gone, I only had six carp and was already several behind Stu although there wasn't much between Marco and me.
The second hour was similar with odd fish but I also had several come off and Stu was already surging ahead. Marco had a bit of a nightmare when he was playing a carp and his top kit came off and disappeared into the lake in a scene reminiscent of Jaws when the shark submerged the barrels! He also took a couple of sneaky snaps of me with a carp on, I actually managed to land it as well, thanks Marco!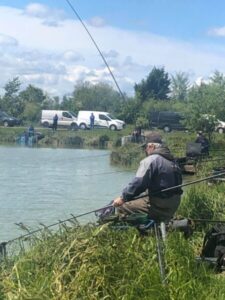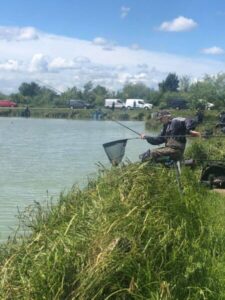 As the halfway point arrived, it slowed up a bit (even for Stu!) and I really felt like there were fish shallow so I had a quick go on the short line but no bites saw me go out to 11.5 metres and I was expecting the float to bury straight away but it hasn't happened. I did eventually hook one but of course it came off as I shipped back, then Stu had a go on his shallow line and hooked a lump which turned out to be foulhooked and he did well to land it.
Although it wasn't fast and furious, I did land a few fish but felt I was going nowhere fast so I cupped in some micros and dead maggots on the inside and would try it shortly. Back on top two plus two I managed a couple more but also had a good fish break me while Stu was still catching well and looking to be on for a good weight. I had a go in the margins with a big bunch of dead reds but the first two bites resulted in small skimmers which I chucked straight back, I did hook a carp but the hook pulled out. Small fish were being a pain, so I tried banded pellet and the next bite resulted in a carp which tore off and snapped the hooklength so that was enough of that.
Stuart was now catching some proper units on meat just on a top kit off the end of his keepnets, I plumbed up at top two plus one and was getting a few and then going into the last hour, everybody started catching and those fish just seem to know the match is due to finish and have a munch, the whistle went and about eight anglers all shouted 'fish on'!
I finished up with 30 carp which I thought would probably go 70-80lb but knew that would be no good today, Marco said he had around 100lb and Stu was admitting to 140lb according to the clicker he'd bought in the on-site shop that morning.
As always it's a very slick operation at Todber and the weigh started as we were packing up so I only heard the weights in my immediate area, the guy on 43 weighed 68lb, Marco had 94lb, my two nets went 91lb 14oz so it was closer than I thought and then Stu obliterated the section with 188lb! John Candy was writing down the weights and we said Stu's clicker must be defective and could he have a refund please, John accused us of slander!
The chap on 47 had 96lb and then the young lad on 48 had done well to weigh 101lb so apart from Stuart's weight, it had been quite close with just a fish or two in it. Back at the carpark I had a very nice chocolate brownie and a coffee while I waited for the results. Andy turned up with Marco's topkit which he'd hooked and thought was a skimmer! He'd weighed 94lb odd so I paid him a nugget and he wasn't far off qualifying as 110lb won his section, Chris got back and he'd had 68lb.
Then Darren announced the results and as expected the top three weights came from Ash and Homeground with Jack Stamp having the top weight of over 200lb. Along with Jack, several other venue regulars featured in the frame and qualifying places, Stu was fourth and both Dave Willmott and Greg Welsby won their sections, excellent anglers and always going to be there or thereabouts. Good luck in the final lads, Stu framed last year so hopefully he can go one better this time.
As for me, I really enjoyed the day again and will have another go next year but I am a long way off the pace when it comes to catching big weights of carp. I was on a decent peg and realistically, one that was capable of framing with a better angler on it. What was noticeable was how long it was taking me to land carp compared to Stuart for example. I also lost loads (although so did everyone else) but what I found very telling was that even if I'd landed the approx 15 carp I'd lost (lots were foulhooked though), I'd still have only weighed about 130lb, that's how much better Stuart was today!
I have to say it was another superbly run match with fantastic support from Garbolino and Match Fishing Magazine.
Next up, I'm at the mighty Viaduct on Sunday for a Stoke match, another venue I don't fish very often (in fact I've only ever fished one match there), so there could be another almighty spanking on the cards, watch this space! Now where can I get some new lucky pants?
Don't forget you can still use the exclusive discount code AgainstMenandFish10 to get 10% off when you shop online at Somerset Angling.
Next up – Viaduct Fishery
Coming soon – More Random Ramblings and some exciting news!
Check Out – My last match (below)