For round two, we were a few down with several anglers fishing another Stoke charity match so it was down to me and my glamourous assistant, Fieldy, to arrange this one. Some really good news was that the bowling club was open again so we could go and sit down and have a proper breakfast. It was fantastic to be back and the food, the service and of course the banter was top notch, so a massive thanks to Drew and Charlotte at Ilminster Bowling Club for looking after us so well.
Of course as it was Sunday, the weather forecast was horrendous with strong winds and torrential rain due for most of the day – how lovely! With everybody fed, watered and pools paid it was time for the draw. Somebody said that apparently all that dreadful white fluff was starting to come off the trees (or where ever it comes from) and I suggested perhaps we head out the pond and have a look before deciding on pegs but typically everyone had differing opinions so we opted to just try and use swims that wouldn't be too wind affected.
I got Karl (Ilminster's answer to Ron Jeremy) to draw for everybody and I ended up peg 17 which is in the trees so hopefully a bit sheltered but I was also aware that Chris Haines had it in the last match and although he did well, it was a bit of a nightmare with loads of floating crap. Danny Blunn was next door on 16, with Gordy 'two pegs' Aplin on 18 as the platform on 19 was under water. Elsewhere John D was on 21 for the third match in a row, Neil P on 20 with Fieldy across on 2 and Baz on 4. Ron (sorry, Karl) was on 10 with Hainsey on 13 and Bagger Burton in 14.
My peg looked a dream apart from loads of fluff and catkins all over the place! There's a tree in the water on the right and one that hangs over the water to the left both scream big fish but it never seems to produce them. The trouble is, although odd decent fish are being caught, the safe bet is to get your head down and fish for roach, if you have a go for bigger fish and don't get one you might as well stay doing it because you'll fall too far behind the whip boys.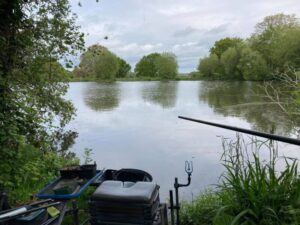 I set up a 0.4 gram Perfect Gloucester with a 0.10mm bottom to size 18 Guru F1 Pellet hook for 10 metres, a Preston Chianti for fishing through the water with spread shot on the bottom third of the rig. Plumbing up was a bit of a nightmare as the peg was quite shallow so I had to go to 13 metres to find a decent depth and with all the floating detritus, the rig was coming back like a washing line every time! Thinking I might actually not even be able to fish long, I set a little Drennan AS3 to fish two sections to hand so I could flick the rig in between the rafts of crap.
On the whistle (well, me bellowing all in!), I cupped in two balls of Bait-Tech Pro Natural Fine Lake Dark at 13 metres before playing dodge the fluff with the top two to hand. To be honest, that was my first mistake (so not off to the best of starts!) and in the first 30 minutes I only had three small perch. The only anglers I could see were Bagger Burton and Karl and it looked like they were catching small fish quite well so I was already behind.
Doing what I was doing was pointless so I picked up the heavier rig and shipped out trying to avoid the white stuff, I started catching roach but they were very small and double maggot didn't really improve things. With an hour gone, I was up to 17 fish and probably hadn't got a pound yet, this wasn't going to plan.
The second hour was similar and I struggled up to 34 fish which was hard work having to un-fluff the rig every time! Just for added fun, it started lashing it down and the wind got up, I actually thought it might do me a favour and blow all the rubbish either out the peg or into one place. Oh no, what it actually did was blow it against the tree to my right and it then swirled back around the swim in a rather annoying circular motion! For the second week running, my bib and brace was covered in white stuff as I once again did a very passible impression of Frosty The Snowman!
In a bid to try and improve the stamp of fish, I switched to caster which also meant I could bury the hook so it wouldn't get fouled shipping out. I started catching quite well and even took a section off to fish 11.5 metres, most the fish were coming on the drop, if the rig reached bottom I was waiting ages for bites. Neil D came out to take some photos again and did a great job, despite the weather. Check out his Facebook page for more great images – ND Photography.
I was getting some chunky roach and was netting the odd better one, if bites slowed I went back to 13 metres and just kept alternating between 11.5 and 13 metres. I finished up with 117 fish and was cursing myself for that first half an hour, in the previous match, I had 104 fish for 7lb 4oz so hopefully a little bit more this time but I did think the average stamp was smaller.
After packing up, I grabbed the scales and started the weigh in with Gordon, he had 1lb 4oz, then Neil P on peg 20 had over 200 fish for 8lb 6oz, John D had fished the feeder all day and had four decent skimmers for 5lb 9oz and lost one as well. Fieldy on peg 2 weighed 6lb 1oz and then Baz proved once again, he's got it sorted with over 220 fish for 11lb 2oz.
Karl had loads of fish for 6lb 15oz and then Hainsey on 13 had a similar number of fish to the first match but weighed 6lb 12oz and then Bagger Burton weighed 7lb 15oz and I really thought he'd struggled! Danny Blunn had done well in 'fluffy corner' to weigh 4lb 13oz and then it was my turn, when I pulled my net out, I could see it was going to be close between me and Ian, Neil called it at 7lb 15oz so we tied for third.
1 – Baz Morgan (Somerset Angling) – 11lb 2oz
2 – Neil Purchase (Ilminster) – 8lb 6oz
3 – Jamie Rich (Against Men and Fish) – 7lb 15oz
3 – Ian Burton (Taunton) – 7lb 15oz
Sections
A – Karl Aplin (Ilminster) – 6lb 15oz
B – John Dursley (Enterprise Angling) – 5lb 9oz
Another really close match although to win you have to get past Baz and I'm still not getting it quite right, I did better than last time but even without wasting the first half an hour and fluff problems, I would still have been a couple of pounds short. I'm catching a better stamp with my fish averaging over an ounce apiece but I need to catch about another five an hour which I think is feasible.
Regarding the league, I posted on Facebook that it's 10 matches with your best 9 results counting, that was incorrect, in line with the summer league from other years, you can actually drop two results and the top three will pick up at the end.
Don't forget you can use the exclusive discount code AgainstMenandFish10 to get 10% off when you shop online at Somerset Angling.
Also a reminder that there is a committee meeting at Ilminster Bowling Club on Wednesday 26th May at 7pm. Any members interested in joining the committee please feel free to attend, all help is welcome. It's a good opportunity to get involved with a great little fishing club, if you've ever wanted to make a difference or have your say, now's your chance!
Next up – Todber Manor
Coming soon – Another great interview
Check Out – My latest Random Ramblings (below)