In 2013 I moved from Sunny Rhyl in North Wales down to Bristol. Whilst looking forward to a new city, job, and life, I was also very excited about finding new places to fish! I quickly found there were lots of websites with information, but these were mostly text-based, I was never able to add filters to find exactly what I was looking for. I spent far too long trawling and found the location descriptions weren't always clear which meant trying to find places to fish proved difficult. Ever since then, I had the idea that a website that contained all this information in one map-based page would be extremely useful for anglers across the UK.
In 2021, at the height of lockdown boredom, I finally decided to see where I could get with the idea and The Fishing Index was created. As part of my job, I use mapping and illustration software, but it was the web elements that were alien to me. Many hours were spent on those dark winter evenings trying to get things working but fast forward 9 months and I'm proud of the outcome.
The website is primarily map based and covers 5 areas: fisheries, tackle shops, angling clubs, coaching and holidays. Each map contains location information and where possible has links directly to the fishery website or social media page. The idea around this was not to try and maintain a huge number of pages and imagery but to be able to put the user directly in the direction of the fishery. Whilst the data on the maps is still in its infancy, the aim is to grow and develop over time.
The main page is the fishery search map which contains the most detailed filters. These filters include fishery type, species, fish size, facilities, and ticket type. We've just reached a milestone of 100 fisheries mapped across the UK!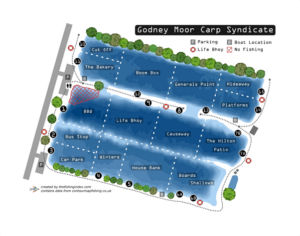 A fishery map produced recently for Godney Moor Syndicate
How far the website goes is a bit of an unknown, but the plan is to gauge interest and go from there. If anyone has any questions or feedback, please done hesitate to get in touch! A finally a huge thank you to Jamie for letting me guest post.
Chris Jenner
chrisjenner@thefishingindex.com