Before I get on to this weeks report, I had the awful news yesterday that my very good friend John 'Janders' Anderson had passed away. He'd been poorly for a few years and his wife phoned me around a month ago to say he'd taken a turn for the worse. I first met him in the early 90's when I began fishing the Chard matches. He loved fishing the Isle and broke the match record with a brilliant 37lb 8oz of chub which stood for a long time, he was also a member of the elite 'Chard Minnows' team along with 'Rocking' Roy Fowler, Butch Baker and Ray North.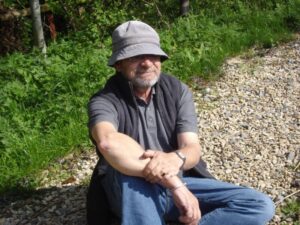 In later years, he enjoyed fishing Summerhayes and I used to pick up him up most weeks. When he became ill and fishing was a struggle, he asked me if I'd sell his fishing tackle for him. I went over to his place several times to photograph all his kit and as always, it was a pleasure being in his company, drinking coffee and eating lots of cake. A very kind hearted man with a wickedly dry sense of humour. I'm going to miss you mate.
There was a rather depleted turnout for this weeks match but it was great to see Andy Saunders who was using the day to practice for Bob's match next week and also Paul Homewood who I haven't seen for ages. It was also the last round of the Enterprise Angling Summer League which Baz had sown up already but second was still up for grabs with John D one point ahead of me in third place.
When we got to the bowling club in the morning, Baz had paid for everyone's breakfast which was lovely gesture. Then it was off to the pond, I got someone to draw for me and I ended up on 21 which cheered John up, Rob got peg 1, Andy S was on 2 with Paul on 6, Parker on 8, Baz next door on 9 and John ended up 17 which he wasn't too impressed with as the overhead branches make fishing the feeder a bit awkward.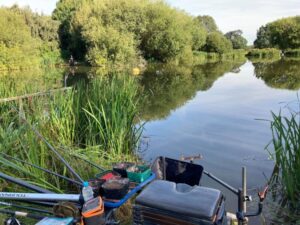 I set up a 0.4 gram Perfect Gloucester with a 0.10mm bottom to a size 18 Guru F1 Pellet hook and then my 11ft Guru N-Gauge Feeder rod with a little 20 gram cage and a twizzled boom to 0.14mm and size 14 barbless B611. On the side tray I had casters, maggots, dead reds, hemp plus Bait-Tech Pro Nat Bream Dark, Omen and the new Envy Dark.
We had a minutes silence for Janders before Rob got us underway, I potted in two balls of groundbait at 11.5 metres and then had ten casts to put some bait in on the feeder line. Starting on the pole with single red maggot, I was soon into small perch and roach. It wasn't fast and furious but switching to double maggot and then caster, some chunky perch came to the net including a couple of 6-8oz fish.
After an hour I had 20 fish for around 2.5lb and from what I could see, I was doing alright, Paul had netted a couple of small skimmers on the feeder, Baz reckoned he was struggling and after starting on the whip he was now fishing the pole. Going into hour two, I was still catching quite well with a lot of the fish coming on the drop or as just as the rig settled.
In previous matches, my bites have slowed up after two hours and sure enough it seemed to be following the same pattern today so I topped up the feeder line in readiness for trying it shortly. Both Rob on 1 and Andy on 2 were getting the odd skimmer but nobody seemed to be running away with it.
I was still getting enough bites on the pole to warrant sticking with it for now and even had a nice bonus 10oz perch. It was a nice day and the bank walkers were out in force, Neil P walked round (twice), Jake popped down along with his father in law, Wayne Rawle, who I used to knock around with years ago and it was nice to have a catch up. Stephen W who's fishing his first match in a long time next week came for a look and then Big Frank and Terry 'The Toast' turned up later.
At one stage, there were three behind me and Andy shouted across asking if that was the queue for my book signing, very funny mate!
Rob landed a nice chub and then not long after Andy had a decent skimmer and it was looking like being a very close match. I'd kept the feeder line topped up and with ninety minutes to go and odd bubbles coming up out there, I couldn't resist it any longer. It took ten minutes to get a bite only for me to bump it! I hit the next one which felt like a small skimmer but it came off on the way in, I had intended to only give half an hour but was getting a few indications. A small perch was next and then I finally landed a skimmer of 6oz or so but after an hour, those were the only two fish I had so I went back on the pole for the remaining thirty minutes.
I managed a few more fish but did bump what felt like a slightly better perch. On the whistle my clicker was reading 78 fish which I thought would give me 5-6lb, maybe a little more and I was hoping that hour on the feeder wasn't going to cost me. After packing up, I got the scales and went round to start the weigh with Rob, he had that chub, several skimmers and one of those rogue carp for 6lb 4oz. Andy weighed 4lb 14oz which included a decent skimmer and some smaller ones. Paul on peg 6 had several small skimmers on the feeder for 5lb 11oz.
Then we got to Steve 'The Pole' Parker and he'd caught a 2lb plus skimmer, a smaller one, roach, perch and an eel for 6lb 10oz to go into the lead, Baz on peg 9 had struggled with a bad back to weigh 6lb 2oz. John D on 17 had 5lb 9oz which included a monster gudgeon and then it was my turn. I knew it was going to be close and was relieved when the needle crept past the 7lb mark and Neil called it at 7lb 5oz.
1 – Jamie Rich (Against Men and Fish) – 7lb 5oz
2 – Steve Parker (Ilminster) – 6lb 10oz
3 – Rob Cox (Ilminster) – 6lb 4oz
So, really close weights with just ounces separating most people and there were several lost fish which would have made all the difference. Rob lost a chub and a couple of skimmers, Steve had a decent skimmer come off, I pulled out of two on the feeder and others lost fish too. I picked up a handy £70 for my first win in ages (albeit only a little knock up really) and should have some league money to come next week.
The final Enterprise Angling Summer League standings are as follows, well done Baz Morgan on a dominant display to take the title.
1 – Baz – 7 pts (dropping 2 + 2)
2 – Jamie  – 15 pts (dropping 20 + 20)
3 – John D – 16 pts (dropping 4 + 5)
4 – Neil P – 20 pts (dropping 20 + 20)
5 – Fieldy – 27 pts (dropping 20 + 20)
6 – Chris H – 34 pts (dropping 20 + 20)
Out of interest, here's a few facts and figures from this years league,
Number of different anglers who fished – 24
Highest attendance – 16
Lowest attendance – 7
Biggest winning weight – 17lb 14oz (Neil Purchase)
Lowest winning weight – 6lb 4oz (John Dursley)
Number of different winners – 4
Most match wins – 5 (Baz Morgan)
Most section wins – 7 (Baz Morgan)
On behalf of the club I would like to say a massive thanks to Enterprise Angling for their sponsorship of the league, the bowling club for looking after us in the mornings, everyone involved in organising the matches and maintenance of the pond and of course to all the anglers that make it such a good laugh, especially with all the challenges we've faced (and continue to face).
Don't forget you can still bag yourself a bargain by using the exclusive discount code AgainstMenandFish10 to get 10% off when you shop online at Somerset Angling
In other news, the blog sailed past 5 million hits last week which is just amazing and I'll keep trying my hardest to post interesting content like interviews, guest blogs and tackle reviews, if you've got any suggestions for posts or articles, please get in touch.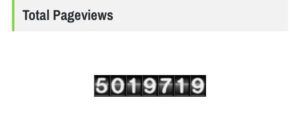 Lastly I just wanted to say a huge thank you to everyone that has bought a copy of my book so far, if you would like to support me and the blog, the link is here.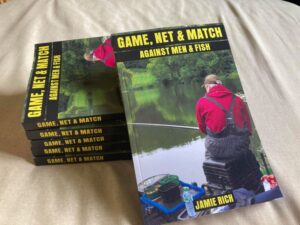 I've had some great feedback and I'm so glad people are enjoying the book,
Steve B said 'Your book arrived today, great work, can't put it down and it brought back a lot of memories'
Then Andy S messaged saying 'Thought I'd read a few pages last night in bed but ended up reading 150 odd pages, brilliant mate loved it'
Next up – River Stour
Coming soon – Lots more match reports
Check Out – My latest guest blog (below)