Thankfully the weather had cooled down a bit leading up to this match and we even had a little rain but nowhere near as much as we need. A cracking breakfast at the bowling club set us up for the day and then we headed to Parrett Works for the draw. 14 anglers fishing today with most hoping for a crack at peg 16 which had won three out of four matches so far, I also really fancied pegs 9, 28 and 29.
Dave and Bob got the draw underway and I went into the bucket of doom quite early and grabbed a peg, but didn't look straight away, I soon knew I wasn't holding 16 as Rob Wylde claimed it. Opening my fingers, I was disappointed to see I was on 13, not a great peg although Nick did well off it in the last match with four eels for 3lb 2oz and fourth place. He'd drawn 31 today which I really wouldn't have wanted, Russ was on 21 and although not a brilliant peg it probably gave him the slight edge in the race for the Memorial Shield.
I set up three rigs, a 1 gram bodied rig for down the middle, a 0.5 gram DH16 for fishing across with 0.14mm to a 16 B611 and another identical float but with 0.10mm to a size 20 Guru Match Special, the usual maggots, casters and hemp were on the side tray plus I scrounged some worms from Nick.
Bob Newbury on 14 blew the whistle to get us started and I cupped in some hemp and caster down the middle at 10 metres and went over it with single red maggot on the hook. A bite first chuck resulted in a gudgeon and I was getting regular indications from more gobies and the inevitable minnows. The lack of roach and dace was a tad worrying though and didn't bode well.
The Grand Wizard, who was still convalescing after recent surgery to remove his appendix, came for a walk. While he was sat with me, I had some more gudgeon and did catch my first little dace but I wasn't exactly setting the world alight so he headed off to see how the others were doing. Bites began to slow in the second hour so I had my first look across but only added a gudgeon and a few minnows.
Back down the middle I had another flurry of gobies along with my second little dace but I was already thinking about feeding some chopped worm for the eels. Rob Cox came up from peg 18, just as I was landing my best fish so far, a 3oz dace. He said he'd caught a chublet and an eel earlier but was now struggling.
We were now past the halfway point and bites were becoming less and less frequent, I had a message from the Wiz to say Norts on 32 was bagging, he'd landed several chub and also lost quite a few. I'd seen some splashing coming from Bob downstream and also spied Rob landing a fish. Over the next hour or so I added a few more gudgeon and minnows but was going nowhere fast. A decent bite resulted in a bit more elastic coming out and I knew straight away I'd hooked an eel but at only 4oz, although very welcome, it wasn't the bonus I needed.
So with ninety minutes remaining, I put in a big pot of chopped worm and caster down the middle and sat over it with a caster on the hook. Basically I needed a couple of decent eels and I didn't get them, I did have a couple of knocks but I think it was probably minnows as I did try double maggot and had one. At the all out, I had 40 fish (1 eel, 3 dace and 36 gudgeon) plus a few minnows, in the last match I had a similar number of fish for 2lb 8oz but I'd had some decent roach, chublets and dace then, so probably wouldn't break 2lb today.
I packed up before going to watch the two Robs do the weigh in, Derek G on 5 had lots of small fish for a level 2lb, Mark D weighed 1lb 11oz from peg 7 and then Tony C next door had a chub and a few bits for 2lb 7oz but had lost a decent fish early on. Then it was my turn and I had a disappointing 1lb 15oz.
Bob had done well catching a chub and two decent eels late to weigh 2lb 12oz, Rob W on 16 had a good sized eel and a few small fish for 1lb 8oz and Rob C had 2lb 3oz on peg 18.
Back at the results, the other section had fished well with five of the top six weights coming from there, Norts had won comfortably with ten chub for 11lb 13oz and he'd lost six as well. Nick P did brilliantly from unfancied peg 31 to finish second with 4lb 2oz which included a nice perch and a chub. Dave P had 3lb 13oz of quality roach from peg 29 to finish third and Dave H was fourth with 3lb 9oz from 28.
Russ weighed 2lb 11oz to sneak a section win by quadruple default, Steve 'The Pole' had 2lb 7oz from peg 25 which included a little carp and Cliffy on 24 struggled for 11oz. Thanks to Russell Hilton for the photos*
1 – Chris Norton (Stoke) – 11lb 13oz
2 – Nick Payne (Stoke) – 4lb 2oz
3 – Dave Pope (Stoke) – 3lb 13oz
4 – Dave Hilton (Stoke) – 3lb 9oz
Sections
A – Bob Newbury (Stoke) – 2lb 12oz
B – Russell Hilton (Stoke) – 2lb 11oz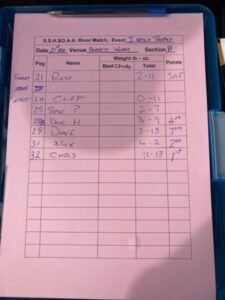 Another really close match with just ounces separating second and fourth with lots of close back up weights. The bottom section was the place to be with five of the top six weights coming from there. A disappointing day for me although I did the right thing by trying to catch a bonus fish for the last hour and a half, if I'd have carried on catching gudgeon I might have scored another point or two but I needed another pound to do any good. Quite a few chub, eels and perch have been landed (and lost) today and they make all the difference.
The Nugget-O-Meter did really well this week, we played a charity skittles match in the week which was organised by Cliffy, my team lost and I had the lowest score (and after today's result, I'm looking for a new dinosaur!) but we all stuck a pound in for the highest score which Rob Cox won and donated the £8 to the charity. Nick won today's £5 of side bets and the Grand Wiz added a nugget even though he wasn't fishing so the total has leapt up to £178. Well done chaps, your generosity is amazing and it's looking like we may surpass the £200 I was hoping to raise for the charity by November.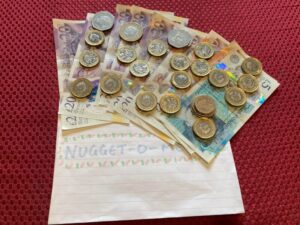 There's still a great offer running if you fancy treating yourself to some new fishing gear, use the exclusive discount code AgainstMenandFish10 to get 10% off when you shop online at Somerset Angling
I still have copies of my book available from eBay here or Amazon here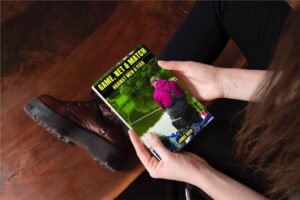 And if you could spare five minutes to leave a nice review on Amazon, it would be very much appreciated.
Next up – Summerhayes
Coming soon – Lots more match reports
Check Out – My last match (below)