With the river fishing really patchily, the decision was made to move the remaining two rounds to Dillington where we should all get some bites. Although saying that, waking up to another frost wouldn't do us any favours! We met at the bowling club for breakfast (excellent as ever) and then it was time for the all important draw with most people hoping for peg 23.
I pulled out peg 8 so hadn't moved far from the last match, Rob was on 7 so we were neighbours again and Tony C was on my left. Ian 'Golden Arm' Burton was the lucky angler to draw 23 and after winning Bob's match from there, he was the pre-match hot favourite. I set up a 0.4 gram Perfect Gloucester with a 0.10mm bottom to a size 18 Guru Pole Special hook and a 4×14 Chianti to with strung out shot to fish through the water. On the side tray I had casters, maggots, disco pinkies, hemp plus Bait-Tech Pro Nat Fine Lake Dark and Extra.
Rob got us underway and I cupped in a single ball of groundbait containing a few pinkies and casters at 13 metres and started with single disco pinkie on the hook. I did think it might be a slow start but after a couple of minutes the float sank from view and I swung in a small roach. It was a bite a chuck and I was doing ok but Dave Pope on peg 6 flew out of the blocks with two small carp on the straight lead and corn.
After around thirty minutes or so, I stuck into a decent fish and with lots of number 6 elastic out, I shipped back slowly and netted a pound plus perch which I thought could be a big bonus today. Things got even better not long after when a positive bite resulted in solid resistance, I was praying it wouldn't be a carp as I had relatively light gear on. Neil Dopson (Photo credits – ND Photography*) had come out to take some photos again and snapped me in action.
As I got down to the top kit, I could see it was a big skimmer and my heart was in my mouth until a lovely 3lb+ fish went into the landing net – phew!
I was catching small roach, chunky perch and even had a couple of 3-4oz hybrids and with an sixty minutes gone, I probably had 5lb in the net which was a brilliant start but I knew it wouldn't last. Going into the second hour, I hooked another nice perch and the camera man appeared behind me, only for it to come off shipping back! I still felt I was doing alright as apart from Dave, I hadn't seen any other big fish caught.
Quite a few bites were coming just as the rig settled or after a little lift of the rig, I did hook another decent fish, this one a skimmer around 1.5lb and just as I landed it, I noticed Nick on peg 13 had loads of elastic out and he netted a big perch that looked to be 2lb+.
I was still getting regular bites from roach and perch and thought I was doing ok but couldn't really see how 'Bagger' Burton was doing over on 23. Nick then landed a decent chub and although I felt I was still just ahead of him, another good fish could change all that. Rob had a nice skimmer on the feeder and I could see Hainsey over on peg 20 catching small fish.
Going into the last hour, my bites were dwindling so I tried the through the water rig but no indications so I went back to the heavier rig but it still wasn't happening, in hindsight I should have tried potting in a small ball of groundbait as it couldn't have done any harm. Nick hooked into and landed another big chub which I was sure put him ahead and right on the whistle, Rob had a second skimmer to finish with a flourish.
I ended up with 57 fish which I thought would go 7-8lb (2 good skimmers, 1 decent perch plus 54 smaller fish for another 3lb). After packing up, I went round with Rob to get some photos, 'Bagger' was first and had two big chub (one went 4lb 9oz) plus 5lb of roach for 13lb 1oz which I couldn't see being beat today.
The Grand Wiz weighed 2lb 6oz of small fish on peg 21, Hainsey had 112 roach for 5lb 4oz on 20, Parker 'The Pole' on 18 weighed 1lb 3oz and Norts on 17 had 13oz (mainly small fish) and conceded his pound.
Leighton on 16 did well with a nice chub and some small fish for 4lb 7oz and he lost a chub as well, Neil P weighed 3lb 2oz of roach and then Nick's fish went a level 9lb, Jenny didn't weigh on 10 and then Tony had a pound. I was next and when I pulled my net out, it was close, very close but luckily (for me!) the needle crept past the 9lb and settled on 2oz more.
Rob's two skimmers went 4lb 1oz and then Dave P's carp had weighed 6lb 4oz, Fieldy weighed 1lb 6oz and then Terry 'The Toast' had 5lb 1oz of roach to win the section.
1 – Ian Burton (Taunton) – 13lb 1oz
2 – Jamie Rich (Against Men and Fish) – 9lb 2oz
3 – Nick Payne (Ilminster) – 9lb
4 – Dave Pope (Stoke) – 6lb 4oz
Sections
A – Terry Morgan (Ilminster) – 5lb 1oz
B – Leighton Cox (Ilminster) – 4lb 7oz
C – Chris Haines (Haines Angling) – 5lb 4oz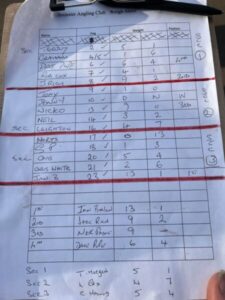 I picked up a very nice £65 for second to round off another lovely weekend and the Nugget-O-Meter did really well, Norts gave me £4 from the charity match at Harry's the other week, his nugget from today plus there were todays side bets (pounds from me, Nick, Rob and the Grand Wiz) so the total increased by £9 to £156 which is fab!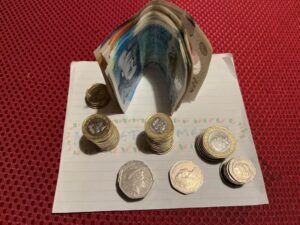 Here's the league table after four rounds (as per the licence all results count and a DNW – 10pts and DNF – 20 pts),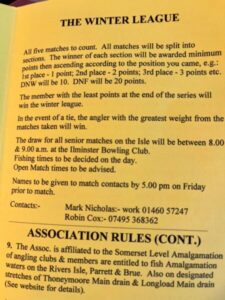 Chris Haines – 8 pts
Rob Cox – 12 pts
Tony Coubrough – 13 pts
Neil Purchase – 16 pts
Jamie Rich – 17 pts
Dave Pope – 18 pts
Steve Parker – 21 pts
Nick Payne – 27 pts
There's still a great offer running if you fancy treating yourself to some new fishing gear, use the exclusive discount code AgainstMenandFish10 to get 10% off when you shop online at Somerset Angling
If you like reading my weekly posts, why not check out my book, available from eBay here or Amazon here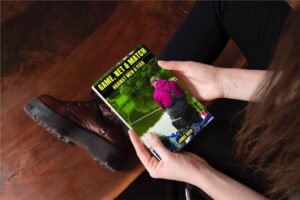 And if you could spare five minutes to leave a nice review on Amazon, it would be very much appreciated.
Next up – Hebditch's Pond
Coming soon – Lots more match reports
Check Out – My last match