I was looking forward to another Saturday at Acorn although it was all change again with our crazy weather and I had to defrost the car in the morning. After meeting Nick and Jenny in Ilminster, we headed to Acorn via a pitstop at a burger van in Clevedon for breakfast which was very nice.
A great turnout again including Tom Thick who I haven't seen for ages and John Mills of Average Angler fame, check out his videos on YouTube as he visits lots of venues in the South West and they're a really good watch. Des and Zoe got the draw underway, I pulled out 13 on the far side which can be decent while Jenny and Nick drew 2 and 4 on the island. Tom was my neighbour for the day on 15 and said he'd be fishing for silvers as well, knowing Tom, an entertaining day lay ahead. John was on flier peg 9 again prompting Tom to ask when he was having a plaque made (he's drawn it once or twice apparently!).
I set up a Drennan 0.4 gram Carp 1 for top two plus two, a Drennan 0.4 gram Pencil for 11.5 metres to the left plus a 0.3 gram Guru F1 Slim for 13 metres across where it was around four foot and also up to my left on the inside, all three rigs had size 18 SFL-B hooks to 0.11mm. On the side tray I had lots of red and white maggots, disco pinkies plus some Bait-Tech Special G F1 and Dark groundbait.
On the whistle I fed the 13 metre and short lines with some loose groundbait and a few pinkies while on the 11.5 metre swim I just potted in some maggots. It was certainly very cold and there was a wicked wind blowing up the lake although myself and Pete Neate on peg 12 weren't getting it quite as bad as Tom and the rest on our side.
I did think it might fish relatively hard today but after ten minutes I hooked a decent carp and landed a 6lb fish, then I lost two foulhookers in quick succession and was hoping that wasn't going to set the scene for the day. Thankfully my next fish was a 1.5lb skimmer, followed by a slightly smaller one and I was getting lots of indications with single maggot on the hook and feeding a few on all three lines.
I had a couple of lovely roach but foulhooked carp were already a problem and I was hooking and losing quite a few. Tom had a slow start and it looked like it was a struggle for the anglers to his left as well, I could see Nick catching silvers and Paul Fairs on peg 5 was netting a few fish. Tom landed a big perch while I had a smaller sample of 12oz and a little tench.
With bites dwindling I had my first look on the left hand 11.5 metre line and had a nice roach first chuck. I dropped the rig in the side while I put some maggots in the toss pot and then as I went to ship out, there was a fish on and I landed another 12oz perch, much to Tom's disgust! A small 6oz tench followed but I was waiting a fair while for bites so went back to 13 metres and had a nice skimmer but the wind was beginning to make it hard work holding the pole.
Pete was catching some nice carp while I was still having more come off than I was landing. Back to 11.5 metres, I had five or six little 6-8oz tench in quick succession on a maggot tipped with a disco pinkie, then went back long for a roach (and two lost carp). Rotating round my lines was working nicely, the short line resulted in a 1.5lb skimmer but I was also misled a few times when I was sure I'd hooked a tench or a perch but they turned into small carp.
Although Tom wasn't catching loads of fish, they were of a decent stamp and he landed several big perch. Despite his protestations, I knew there wasn't much between us and if anything by my reckoning, he was just ahead. With about two hours to go, Vince Brown who was on peg 19, packed up and conceded his pound to Tom.
I did hook a decent fish on the 11.5 metre line that was fighting a bit tench like and a cracking 3lb plus tinca came to the top which I thought edged me back ahead of my neighbour. Not long after I was into another fish that I hoped was a tench but turned out to be a carp hooked in the wing and it came off at the net.
In the last hour I was back fishing short and added a skimmer, a little tench plus the inevitable carp while Tom had another big perch and two nice tench and on the whistle, it was too close to call although both of us were adamant the other had just nicked it. I finished up with 27 silvers and around 8 carp of various sizes.
Des and Zoe arrived with the scales and it had been relatively hard going, Matt S on 22 DNW'd, peg 21 weighed 15lb 10oz, Vince had gone, Brian Slipper on 16 weighed 44lb 15oz and then it was Tom, his carp went 18lb 12oz and then his silvers weighed 17lb 8oz. My carp registered 22lb 10oz and then when I pulled my silvers net out, it was going to be close, as I tipped my fish in the sling, Des estimated 16lb 8oz and was nearly spot on as the scales read 16lb 14oz – bugger, just 10oz between us. A nice day's fishing and Tom and me had a right laugh but I was a bit gutted and sure I was going to just miss out yet again.
Pete had some decent carp plus a few silvers for 35lb 6oz and then as the scales went to weigh the rest, I continued packing up and then drove back round to the car park. Nick had just been weighed and had done well catching 14lb 4oz of silvers but had lost several decent skimmers.
We gathered in the shop for the results and Rich Major won section B with 61lb 5oz and then I was called up as winner of section A, things then got even better when I got another envelope for second in the silvers behind Tom. John Mills was fourth with 62lb 12oz, Kev Perry was in the frame again with 68lb for third despite going over in one of his nets, Chris Fox was second on peg 40 with 79lb 15oz and then Martin Rayet continued his great run of results with another win, this time with 111lb 8oz from peg 33. Photo credit – Acorn Fishery*
1 – Martin Rayet (Acorn) – 111lb 8oz
2 – Chris Fox (Acorn) – 79lb 15oz
3 – Kev Perry (Acorn) – 68lb
4 – John Mills (Average Angler) – 62lb 12oz
Sections
A – Jamie Rich (Against Men and Fish) – 39lb 8oz
B – Rich Major (Acorn) – 61lb 5oz
Silvers
1 – Tom Thick (Tom Thick Baits) – 17lb 8oz
2 – Jamie Rich (Against Men and Fish) – 16lb 14oz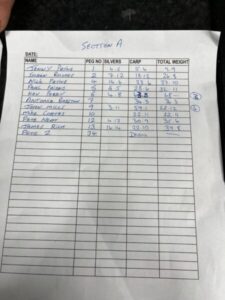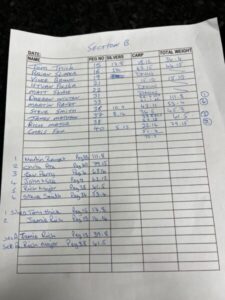 I won the £3 side bets which went back into the pot and the Nugget-O-Meter now stands at £147.
There's still a great offer running if you fancy treating yourself to some new fishing gear, use the exclusive discount code AgainstMenandFish10 to get 10% off when you shop online at Somerset Angling
If you like reading my weekly posts, why not check out my book, available from eBay here or Amazon here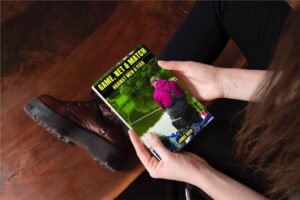 And if you could spare five minutes to leave a nice review on Amazon, it would be very much appreciated.
Next up – Dillington
Coming soon – Lots more match reports
Check Out – My last match