Sunday kicked off with another lush bowling club brekkie thanks to Charlotte and we were joined by the Grand Wiz and Burnsey who were off to Trinity for the open. With our bellies full, we headed to Summerhayes and when we arrived, the car park was already busy with 21 anglers booked in.
Pete announced the draw starting with the golden peg which was 39 for today. My name was top of the list and I pulled out peg 12, a great peg in an area I'd done well from last year. Nick and Jenny got 25 and 4 respectively while Steve P was on peg 32. Zooner was on the golden peg and Jacko was last but one to draw and predicting he'd be on peg 6 and he was right (and not happy!).
For company I had Martin Addicott on 13 and Ian Williams was my neighbour on the right. The usual Guru AR's in 0.2 and 0.3 grams were assembled and on the side tray I had loads of red and white maggots, disco pinkies plus some Bait-Tech Special G F1 and Dark groundbait. On the whistle I fed a small amount of gb and a few pinkies on a top two line, loose gb and maggots at two lines at 10 metres and fired some maggots across.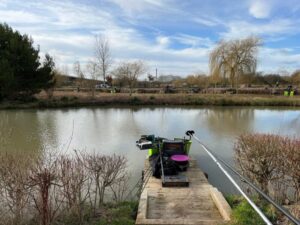 I started short but for about the sixth match on the trot, I haven't had a bite on that line, moving out to 10 metres was met with the same result – nothing! Martin was fishing 17 metres to the island dobbing bread (thanks to an extra extension from Rich Studley) and into fish straight away but foul hooking most of them and was 4-1 down early on.
I've eventually had a bite from a small 2oz skimbob but after an hour and a half, the scores on the doors for me weren't making for pretty reading either, that one skimmer (and I pulled out of another) plus two little roach for a combined weight of 3oz! From what I could see, nobody was catching silvers and hardly any carp were coming out either so I decided to have a look across at 13 metres a bit earlier than normal.
To my surprise, the float settled and went straight under but I missed it, the next bite also saw me strike into thin air but then it was third time lucky and I was into a decent fish. I shipped back carefully and gratefully netted a big 2lb skimmer and when I've had two more 8oz fish in as many chucks, I've gone from struggling to doing well in five minutes!
No more indications there so I've gone a metre to the right of where I'd been feeding and hooked a fish straight away, it didn't feel like a skimmer and a nice chunky perch came to the top. The next two bites resulted in a 4oz skimbob and then one of a pound. We were now around halfway through the match and Martin had pulled the score back to 6-4 but was struggling to hold the pole across due to the rather naughty wind.
The odd fish was coming out over on the pegs along the track and I'd seen Alex Kerr down on the bottom bank (peg 17) land a couple of big skimmers, he was fishing down the middle whereas I couldn't get a bite there. I was getting odd fish by swapping between two lines across at 14.5 metres but I didn't think there was much between Alex and me. He wasn't catching loads of fish but when he got one it was a proper skimmer.
I did hook a fish that I thought was a carp but it wasn't going crazy, I got down to the top kit and started to think it might be a foul hooked skimmer and when it came up, it was and decent fish of 1.5lb hooked in the wing, of course just as I thought I might land it, the hook pulled out! Gutted wasn't the word for it and I was sure I needed that fish.
The next decent fish also felt foulhooked and as I got down to the top kit, I was sure it was a small carp hooked in the tail but then the head of a big eel appeared! Mindful of the 0.10mm hooklength, I was having problems trying to get it in the net tail first, after numerous failed attempts, I was finally successful. At around 2lb, it was a handy bonus and I'm pretty sure it's the first one I've ever caught from Longs.
A few more fish started to show as we approached the latter stages of the match, Parker 'The Pole' was landing some carp to go with his earlier skimmers, Adie was catching well down his edge and Nick had netted some lumps. I did pull out of another big skimmer which I think was hooked properly.
With an hour to go, I've hooked my first carp which came off and then had a decent spell, landing three skimmers, a nice roach plus a couple of carp. Pete shouted the all out and my clicker was reading 18 fish (1 eel, 1 perch, 1 decent roach and 15 skimmers) plus a few tiny fish I hadn't counted and those carp.
I packed up and went to watch the weigh in, Geoff Young was the early leader with 30lb of carp from peg 36, Zooner weighed 4lb 12oz of silvers and conceded his nugget, Bill chucked back on 2, Jenny had a couple of carp plus a skimmer for 11lb on 4 and then Jacko had 4lb 6oz of silvers.
Steve Collins on peg 8 was the new leader with 34lb 13oz, Mark Leahy had 21lb 13oz and then Ian on 11 weighed 22lb 11oz. My two carp went 10lb and then the silvers weighed 12lb 5oz which was a bit more than I thought. Martin A on 13 and Martin T on 14 didn't weigh and then we got to Alex, I thought I'd beaten him but when he pulled his net out, he had some big skimmers and I was sure he'd done me. It was close, very close but thankfully the digital display settled on 11lb 12oz!
Rich S chucked back on 19 and then Chris W on 23 weighed 38lb 1oz which was the top weight so far. Nick had 33lb 8oz which included 4lb 15oz of silvers and that was third in both for the time being. Kev on 27 and Mark on 29 both chucked back and then Adie stormed into the lead with 70lb 8oz on peg 30.
Steve P was on 32 and had some nice skimmers for 5lb 10oz which put him third in the silvers and then Jeff on 33 and Tom (peg 35) didn't weigh.
1 – Adie Bishop (Summerhayes) – 70lb 8oz
2 – Chris Whitham (Torquay) – 38lb 1oz
3 – Steve Collins (Summerhayes) – 34lb 13oz
Silvers
1 – Jamie Rich (Against Men and Fish) – 12lb 5oz
2 – Alex Kerr (Summerhayes) – 11lb 12oz
3 – Steve Parker (Ilminster) – 5lb 10oz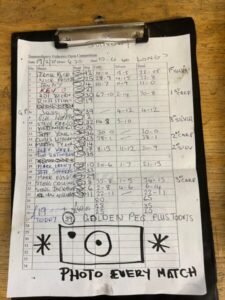 I had a nice pick up of £65 to round off a lovely weekend and I was only talking about just missing out and being the nearly man in a recent post but today it went my way. I'm sure it evens out over time but very often you only remember the times you get ounced! The Nugget-O-Meter went up by £6 (nuggets from The Grand Wiz and Zooner plus mine and Nick's side bets from today and yesterday) and now stands at £144.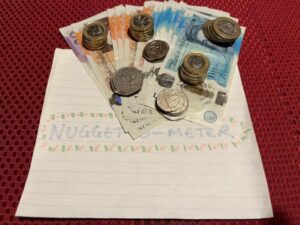 In other news, I can't go without mentioning Andy Burns and The Grand Wiz who finished first and second respectively at Trinity – well done lads.
Last but not least, the new Bait-Tech catalogue is now out with lots of exciting products for 2023 and I have to say I think page 9 is my favourite!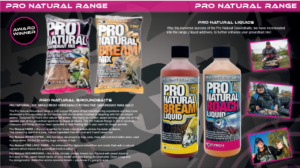 There's still a great offer running if you fancy treating yourself to some new fishing gear, use the exclusive discount code AgainstMenandFish10 to get 10% off when you shop online at Somerset Angling
Also I still have copies of my book available from eBay here or Amazon here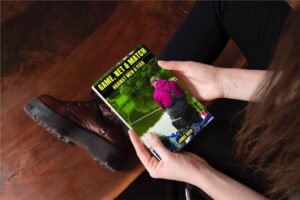 And if you could spare five minutes to leave a nice review on Amazon, it would be very much appreciated.
Next up – Acorn Fishery
Coming soon – Lots more match reports
Check Out – My last match