For this weekend's opener, it was back to Acorn for another of Chris Fox's matches, I've been loving the silvers fishing but the carp are starting to wake up now as well. I met Steve 'The Carp Slayer' Parker, Nick 'The Verminator' Payne and Jenny before heading to Clevedon. We tried the Bridge Inn for breakfast which is just up the road from the fishery and we all went for the large one which was good value at around £8.50 but when it came out it was huge! Too much for me in fact and it was all a bit of a rush, not helped by the fact we spent ages stood by the wrong door waiting for the pub to open!
We got to the fishery just before the draw, 23 anglers fishing today and Chris said he was paying the top two, three sections and the best silvers. It was peg 34 for me again, the last time I fished it was when we had to break the ice. That day I missed out on my section by a few ounces and felt I hadn't really done it right so I was looking forward to having another go. Nick also drew the same peg he had that day (peg 40) and Steve P got number 9 which has been brilliant although with it being windy, it probably wouldn't do him any favours.
As I unloaded my kit and started taking it to the peg I could see I was going to be pretty sheltered today which would be a bonus. I set up a Drennan 0.4 gram Carp 1 for top two plus two, a Drennan 0.4 gram Pencil for 11.5 metres to the right by the bridge plus a 0.3 gram Guru F1 Slim for 11.5 metres across where it was around four foot and also up to my left on the inside, all three rigs had size 18 SFL-B hooks to 0.11mm. On the side tray I had lots of red and white maggots, disco pinkies plus some Bait-Tech Special G F1 and Dark groundbait.
On the all in, I fed a generous portion of maggots by the bridge while the rest of the swims received a little groundbait and some pinkies. I started across with single red maggot and was firing a few over regularly, it took a little while to get bites and I missed the first few before foulhooking a carp which wasn't on long. A nice roach came off shipping back and I wasn't having the best of starts!
I began catching some lovely roach along with a nice perch and a couple of small carp, Paul Nicholls on 33 was catching some lumps and I'd seen Rich Major on 31 land a couple of carp. In amongst the quality roach, I had two skimmers but annoyingly pulled out of a good one as well. I was feeding maggots by hand on the top two plus two line and had my first look there after a couple of hours (in the last match I'd caught really well on that line in the last three quarters of an hour and was left wishing I'd tried it earlier).
It took quite a while to get my first bite from what I think was a decent roach but I'll never know for sure as it came off! I then hooked what I initially thought was a carp but it wasn't fighting hard enough and as I unshipped at the top kit, I was sure it was a big perch, it wasn't far from the surface (although I still hadn't seen it) and then the hook pulled – gutted! The next bite resulted in a small perch and then I had two better ones around 12oz apiece.
Bites slowed there so I had a quick go on the left hand line but no bites so I went back across and had a nice burst of fish including a lovely 1.5lb tench and another decent perch. Gareth B on peg 1 was catching silvers well and I could see Nick landing fish on a regular basis. After my flurry of fish across, it slowed up so I dropped short again and had a couple of roach and a perch but I could only seem to get two or three fish from a line before having to move.
The left hand line was a bit of a flop (one bite – one roach) but to be honest I didn't spend that much time on it during the day, my first look by the bridge was equally disappointing and I waited ages for a bite which I missed and that was the end of that. I decided to start a new line at the bottom of the far shelf so fed a little nugget of groundbait and left it for ten minutes before trying it. No bites on my new line and from doing alright, I was now in danger of disappearing up my own bottom!
I went back across for another tench, some roach and the inevitable carp and then spent the last thirty minutes on the top two plus two line for a few more decent perch and roach and once again the match had flown by. In the last match I'd had 40 silvers for 27lb 11oz, I'd caught 37 this week but no big tench. The scales soon arrived and Rich on 31 weighed 35lb 11oz, Paul Nicholls on 33 had done really well with 70lb 15oz of mainly carp, my 'accidentals' went 26lb and then the silvers net weighed 20lb 10oz to give me a 46lb 10oz total. *Thanks to Mark Bartlett for the photo.
Chris Fox on 36 had a brilliant day catching 106lb 10oz of mainly carp on the bomb as it was too windy for him to fish the pole. Brian Slipper on 38 continued his good run of results with 78lb 13oz to go into second place. Nick had some nice skimmers for 12lb 13oz plus 22lb 14oz of carp and then the scales headed onto the island. Gareth on peg 1 had 43lb 6oz, Kev Perry on 2 then went into the silvers lead with a fantastic 26lb 2oz including a big 5lb plus tench, Mark Broomsgrove had 32lb 3oz on peg 3, the next peg didn't weigh and Darren W on 5 weighed 50lb 1oz.
As the rest of the pegs were weighed, I finished packing up and loaded the car. When Chris did the results I had a nice little surprise as I'd won the section by double default and picked up a very handy £55. He tries to make the sections as fair as possible but it does mean you're not always too sure of how you're doing because you might not be up against the pegs immediately around you for the section money.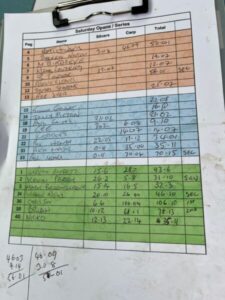 1 – Chris Fox (Acorn) – 106lb 10oz
2 – Brian Slipper (Acorn) – 78lb 13oz
Sections
A – Ashley Cleaves (Acorn) – 56lb 1oz
B – Paul Nichols (Acorn) – 70lb 4oz
C – Jamie Rich (Against Men and Fish) – 46lb 10oz
Silvers
Kev Perry (Acorn) – 26lb 2oz
There's still a great offer running if you fancy treating yourself to some new fishing gear, use the exclusive discount code AgainstMenandFish10 to get 10% off when you shop online at Somerset Angling
If you like reading my weekly posts, why not check out my book, available from eBay here or Amazon here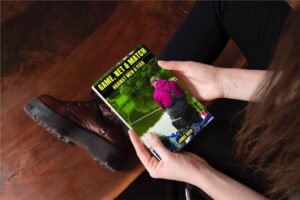 And if you could spare five minutes to leave a nice review on Amazon, it would be very much appreciated.
Next up – Summerhayes
Coming soon – Lots more match reports
Check Out – My last match