After a serious case of deja vu at Revels yesterday when I drew peg 46 for the second time and had virtually the same number of fish for exactly the same weight as last time, I was hoping for a similar experience on Sellicks today where hopefully I'd draw peg 20 again! Another cracking breakfast courtesy of Charlotte at the bowling club and then we were on our way.
As we pulled into the car park, it was rammed and spaces were at a premium with a club match on Longs as well as 19 of us on Sellicks. Pete announced the draw and first up was the golden ball which turned out to be 20 again, was it a sign?, would lightening strike twice for me?
Well, that question was soon answered as Bill 'The Paste' was top of the list which meant he was first to draw and then promptly pulled out the aforementioned number 20! When my name was called out there were still a few of the pegs on the far side left in the bucket, I skilfully managed to avoid them and got peg 6, although it's still normally a decent silvers area.
As for the rest of 'The Breakfast Bunch', Steve P got 23 which is a great peg and Nick was on 2, another good one. Elsewhere, Zooner drew 19 with Toby B next door on 18, Jeff Sparkes was on 22 and Roy hadn't moved far from the last match and was on 15. I had Glynn on my right and Dave Brittain was the other side.
I set up a Malman 10 x 11 F1 Wire to fish top two and a line at 11.5 metres, plus a Guru 0.3 gram AR for across which was a long way over at 15 metres! Today's side tray had lots of red and white maggots, disco pinkies plus some Bait-Tech Special G F1 and Dark groundbait.
On the whistle I fed a small amount of loose groundbait and a few pinkies on the top two line, a ball at 11.5 metres and catapinged a few maggies across. I started on the short line but no bites once again and I was soon shipping out to the longer gb line. Glynn hooked a couple of carp in quick succession and I hoped that wasn't a sign of how the day was going to go.
My first bite resulted in a small roach which was hopeful but it proved to be a false dawn and apart from Jim on peg 4 who was catching carp, everybody on our side was struggling. Roy on the other hand had gotten off to a flying start and I'd seen him net four or five decent silvers in the first hour. I was still feeding across but wanted to leave it a bit longer before going over. Over the next sixty minutes I had another roach and two carp while Glynn had a nice tench of a pound or so.
It was fishing really hard and looking like it would only take a few skimmers to frame so I had my first foray across. I flicked a few maggots over and the rig settled and went straight under, only for me to miss it! The next few bites saw me strike into thin air as well before I finally hit one which resulted in a little roach. I had couple more small fish before catching a decent one of 8oz, the next bite saw loads of elastic stream out and I thought I'd hooked a small carp but it turned out to be a crucian/fantail thing that count as silvers and was a nice bonus of 1.5lb.
Nick was hooking the odd carp and then had a big skimmer so there wasn't much between him, Glynn and me as we passed the halfway mark. My bites across dwindled so I had another go down the middle which just resulted in a carp. Glynn had a decent skimmer which edged him ahead on our side and then pulled out of one next chuck.
I've gone back over and resting it certainly seemed to work as I had a flurry of bites but was still missing too many for my liking, Tony C turned up, he was on peg 12 and only had a small roach. While he was with me, I missed a bite and then struck into a better fish which turned out to be a pound skimmer and the silvers pendulum swung in my favour for now.
The bites tailed off again so moving into the last hour or so, I dropped back onto the 11.5 metre line and eventually the float sailed away and I missed it, the next one I hit and initially felt it was a skimmer until it woke up and turned into a carp. Nick landed a second big skimmer and then Glynn had two in as many chucks and I needed a couple more skimmers but only managed one more carp before the all out.
I packed up and took some of my kit back to the car, Jeff said he'd struggled but both Toby and Roy had done well and Steve P thought he had 40lb of carp which would be there or thereabouts today. Nick was first to weigh and had those two big skimmers, a perch and a few roach for 5lb 4oz plus some lumpy carp which gave him a 38lb total. Roger C on 3 had 27lb 11oz of carp and then Jim Jenner on 4 weighed 37lb 9oz to go into second place.
Glynn's silvers went 4lb 5oz and then my carp weighed 18lb 15oz and my silvers added 3lb 12oz to give me a total of 22lb 11oz. Dave B on my left had 22lb 5oz of carp, Mark Leahy weighed 3lb 10oz of silvers on peg 9, Martin A on 10 didn't weigh, Adie had 14lb 15oz on 11 and Tony C chucked back on 12.
Rich S didn't weigh on 13, Craig L on the next peg had 14lb 1oz, Roy then went into the silvers lead with an excellent 7lb 11oz from peg 15. Kev had chucked back on 16 and then Toby had a brilliant 10lb 14oz of skimmers from 18. Zooner weighed 19lb 4oz but as only 2lb 12oz was silvers, I gratefully received his nugget.
Bill didn't weigh on 20, Jeff had 3lb 5oz of silvers and then Parker 'The Pole' had turned to the dark side and his 44lb 13oz was the top weight on the day, well done mate.
1 – Steve Parker (Ilminster) – 44lb 13oz
2 – Nick Payne (Ilminster) – 38lb
3 – Jim Jenner (Summerhayes) – 37lb 9oz
Silvers
1 – Toby Burrell (Team Army) – 10lb 14oz
2 – Roy Hughes (Summerhayes) – 7lb 11oz
3 – Glynn Wickham (Summerhayes) – 4lb 5oz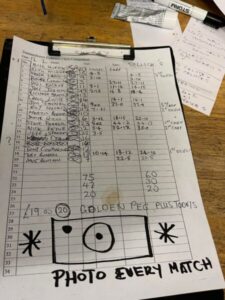 Once again I was ounces shy of a pick up and it seems to be the recurring theme for this year already! The Nugget-O-Meter went up by another fiver (Nick donated the £3 side bets plus his nugget from yesterday and Zooners from today) and the total is now £138.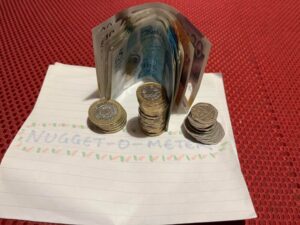 There's still a great offer running if you fancy treating yourself to some new fishing gear, use the exclusive discount code AgainstMenandFish10 to get 10% off when you shop online at Somerset Angling
If you're not venturing out because of the weather, the next best thing is reading about fishing, I still have copies of my book available from eBay here or Amazon here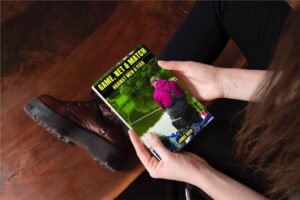 And if you could spare five minutes to leave a nice review on Amazon, it would be very much appreciated.
Next up – Acorn Fishery
Coming soon – Lots more match reports
Check Out – My last match