Another double header weekend starting with a silvers open at Revels, the last few of these I've fished have had a couple of things in common, firstly the weather was absolutely atrocious and secondly, Middle lake is the place to draw and so far I've managed to avoid it!
After meeting Nick and Jenny for breakfast in Yeovil, we headed to the fishery. The weather was lovely, so now I just needed to draw on Middle! Twelve anglers fishing today so there were four pegs each on Middle, Canal and Dead Tree, I really wanted to avoid the latter after getting carped out the last two times I was on 48.
Jason got the draw underway and a couple of pegs on Middle went early, then my name came out and once again my prayers weren't answered when I was on number 46 (Dead Tree). To be fair I wasn't too upset as it was the same peg I drew in the first silvers open I fished. I really enjoyed that day (apart from the weather!) and ended up with 49 fish for 6lb 3oz which was fifth on the day and just off framing as 6lb 7oz was enough for third. Nick got 70 on Canal which had struggled on Tuesday and Bob C was on 41 (Dead Tree) and wanted a nugget on it.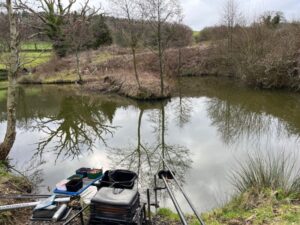 My peg looked lovely with loads of options although the water was painfully clear and there was nothing topping which I always think is a bad sign. The depth didn't really vary much all over the swim at around two foot so I set up a couple of Guru AR's in 0.2 and 0.3 grams. The usual fare was on the side tray, lots of red and white maggots, disco pinkies, casters plus some Bait-Tech Special G F1 and Dark groundbait.
On the whistle I fed modest amounts of loose groundbait with a few pinkies on three lines at 10 metres, to the left, straight out and on the right. I started with single pinkie on the hook but my early worries were confirmed when after 45 minutes of rotating my three lines, I was still biteless. Bob on 41 and Dave S on 48 were also both really struggling although every time I shipped back I could see Ian Browncey on Middle peg 56 landing skimmers and Neil Muir on 54 was catching roach.
I thought perhaps with the water being so clear, the fish might be under or around cover so I stuck a couple more sections on and went 13 metres to the left just off the island. The float settled and then started moving across the surface, I struck and finally got off the mark with a small roach, thinking I'd cracked it, I've gone back out and was like a coiled viper waiting to strike! I waited and waited……. but it still wasn't happening.
My next fish was a little perch that was on when I lifted the rig out the water! I did try by the far bank cover on my right but no bites there either. Back to the left I've gone 14.5 metres further to the left and after a short wait, the float went under and this time it was a better fish. I could see straight away it was a skimmer and shipped back carefully before netting a decent 8oz fish. Next put in, I decided to toss pot in a little loose groundbait and had a second skimmer quite quickly, a third followed but this one somehow turned into a small carp when I came to land it!
Back out, I've had another skimmer, this one around 12oz and all of a sudden it felt like there were a few there but then typically I couldn't get a bite again. I tried the 10 metre line again and after five minutes had a chunky perch, a couple more followed before I switched to the right hand line and was getting bites there too from perch and the odd small roach.
We were now over two hours in and although not bagging, I was getting enough bites to keep me interested. When Nick phoned to say they were struggling on Canal with the top weight just 8oz, I began to think there was a chance of sneaking into the frame behind Ian who had already won the match and could get a deckchair out and light a cigar!
I had a decent roach and my fourth skimmer from the right hand line and by swapping between the two 10 metre lines and going a section past my feed, I was getting regular bites and thankfully, carp weren't being too much of a pain and I only hooked two more small ones. Trying the long line to the left I managed a few more small roach, perch and a gudgeon but didn't have any more skimmers from there.
Nick turned up just before the end, he'd really struggled for a few small perch and was heading off home. On the whistle, my clicker was reading 50 fish which I thought would go around 4.5lb (averaging an ounce and a half apiece). The scales were soon with me as Bob hadn't weighed over on 41 although he'd had a busy day hooking nine carp on the waggler! My fish went 6lb 3oz (exactly the same weight as the last time I drew it), Neil had 3lb 4oz, Dave S didn't weigh and then John Bass had done well catching 6lb 11oz on 52.
Over on Canal, Casey on 63 had chucked back, Terry Dell (peg 64) went into second place with 9lb 13oz, Marco was just behind him with 8lb 8oz on 66 and then Dean and Nick didn't weigh. The last two pegs were on Middle with Steve B (peg 59) recording 4lb 14oz and Ian plonked a brilliant 15lb 10oz of skimmers and roach on the scales for a comfortable win. Thanks to Bob C for the photo*
1 – Ian Browncey (Revels) – 15lb 10oz
2 – Terry Dell (Revels) – 9lb 13oz
3 – Marco Smith (CAH Floats) – 8lb 8oz
So a nice day with plenty of bites but I needed a few more of those skimmers, at least I'm very consistent when I draw peg 46,
49 fish – 6lb 3oz – 5th (last time)
50 fish – 6lb 3oz – 5th (today)
I did have a pound from Bob so the Nugget-O-Meter was a couple of squid better off and is up to £133.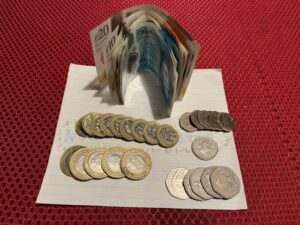 There's still a great offer running if you fancy treating yourself to some new fishing gear, use the exclusive discount code AgainstMenandFish10 to get 10% off when you shop online at Somerset Angling
If you're not venturing out because of the weather, the next best thing is reading about fishing, I still have copies of my book available from eBay here or Amazon here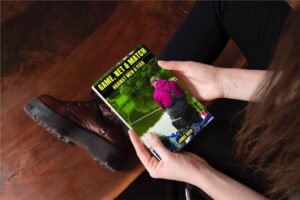 And if you could spare five minutes to leave a nice review on Amazon, it would be very much appreciated.
Next up – Summerhayes
Coming soon – Lots more match reports
Check Out – My last match