Sunday were back at Summerhayes and I was really looking forward to fishing Sellicks again as it's been a while. Before that we assembled at the bowling club for breakfast and I know I say it every time but it was superb once again (thanks Charlotte). We were joined by Chanter and the Grand Wiz who donated a pound to the Nugget-O-Meter even though he wasn't fishing with us and then added another which he found on the floor!
Fifteen booked in, which is a decent number for Sellicks although there had been a bit of a frost and with it being flat calm, conditions weren't ideal and I could see the fishing being a little tricky today. Pete announced the draw starting with the golden peg, I predicted number 19 and wasn't far off as he grabbed a ball and revealed peg 20.
Martin Addicott was the first name on the list and got peg 11, I was next and Pete only went and pulled 20 out for me! I was well happy with that as the high numbers are normally a good area for silvers. Parker 'The Pole' was on peg 7, Rob got 15 and then Nick and Jenny were on 18 and 22 respectively.
I set up a Malman 10 x 11 F1 Wire to fish top two plus two and a couple of lines at 10 metres, straight out and angled to the left plus a Guru 0.3 gram AR for across at 13 and 14.5 metres. The side tray had the usual suspects, lots of red and white maggots, disco pinkies plus some Bait-Tech Special G F1 and Dark groundbait. I was just checking the shotting on one of my rigs when the float went under and I had 3oz roach on a bare hook! Obviously I chucked it back but was it a good omen or would it be my only bite of the day?
On the whistle I fed little nuggets of groundbait on the short line and the left hand 10 metre line before feeding the other line straight out a bit more positively with half a pot of loose groundbait and also began catapinging some maggots across. I had a quick go on a top two but only gave it a few biteless minutes before moving out to the longer left hand line.
As expected it was a slow start and it took a while to get my first bite from a small roach, I had another before trying the other 10 metre line. A positive bite resulted in a pleasing amount of number six Slip showing itself and I netted a nice skimmer. Bill 'The Paste' on peg 23 had landed a couple of carp but at this early stage, it was hard going for most and Nick said he hadn't had a bite yet.
I tried double pinkie on the left hand line and had a couple of roach by laying the rig in and holding on to it. Nick went across to the island and got off the mark with a nice skimmer and then I had my second skimbob over my more positive 10 metre line. Feeding a few maggots on all of my lines I had a decent spell catching some nice roach with all the bites either coming on the drop or as the rig settled. I then hooked a better fish which tore off and I initially thought it was a small carp but it stopped and as I shipped back carefully, I could see it was a good skimmer and I gratefully netted a nice fish around a pound and a half.
As we approached the halfway point, from what I could see, I was doing ok but bites were dwindling so I've gone across to 13 metres for the first time, the float settled and went straight under and I had a small roach, followed by another and then a netter. I thought I'd have a nice steady day but then hooked a carp, it didn't give me too many problems and you're always going to hook a few but then the next few bites also resulted in carp and from doing well, I was now putting very little in my silvers net.
While I was fannying about playing carp, Nick had a couple of skimmers along with a quality roach and there now wasn't much between us. Going to 14.5 metres tight to the island I had a small roach but just couldn't string two fish together. I did hook a slightly better fish which I thought would be a nice roach but turned out to be a 2oz carp!
Nick was fishing down the shelf in the deeper water and by being patient, he had a couple more skimmers which I thought edged him ahead. I came back on the left hand line where I'd been loose feeding maggots and decided to just sit on it for ten minutes. No indications and when Nick had another skimmer I was just about to go back across when the float went under and I struck into a decent skimmer. I really needed this fish so was shipping back very gently and got the pole on the rollers and was just getting to the top kit and it came off (the fish not the top kit) – gutted!
Next chuck I missed an unmissable bite and then hooked a carp which I could really have done without. Another missed bite and I was sure I wouldn't get many more chances with time running out. Then the float sailed away and I was into another skimbob, I managed to get this one in and it was decent fish of a pound or so.
I thought it was going to be really close between Nick and me, there was still time for me to hook and land another carp and then I saw Nick lift into a fish and it was another skimmer which I was sure would edge it for him. At the all out, my clicker was reading 22 fish (4 skimmers, 6 decent roach plus a dozen smaller ones) which I thought would go 5-6lb.
After packing up, we went round to watch the weigh in, Jim Jenner on peg 2 set the pace with 44lb 1oz of mainly carp and then Dave Bull on peg 4 had some nice skimmers for 6lb 1oz. Tony C on peg 5 was fishing Summerhayes for the first time and weighed 13lb 8oz, Kev O on 6 had 26lb 6oz and then Steve P had chucked back on 7 as had Craig on 9.
Martin A weighed 38lb 10oz on 11, Steve Smith on 13 had 27lb 11oz and then Roy weighed 3lb 12oz of silvers on 14. Rob C didn't weigh on 15, Rob W on 16 had 13lb 14oz and then it was Nicks turn, he had 14lb 1oz of carp before his silvers went 7lb 6oz and I honestly thought that last skimmer had clinched it for him.
My carp went 23lb and then when I pulled my silvers net out, I realised it was going to be close and the digital display settled on 8lb 4oz so I was in for a bumper payday with two pegs to go. Jenny didn't weigh and then Bill had done well, with two nets of carp that went 80lb 8oz to win the match.
1 – Bill Hopping (Summerhayes) – 80lb 8oz
2 – Jim Jenner (Summerhayes) – 44lb 1oz
Silvers
1 – Jamie Rich (Against Men and Fish) – 8lb 4oz
2 – Nick Payne (Ilminster) – 7lb 6oz
So after a bit of a bad run since Xmas where I seemed to be just short on several occasions, it was nice for one to go my way and what a nice one! I picked up £55 for the silvers win plus a very nice £148 from the golden peg, plus the Nugget-O-Meter grew by another £8 and is now up to a fantastic £131.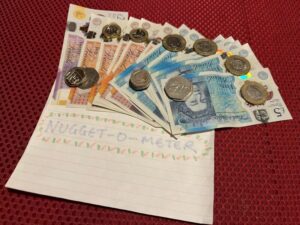 There's still a great offer running if you fancy treating yourself to some new fishing gear, use the exclusive discount code AgainstMenandFish10 to get 10% off when you shop online at Somerset Angling
If you're not venturing out because of the weather, the next best thing is reading about fishing, I still have copies of my book available from eBay here or Amazon here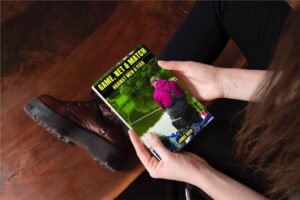 And if you could spare five minutes to leave a nice review on Amazon, it would be very much appreciated.
Next up – Revels
Coming soon – Lots more match reports
Check Out – My last match